Madame de Sade
Yukio Mishima, translated by Donald Keene
Donmar West End
Wyndham's Theatre
(2009)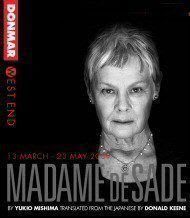 If William Shakespeare is the greatest ever playwright and Anton Chekhov number two, who is next in line? Following the logic of Michael Grandage in programming the Donmar's inaugural West End Season, it is Yukio Mishima.
In this country, if he is known at all, it is as the writer of a short, intense novel (later filmed with Kris Kristofferson and Sarah Miles) of mature passion and youthful anarchy, The Sailor Who Fell From Grace with the Sea.
It is more likely though that Mishima will be remembered for his death by Japanese ritual suicide, Hari Kiri, following his own equivalent of the storming of the Bastille.
Grandage has already had impressive results with Ivanov and Twelfth Night. Therefore it is no great surprise that, even if Mishima is far away from three on the all time list, this vehicle for Dame Judi Dench but also five other fine actresses who make a great ensemble, turns out to be an unexpected pleasure.
Pleasure is a key word in Mishima's work and here he investigates the essence of the subject in a style reminiscent of Greek tragedy but told through a Franco-Japanese medium.
The 100 minutes play out in the symbolically tarnished silver chamber of Dame Judi's ultra-respectable Madame de Montreuil.
Initially, the writer toys with us by revealing the story of her son-in-law's debauched disgrace through the prurient mouth of an admitted sinner Comtesse de Saint-Fond, played with wicked relish by Frances Barber, to her polar opposite, Deborah Findlay appropriately saintly as Baronesse de Simiane.
That tale is of the sacred and profane rituals of the imprisoned Alphonse, Marquis de Sade, our unseen protagonist. It involves young people, whips, sweets drugged with aphrodisiacs and far more enjoyment than a puritanical society that prides itself on civilised propriety can permit.
These ladies form a counterpoint that is mirrored in their hostess' two daughters. Bond girl and Hitchcock Blonde Rosamund Pike plays pure wife Renée, torn between disgust and loyal admiration for a man whose purity she sees clearly. Fiona Button is her sexually liberated sister Anne, a much livelier companion for her brother-in-law on a trip to Venice.
The sordid story is told entirely in reported speech, with the poor Madame de Montreuil a constantly shocked recipient of ever more scandalous bad news. The widow is no mere shrinking old woman but a schemer of the first order who knows how to get her way by use of considerable influence.
Starting in 1772, the tale develops six years later and in the final act reaches 1790, a year after the revolutionary watershed that will change the lives of all involved forever, even the outspoken servant, Jenny Galloway's Charlotte.
What had previously been a hypnotic exploration of morality and hypocrisy in a rigid society like Mishima's own in Japan two centuries later enters a new phase where established values are to be threatened and then overturned forever.
Madame de Sade is a gripping play, beautifully staged by Michael Grandage and designer Christopher Oram who has fun with gorgeous costumes and top heavy wigs (not to mention viciously-wielded Japanese fans). The language too, in Donald Keene's poetic translation is fitting for a writer who clearly cared deeply about words and the effect that they can have.
The potentially staid nature of an actionless drama is relieved by use of hazy images and Adam Cork's eerie soundscape backed by modernised harpsichord riffs.
It might not be Shakespeare or Chekhov but this evening gives the Donmar three out of three hits in what is fast turning into an unforgettable first West End season.
Visit our sponsor 1st 4 London Theatre to book tickets for Madame de Sade.
Reviewer: Philip Fisher