Mad Kings and Englishmen: History hung, drawn and quartered! Part 1 - History Begins
Jessica Swale
Red Handed Theatre Company
Bridewell Theatre
(2009)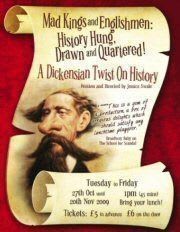 What a marvellously silly potting of history is Mad Kings and Englishmen.
This new comedy by Jessica Swale is served in two snack-sized pieces in the Bridewell Theatre's regular lunchtime slot - Part 1 - History Begins and Part 2 - History Continues - and with each lasting 45 minutes they are just the business for taking your mind off whatever is lurking in the in-tray.
Inspired by Dickens' A Child's History of England, an educational set text for many years (yawn, yawn) Mad Kings and Englishmen owes more to the 'Horrible Histories' school of thought. The cast, whose improvisations form the basis of this romp through the millennia, are talented and energetic, singing, rapping, wearing daft wigs and swapping indeterminate accents in an irreverent and hilariously inaccurate rendition of what we are taught at school.
The audience is guided, if anything as conventional as that could be said to occur, by James Sanderson with fatherly and benevolent tone in the occasional persona of Dickens telling historical bedtime stories to his son, played by bear-hugging Ronan McMahon (who must have been taking 'moaney voice' lessons from children of my own acquaintance). There is a big dollop of interference in the proceedings from Mrs Grubb, and Harriet Usher comes up with the goods as this archetypal Dickensian old bat as well as her many other parts.
In fact, between the six of them the cast play more parts than Dickens had hot dinners, covering everything from the distinguished to the dimwit; Thomas Coombes being a good case in point here doing gormless very well as a slow-witted prison guard.
In Part 1- History Begins also memorable is Lorna Shaw in a sketch where, as the messenger bearing bad news, she gets shot every time the scroll is delivered - the same sketch providing one of my favourite lines: "What's 'LOL' in Latin?" Two other standout sketches are about The Peasants' Revolt with Charlie Dupré outstanding as the rapping rebel Wat Tyler, and a mini-series on the six juvenile boy kings. All called Ed, it seems, from Ed(mund) the Magnificent to Ed(ward) the Sickly each has his story told in turn, although not necessarily in historical order: especially funny is Ed(gar) the Peaceful's story told by a country singer with a southern drawl, whilst Ed(thelred) the Unready bears an uncanny resemblance to Michael Crawford's creation, Frank Spencer.
This telling of our illustrious history is in two stand-alone parts so if you miss one because of a bored meeting (sorry), there's nothing stopping you catching the other, or even seeing them in the wrong order. After all, the concept of chronology doesn't seem to bother them! As one o'clock approaches, it's time to grab your sarnies and head to the Bridewell for lunch and a laugh.
"Mad Kings and Englishmen: History hung, drawn and quartered!" plays until Friday 20th November with performances at 1pm and a running time of 45mins. Tuesdays and Thursdays for "Part 1- History Begins" and Wednesdays and Fridays for "Part 2- History Continues". Not suitable for children.
Reviewer: Sandra Giorgetti