The Madness of George III
Alan Bennett
Richmond Theatre and touring
(2011)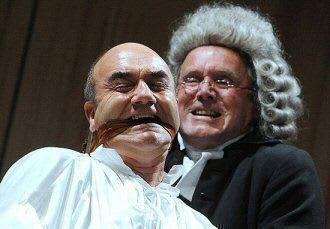 Some productions and performances cast long shadows. One such is Nigel Hawthorne's tour-de-force turn in Alan Bennett's The Madness of George III, a play first staged by Nicholas Hytner at the National Theatre in 1991 and later immortalised on film as The Madness of King George (for the benefit of those confused by Roman numerals).
Hawthorne's Olivier award-winning performance transferred equally successfully to film; indeed, one critic described the actor's close-ups in the film version as "the best argument for cinema over theatre that I can think of."
The iconic status of Hawthorne's performance in both the stage and the screen versions may explain why Bennett's play has seldom been seen since that initial staging. But Christopher Luscombe's new production - which closed the 2011 season for the Peter Hall Company at Bath and is now on a national tour - succeeds in carving out its own niche, and boasts a central performance by David Haig that, while not displacing memories of Hawthorne in the role, still constitutes a vivid, gripping interpretation in its own right.
The action takes place in the late 1780s. Already tormented by the loss of the American colonies, George III finds his equilibrium further tested by the onset of alarming mood swings and erratic acts: he disrupts concerts, gropes the Queen's Lady of the Bedchamber (Charlotte Asprey) and generally appears to be losing his wits.
While his physicians advocate crackpot methods - including blistering, purgatives and sweats - to cure his condition, a wider political crisis erupts. The PM Pitt (Nicholas Rowe) attempts to reassure Parliament of the King's sanity while his Whig rival Fox (Gary Oliver) argues that the petulant Prince of Wales (Christopher Keegan) should take over as monarch. The Queen (Beatie Edney) remains loyal, but when she and George are separated, the King's best hopes appear to lie with one Dr. Willis (Clive Francis), a parson-cum-medic who has his own unorthodox approach to the King's mysterious condition.
By turns irreverent and sympathetic, Bennett's serio-comic vision of George's predicament is well conveyed in Luscombe's nimble, no-nonsense production. With the historical context lucidly sketched in, Bennett gives himself rein to indulge in scatology and some flagrant anachronisms, and the play's oscillations between humour and pathos are nicely captured here.
Stirring bursts of Handel underscore some of the scene changes, and the production strikes the right balance between intimate and epic, with an elegant design by Janet Bird and crisp lighting by Oliver Fenwick.
And David Haig's performance is a show all by itself. Encompassing irascibility, imperiousness and heart-rending vulnerability, the actor delivers a rich and compelling performance here. Physically and vocally dexterous, he takes some bold risks in the mad scenes but underplays beautifully in the late scene - the play's best - in which the King's return to sanity is paralleled by his reading of the Cordelia/Lear reconciliation scene from King Lear.
Haig is well supported by Edney, and, especially, by the always-watchable Francis (last seen in three roles in the Orange Tree's delightful Three Farces), as the challenging doctor who believes that the King's condition may in part be the result of the unhealthy deference afforded to monarchs.
For all its amusing and insightful moments, though, I don't think it can be argued that The Madness of George III truly ranks as one of Bennett's most substantial pieces of work. There's a "thinness" about the conception of the piece, and, dramatically, the play never cuts quite as deep as you might hope.
It may be that the historical setting doesn't really allow Bennett to exercise his great strength as a dramatist, which is for the minute examination of everyday, contemporary British life. Notwithstanding, the play remains more distinctive and characterful than many recent dramas on historical subjects, and Luscombe's production is well worth seeing, not least for Haig's superb, resourceful performance.
Running at Richmond Theatre until 10th September, then touring to (w/c 12 Sept) Newcastle Theatre Royal; (19 Sept) Norwich Theatre Royal; (26 Sept) Everyman Theatre; (3 Oct) Nottingham Theatre Royal; (10 Oct) Cambridge Arts Theatre; (17 Oct) Marlowe Theatre; (24 Oct) Milton Keynes Theatre; (31 Oct) Yvonne Arnaud Theatre; (7 Nov) Hall for Cornwall and (14 Nov) Chichester Festival Theatre.
Sheila Connor reviewed this production at Guildford.
Reviewer: Alex Ramon