The Madras House
by Harley Granville Barker
Orange Tree, Richmond
(2006)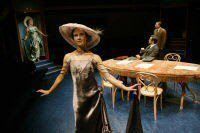 Everybody who attended Peter Gill's delightful revival of The Voysey Inheritance at the National Theatre must have been longing to see more plays by Harley Granville Barker.
The Madras House, first seen in 1910, was also produced at the National but some 30 years ago, when a version directed by William Gaskill starred Paul Scofield, and has only once appeared since.
This contemporary of Shaw wrote insightful dramas that should still have a place in the repertoire today. It is hardly surprising that the master of the neglected work, Sam Walters who recently gave us The Marrying of Anne Leete, should be the man to bring back another of the playwright's most highly regarded works.
This is a long play that requires a massive cast and technically Walters and his designer Tim Meacock have worked wonders to fit a cast of just under twenty on to the Orange Tree's small stage space.
The play is in four acts and these are so distinct as to be almost like separate plays. Each of them features the Huxtable and Madras families, well-to-do traders who are connected by marriage.
The first act is set in the Huxtables' living room and shows us a family rather like that of Bernarda Alba, containing a simpering gaggle of six unmarried daughters, all with limited prospects. The family is about to be turned upside down by the sale of the Madras House, a fashionable Bond Street ladies clothing establishment that has been run by father Henry Huxtable (Geoff Leesly) for the last three decades.
The sale is being brokered by dapper young Philip Madras, very well played by Timothy Watson, who has taken over from his father, Richard Durden's eccentric Constantine.
This part of the play is an enjoyable family comedy of manners which presents a good picture of life amongst the wealthier classes in Edwardian England.
The second act is completely different, as Philip presides over a debate and a battle about morality after one of his staff members, Marion Yates, played by Octavia Walters on top form, is discovered to be pregnant, while unmarried.
The recriminations bring out the conflict between a generation that still believes in the puritanical life demanded by the times of Queen Victoria and a younger group who would like much greater freedom.
The split between young and old is so pronounced that the lack of mutual understanding could not have been greater had one of the participants come from outer space.
This allows an opportunity for much humour, particularly from David Antrobus as a downtrodden husband, who gives another nice cameo as a prissy manager on mannequins later on.
Next, the play moves on to a board meeting debate about the future of the company, with overtly aggressive American commercial attitudes to the fore, much to the discomfort of the British traditionalists.
On Constantine's arrival, this develops into a rather theoretical discussion about the merits of becoming a Mohammedan, as he has, seemingly for the scope that this gives him to run a harem of wives. While much of the chit-chat is quaint, some of the fundamentalist ideas propounded demonstrate that nothing much has changed in the last century.
The final act attempts to pull together what has gone before, initially in the first meeting for thirty years between Constantine Madras and his martyred wife Amelia. Jan Carey does well in the latter part managing to keep a sour look of perpetual disappointment on her face throughout the play.
Their reconciliation is a failure but that between Philip and his own wife Jessica (played by Catherine Hamilton), in which they iron out their own problems, is far more successful. We also resolve the mystery of who fathered Miss Yates' child.
This three-and-a-quarter hour play contains much to delight; particularly in the scenes of social comment considering the lives of enslaved workers who are forced to "live in" never seeing loved ones and rarely escaping from the premises. Granville Barker also makes some worthwhile political points and allows us to focus on a society that within a few years would be transformed for ever by the War to End All Wars that didn't.
Reviewer: Philip Fisher