Maggie Smith: A Biography
Michael Coveney
Weidenfeld & Nicolson
Released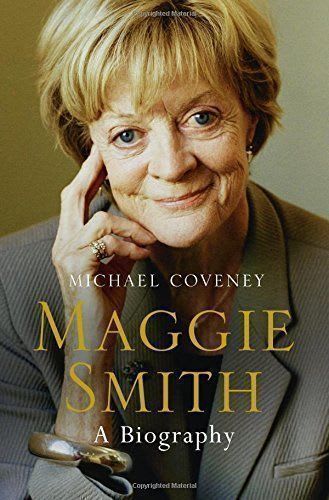 Although it is not acknowledged in the title pages, this "new" biography a significantly extended version of Maggie Smith: a Bright Particular Star that first saw the light of day in 1992.
While many of those who frequent British Theatre Guide will be familiar with much of the great Dame's excellent stage work, the reason for this new edition has little to do with Maggie Smith's work in the theatre.
In her dotage, the octogenarian actress has probably attained more fame than at any time in the first 70 years of her life.
Even if those closeted in theatres are ignorant, the man, woman and child in the street will instantly recognise the star of both the Harry Potter movies and Downton Abbey, even before the about to be released film version of The Lady in the Van adds to the legend.
In future, a good pub quiz question might be what Ken Campbell and Maggie Smith have in common. The answer is shared with Michael Coveney and that is a place of birth on the outskirts of London in Ilford. This seems to be enough justification for the writer to choose them as biographical subjects. Following the logic, Noel Edmonds could be next.
In the meantime, readers can enjoy a well-researched book about an extremely private lady. While it is clear that Michael Coveney has worked hard to find information from a wide range of sources, one would guess that Miss Smith herself has been somewhat reticent about sharing her innermost feelings, even with a sympathetic biographer.
Allowing for that fact, readers will still build up a good picture of a lady who became a star at a very young age and used her skills as a hand-waving comedienne to become one of the finest and best known actresses of her generation, eventually recognised as a Dame of the realm.
Everyone will have their own favourite stories and starring appearances and these might include anything from the early days working with Oxford students to playing Desdemona opposite Laurence Olivier's Othello, Alan Bennett's Talking Heads and, of course, the recent high profile TV and movie appearances.
Childhood, marriage to Robert Stephens and then Beverley Cross, minor spats with minor directors and hobnobbing with the rich and famous all form part of the portrait.
Coveney's methodology is to follow the career step-by-step, which almost certainly involved him dedicatedly devouring untold quantities of TV and movie footage to avoid missing any special morsel.
At times, this can almost become a burden since so much information, not always directly about the subject of the book, is given about relatively obscure works or, for that matter, films with which many readers will be very familiar.
Where Michael Coveney really scores is in presenting a credible picture of a very private lady who rarely gives interviews and is therefore only really known through her public persona, most of which is presented in the guise of other individuals.
By the end of the 350 or so pages, readers should feel that they have a deep understanding of Dame Maggie Smith as well as a good overview of her career and the social and artistic scene throughout its duration.
Reviewer: Philip Fisher