Magic Goes Wrong
Penn Jillette, Henry Lewis, Jonathan Sayer, Henry Shields and Teller
Mischief Theatre and Penn & Teller
Leeds Grand Theatre
–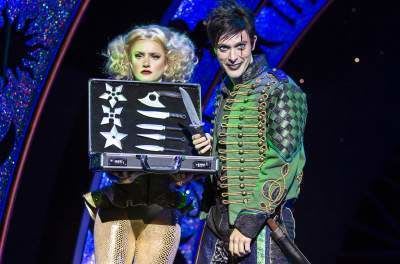 The colossal success of Mischief Theatre never ceases to amaze me. Not because the company doesn't deserve it, but rather because it has managed to accomplish so much in such a short space of time.
In the thirteen years since Mischief Theatre first got together, the company has enjoyed a string of monster hits—including The Play That Goes Wrong and The Comedy About of a Bank Robbery—which have been performed all over the world. The company's founders—Henry Lewis, Jonathan Sayer and Henry Shields—have also managed to snag a show on the BBC. Not too shabby for a company whose first show debuted over a pub.
In Magic Goes Wrong, first performed in 2019, Mischief Theatre sticks to the tried-and-tested formula that has brought them international success. Like The Play That Goes Wrong, the joy of the show lies in watching a supposedly real-life production fall apart before your very eyes.
To commemorate the death of his father, who was crushed by an avalanche of falling magic props, the young (and neurotic) magician Sophisticato (Sam Hill) decides to throw a charity fundraiser for performers who have perished whilst performing tricks. On the line-up are some of the world's most incompetent magicians: an appalling mentalist named The Mind Mangler (David Nellist), a risk-averse daredevil called The Blade (Kiefer Moriarty) and an accident-prone duo from Germany, Bar and Spitzmaus (Chloe Tannenbaum and Jocelyn Prah).
Over the course of the show we watch the magicians' tricks backfire in spectacular fashion. Whether it's The Mind Mangler being sabotaged via teleprompter ("The time has come for me to reveal… my penis!") or The Blade having one of his arms shot off, the disasters come thick and fast.
If the company's schtick doesn't appeal to you, then Magic is unlikely to win you over. As a fan of their previous shows, however, I'm happy to report that I thoroughly enjoyed Mischief's latest bit of theatrical chaos.
Apart from the occasional longueur, the production is performed at breakneck speed. A show of this nature relies on fastidious attention to detail, so considerable kudos must go to director Adam Meggido and magic adviser Ben Hart for Magic's slick precision.
Penn and Teller also deserve props (no pun intended) for supplying a range of well-crafted magic tricks, some of which are genuinely baffling. The first act ends in Grand Guignol style with an elegant magician's assistant, Eugenia (Valerie Cutko), being literally sawn in half.
Sam Hill is hilarious as the increasingly exasperated Sophisticato, his professional veneer crumbling after every new catastrophe. As The Blade, Kiefer Moriarty delivers a delicious send-up of supposedly cool, edgy magicians (Criss Angel, for example), providing some of the evening's funniest moments. With their deliberately dodgy accents and exaggerated movements, Chloe Tannenbaum and Jocelyn Prah make a formidable duo.
The evening was stolen for me, however, by the superb David Nellist as The Mind Mangler. Thwarted at every turn by the teleprompter, his idiot assistant Mickey (Daniel Anthony in top form) and his own ineptitude, Nellist is hysterically funny and, at times, surprisingly moving.
The production is further enhanced by Will Bowen's glittering set design and Robertos Surace's eye-catching costumes, both of which help to conjure the naff glamour of big-budget magic shows.
Magic is not perfect by any means. As with previous Mischief shows, I feel that it would have benefited from a trim, and occasionally some of the running gags started to grate on my nerves.
Overall, however, I'd say that Magic Goes Wrong offers 150 minutes of inventively silly comedy that the whole family can enjoy.
Reviewer: James Ballands