Magic Goes Wrong
Mischief Theatre and Penn & Teller
Mischief Theatre
Vaudeville Theatre
–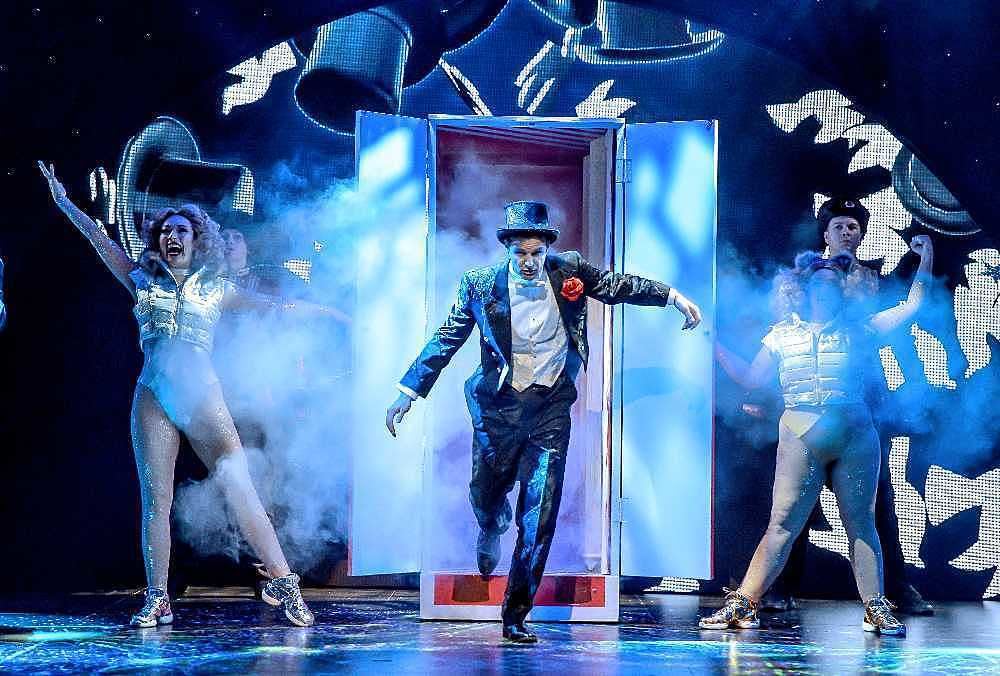 The Play That Goes Wrong has become a global phenomenon, spawning not only a series of stage comedies but also TV versions and now a BBC series.
The latest offering from a team that met at LAMDA and continue to write and perform together over 10 years later will undoubtedly appeal to the company's growing throng of fans.
Magic Goes Wrong does exactly what the title suggests. For 2½ hours, the cast blunders around the stage generating disaster after disaster as they tried to present a perfect series of illusions for the benefit of an unlikely sounding charity.
While much of the magic is quite amateurish, invoking the shade of Tommy Cooper, the evening builds to some carefully constructed tricks, created with the input of some of the best in the business, Penn & Teller.
In addition to the input from the multimillionaires who continue to ply their trade in Las Vegas to great acclaim, other guests make brief screen appearances including David Copperfield and, much to his credit and the audience's amusement, Derren Brown.
The ingredients are largely those that have made Mischief Theatre the company that it is. Henry Shields compères the night in the guise of Sophisticato, a clumsy second-generation magician who becomes increasingly like Basil Fawlty when the chips are down.
He introduces a series of acts of which some of the most memorable include Henry Lewis playing the Mind Mangler, a mindless mind-reader reminiscent of Derren Brown without the mental or social skills and given a great foil in Jonathan Sayer.
Regular team members Nancy Zamit and Bryony Corrigan play a couple of German showgirls with skills as weak as their accents.
However, the strongest and most amusing character (in every sense) is The Blade, courageously portrayed by Dave Hearn.
The funniest moment of the evening by some way, comes in the first half when Sophisticato attempts to emulate one of his father's final moments by cutting a generous female benefactor in the half using a chainsaw.
Elsewhere, there is everything but the kitchen sink including bears, doves, knives, blood and guts, all too literally in the last case.
There are dual attractions to be derived from this show, since the comedy for which the company has become famous is ramped up to the usual high level but Penn & Teller make a big contribution in the second half of the evening with a couple of illusions that may go wrong but are cleverly contrived and highly sophisticated.
Anyone with a sense of humour is likely to have a wonderful time and could well be exhausted by the end of an evening strong on running gags during which they will find themselves laughing for the vast majority of the time.
Reviewer: Philip Fisher