Magical Night
Music by Kurt Weill, choreography by Aletta Collins
ROH2 Linbury Studio Theatre, Royal Opera House
(2011)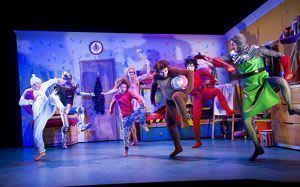 From behind a stage curtain covered in rockets and planets comes a toy monkey riding a remote-controlled pink Barbie toy Cadillac, familiar to many children. Called for on a Fisher Price telephone, Bubbles, a deep-sea diving bath toy, brings the pizzas, and three football players jump out of a chest of drawers.
How clever of the Linbury Studio to capitalise on the Toy Story concept with this recently rediscovered and reconstructed score by Kurt Weill (1900 - 1950), Die Zaubernacht, the Magical Night, a one-hour-long 'Kinderpantomime', a companion piece to The Nutcracker in the main house, updated for a contemporary audience.
A magical story in itself: thought lost, but lying in Yale University's library vault for some eighty years, Die Zaubernacht was Weill's first theatre work to be staged in Berlin in 1922 and then at New York's Garrick Theatre in 1925. A locksmith had to be found to open the safe, as after all that time its combination had been lost. To unlock the music and its timeless tale…
Choreographed by Aletta Collins and conducted by James Holmes, this is a special entertainment for adults and children on several levels. Weill lovers' ears will be itching to hear his early work, and children will be delighted by Rachel Canning's visual treat of a colourful set (great attention to detail) and Gabrielle Dalton's costume designs, enhanced by Charles Balfour's dramatic lighting.
Scored for a nine-piece ensemble (here ten – two percussionists) consisting of flute, bassoon, percussion, piano and five string players, the music heightens drama, sustains character motifs, and sounds incredibly modern. It opens with 'Das Lied der Fee', the 'Fairy's Song' – on the stroke of midnight a toy fairy (Yvette Bonner in Barbie pink) sings her companions to life.
According to the Weill web site, the original scenario by Wladimir Boritsch survives in skeletal form, which gives the creative team carte blanche—'directors and choreographers are encouraged to create their own scenarios that are appropriate to the music'—though essentially the story is quite simple and universal.
In a modern bedroom—bunk beds, glowing ladybird nightlights, toy chest, wardrobe, easel, and the usual toy detritus and clutter on the floor—two children, Megan and Jason, are being put to bed by mother, who later comes to life as a witch drawn by the girl. Interesting doubling… as she whisks the boy away to her black and white blackboard set home, and pops him into her picture book stove.
There's a bit of sibling rivalry and grumpy fighting, Chimpy's tale gets pulled off and tired mum throws the toys into their toy chest, a great portal for their comings and goings.
Favourite toys, Tumble Tot (a very supple Alessandra Ruggeri tumbles and rolls and has phenomenal ball control for a dummy-sucking baby doll), Chimpy (Thomasin Gülgeç, coached in primate movement, acrobatic and funny), Fire Flame (a martial arts disciplined WeiChun Luo), Mighty Robot (Owen Ridley-DeMonick moon-walking and body-popping), and Sir Green Knight (lanky sword-wielding Greig Cooke) appear from toy box, wardrobe, off the wall and behind the bed.
Their joyful noise wakes up the children from their sleep, and they join in the fun, entertained by the toys' singular moves and antics. Megan soon feels left out and draws a witch to play with. O–oh.
Lorena Randi makes a marvellous if not very scary witch, Sarah Good (hmm…), in purple streaked body suit topped by a black smock. Her cauldron handbag is Mulberry-chic, and her two snake attendant accessories provide that look-behind you moment.
A well-behaved audience watched a well-behaved production. Tiny tots will not be alarmed by any of the goings-on, and adults may be charmed by its nostalgia. Safe as houses, or children's bedrooms…
Till 31st December 2011
Reviewer: Vera Liber