The Year of Magical Thinking
Joan Didion
A National Theatre Production
Bath Theatre Royal and touring
(2008)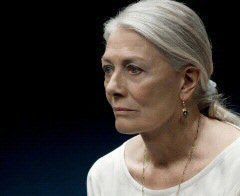 Silence is often played out to great effect in the theatre; by Peter Hall, for example, who peppered his 2005 revival of Godot with magnificent silences. But the most impressive silences are often entirely spontaneous. As the lights fade on Joan Didion's deeply affecting reflection on loss and grief, The Year of Magical Thinking, a wrung-out audience is left in a profoundly reflective hush and it is several long moments before the applause and the ovation cut in.
Didion's book of the same title recounts the hellish year which followed the death of her husband of 40 years, John Gregory Dunne, who died from a heart-attack in December 2003. The couple's 38 year old daughter had been in a coma in a New York ICU at the time of her father's death, suffering from pneumonia and septic-shock. Didion delayed her husband's funeral until her daughter was well enough to attend. Her daughter recovered and was even able to read at her father's funeral but went on to suffer further complications and died less than a year later.
This stage adaptation is far more than a memoir. Didion decided during the rehearsal process that "this would be better if it were less about me and more about them [the audience]". And so her play became a conversation with the audience; a direct counsel, in fact, that we should brace ourselves for the inevitability of bereavement. "It will happen to you", she cautions us in the opening scene. "The details will be different, but it will happen. That's what I'm here to tell you".
This isn't, then, the easiest evening of theatre. It's harrowing stuff, made all the more so by the unflinching honesty of both text and delivery. Vanessa Redgrave brings such warmth and grace to the role that she lifts an already affecting story into an intensely beautiful piece of theatre. She inhabits the steely cool of this fast-talking, self-possessed, educated and successful New Yorker. But Redgrave's humility, poise and gentle humour ensure that the net effect is entirely heart-breaking.
The production has a pared-down simplicity which compliments Redgrave's easy naturalism. David Hare's sensitive direction is perfectly-pitched and Bob Crowley's series of ephemeral greyscale backdrops fold away in a whisper as Didion recalls each new phase in her agony. Jean Kaldman's lighting and Paul Arditti's sound design echo with just this same lightness of touch.
And twenty-four hours after the curtain, the play leaves a lingering sense of comfort. Bereavement is, after all, part of the human condition. Didion has laid it bare for us, and in doing so, she has removed just enough of the mystery, enough of the taboo, to ease the pain a little. She has nursed herself through her grief and emerged to tell the tale. Her story stays with you; a beautifully worded, heart-felt sympathy card from someone who's truly been there.
"The Year of Magical Thinking" runs at Bath Theatre Royal until 13th September and at the Dublin Festival, 30th September - 4th October
Philip Fisher reviewed this production at the National Theatre
Reviewer: Allison Vale