The Year of Magical Thinking
Joan Didion
RNT Lyttelton
(2008)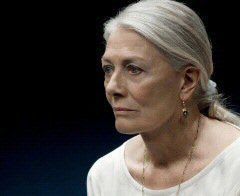 A face can launch a thousand ships and Vanessa Redgrave proves that a superlative actress can entrance almost as many people every night. This will come as a surprise to London producers who are always reluctant to put solo shows in large theatres.
Ironically, on the same night that The Year of Magical Thinking opened at the National, Laurie Anderson's latest show, Homeland, made its London debut at the Barbican just across the Thames. That will be reviewed tomorrow but the expectation is that the experiences will be on a completely different scale.
Miss Redgrave sits and stands in front of a series of bleak, grey watercolours that change minimally from one episode to the next but have been created by designer Bob Crowley to set the tone and also to reduce the stage to manageable proportions. The actress is then beautifully but subtly lit by Jean Kalman who creates amazing effects in a quiet, understated way.
However the centre of attention for 90 minutes is a single actress, who seemingly has no trouble in remembering swathes of lines, which ought to be a major feat given the fact that she is now in her early 70s. She also delivers a masterclass in acting, carrying her audience effortlessly by showing incredible emotion that suggests that, as she tells another woman's story, she is at least in part reliving some of her own.
That woman is novelist and screenwriter, Joan Didion, whose "life changes in an instant" on the penultimate day of 2003 as her husband, the writer John Gregory Dunne, slumps over the dinner table in what she initially assumes to be a bad joke.
Life was not easy for the couple anyway, as their recently married daughter Quintana was lying in a hospital bed in a feverish coma, which ultimately delayed her father's funeral.
The Year of Magical Thinking takes us inside the mind of a bereaved writer, somebody used to ordering and expressing her thoughts to great effect. It may originally have been written as a memoir but with the assistance of director Sir David Hare, whom many will remember acted in another main stage solo show, Via Dolorosa at the Royal Court, becomes an unforgettable stage event.
The title refers to something that Miss Didion learned when studying anthropology. Some ancient races believed that following death, it was possible to hold the spirit of the deceased by using "if thinking" or imagining that they were still alive, merely out of sight.
This is a technique that she practised in the months following the passing of John Gregory Dunne, moving through disbelief to denial and then eventually reluctant acceptance. However, there is a second strand to this story, as Quintana recovered but within three months was back in a second coma.
All of this sounds very grim and is. However, the writer has the good sense to leaven the tragedy with moments of welcome laughter. The story is also one of recollection, as her life with her much-loved husband and daughter is recollected from the happy hippy days in Malibu during the 1960s onwards to literary success and affluence.
The real subject though is loss, which becomes all pervasive when one realises that the smart woman with tied back white hair is not just wearing her expensive Tiffany jewellery for fun. An early allusion to a gold bracelet comes back to haunt us in the evening's most chilling and memorable scene, as the actress takes four simple steps forwards, her face collapsing to announce a further tragedy.
The success of all concerned is in allowing us to enter the mind of a grieving woman and share in her most personal thoughts. In this way, although it will be uncomfortable viewing for anybody that has suffered a similar loss; they are likely to come out all the stronger for understanding that they are not alone.
Vanessa Redgrave is magnificent, reminding us how lucky we are to be able to see her in the flesh. Anybody who can get tickets for this bravura performance of a perfectly crafted and poetically written piece will remember it forever. She was nominated for a Tony and won a Drama Desk Award for her performance in this role on Broadway and there seems little doubt that the actress will garner more plaudits in London and may well need to extend her trophy cabinet.
Allison Vale reviewed this production on tour at Bath Theatre Royal
Reviewer: Philip Fisher