Make Up
Andy Moseley
NoLogoProductions
The King's Arms, Salford
–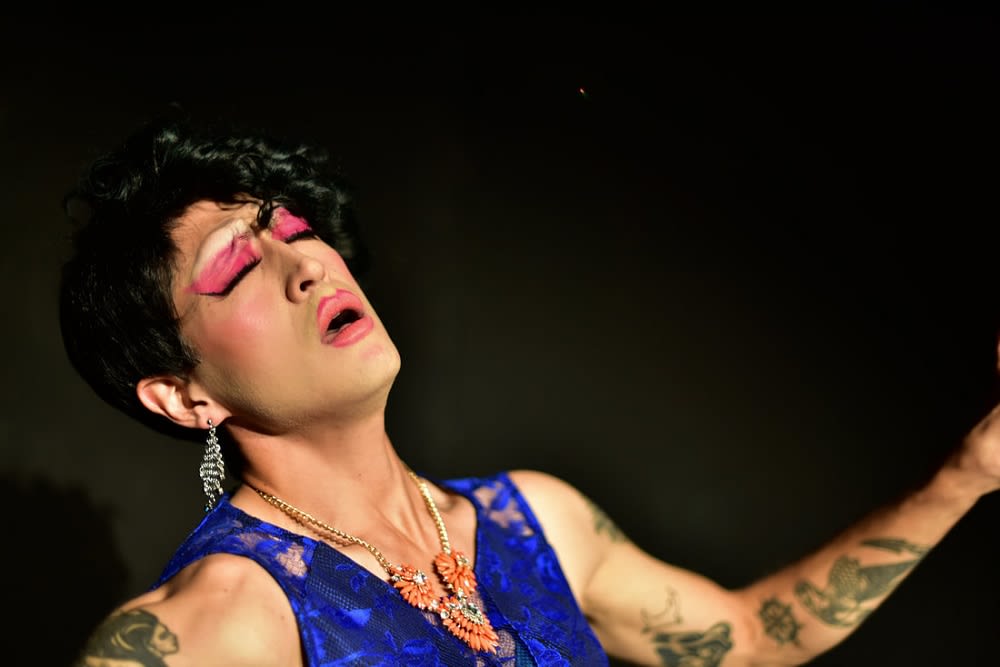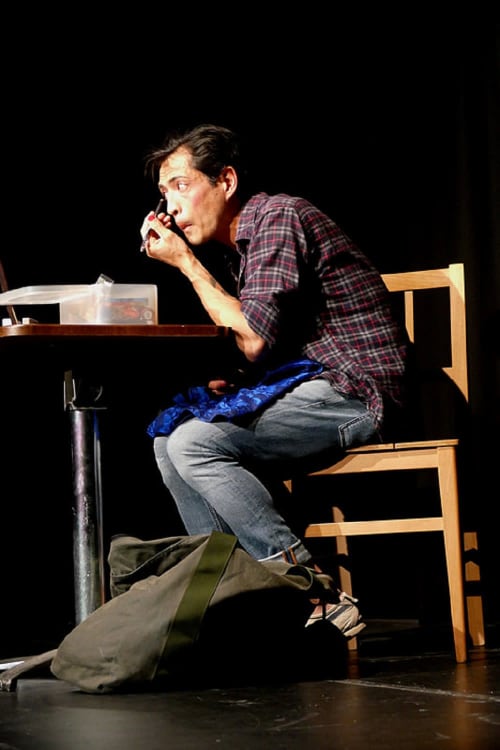 Lady Christina (sole performer Moj Taylor) is a veteran drag artist. Of a vintage able to recall when drag clubs were underground venues catering for those outside of society's norms rather than vanilla audiences looking for something a bit risqué.
Lady Christina looks down on up-and-coming new acts who regard the drag scene as a quick route to television success and cannot be bothered to learn to sing, taking the easier option of lip-syncing. The removal of make-up reveals not only Christopher Laneghan, who conceived the drag character, but also worrying signs that, as he ages, Christopher is beginning to physically resemble the father who rejected him years ago and to whom he has not spoken since.
Make Up, written by Andy Moseley (who co-directs with Taylor), opens with the jaded sense of rebellion gone a bit sour; Lady Christina bemoans newcomers unaware of challenges faced by pioneers who blazed a trail. However, typical of the measured and thoughtful tone of the play, Christopher recognises while the sense of danger may have been lost from the drag scene, changes in society have allowed a wider level of acceptance—audiences broad-minded enough to regard drag as just another form of entertainment and appreciative when it is done well.
It would have been easy to turn Make Up into a triumphant play in which the underdog defies the odds. The bitter experiences endured by Christopher contributed to the development of his drag character. Lady Christina originated as someone with whom Christopher's ailing mother could gossip and the bullies who tormented him at school pop up as grotesques in the act. Yet the tone is reflective, as a wounded Christopher tries to understand and come to terms with the actions of his father. However fair-minded Christopher might try to be, it is hard to avoid the conclusion his father is something of a narrow-minded coward who, upon experiencing prejudice, pandered to the bullies and deflected their anger onto other groups.
Moj Taylor makes subtle distinctions between the slightly catty Lady Christina (who cannot sing like Mariah Carey, but then, she notes, neither can Mariah Carey these days) and the more laid-back Christopher. The most remarkable aspect of his performance is, however, the absence of bitterness and anger.
Taylor brings a great deal of injured hurt to the role, but his bemusement and concern extends to Christopher's father. What, ponders Christopher, did he get out of rejecting his son other than ending up a lonely, bitter old man? Christopher recalling seeing his father while in his Lady Christina persona is a particularly powerful sequence which makes clear he is willing to try and reconcile but has recognised this is unlikely.
Make Up is a thoughtful examination of the lasting effect of prejudice featuring a strong and empathetic performance.
Reviewer: David Cunningham