Make Me a Song - The Music of William Finn
Conceived by Rob Ruggiero
New Players Theatre, London
(2008)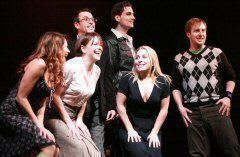 Make Me A Song - the music of William Finn was a hit off Broadway and gets its London premiere at New Players Theatre.
Composer and lyricist William Finn, whose work is celebrated in this piece, has a fairly unique perspective on life and has no fear of unconventionality. His trilogy In Trousers, March of the Falsettos and Falsettoland was highly celebrated off Broadway and not only because of his apparent talent as composer, lyricist and book writer, but also because the story concerned a man called Marvin who at the start, having married, leaves his wife for a man and at the conclusion faces the onset of the AIDS epidemic. To approach such a topic - and humorously to boot - was still pretty challenging stuff in the late 70s and 80s.
But Finn does not apply his original brand of humour narrowly. Songs with such titles as "Passover" and "Four Jews in a Room Bitching" give you a pretty big clue as to another influence on Finn's work, and A New Brain, which he wrote in collaboration with James Lapine in 1998, is highly autobiographical being based on his own experience of having a brain tumour.
The numbers in this compilation show represent a broad spectrum of Finn's output which is credit to Rob Ruggiero who conceived the show and who won a critics award when he directed it in the States. Here it is directed by Andrew McBean who makes best use of the space available cunningly designed by Ben M Rogers with a steep rake to make use of the rear of the stage and providing for projected backdrops which give atmosphere and location to the numbers.
Ruggiero's careful selection illustrates Finn's ability to take us on a journey: "What good is a lover who is scared . Let's be scared together There's nothing to fear ." And his skill at using a different angle to express thoughts: "Sex is good, but I'd rather be sailing...Food is nice but " and of course his fun-loving approach to life.
However, Ruggiero chose not to have any Side By Side By Sondheim-style witty interludes and introductions and I suspect that for audiences less familiar with Finn's cannon some 'scene setting' might help, though certainly numbers such as "Poor, Unsuccessful and Fat" are sufficiently intrinsically entertaining to stand alone.
To deliver Finn's works there is a cast with a huge amount of talent and an awesome collection of credits to back it up.
Simon Thomas gives a lingering rendition of "When the Earth Stopped Turning" - it is unrepentantly sentimental but its core sincerity makes up for a lot. Finn wrote it in remembrance of his mother and he describes with touching brevity as "it is what it is".
In contrast Finn admits to never having been fishing with his father notwithstanding Ian H Watkins' "I Went Fishing with My Dad" in which he acquits himself well though the transition from "I Went Fishing with My Dad" to "I Went Fishing with My Son" could have been bigger.
Gareth Snook was terrific with both the comedy and tragedy of his pieces and he brought an energy and charm - dare I say even a twinkle - to his performance and I cheered up whenever he returned to the stage.
Frances Ruffelle's distinctive voice was much in evidence in "Love for Me for What I Am " and she gave a lovely comic and coquettish turn in "Stupid Things I Won't Do", originally written for Elaine Stritch.
Louise Dearman was stunning; she brought a superb intensity to "Anytime (I Am There)" (written for a friend's funeral) that was genuinely moving making sense of lyrics that in different hands could have come across as purely maudlin. Dearman and Thomas also dueted beautiful with the medley of "I'd Rather Be Sailing" and "Set Those Sails".
Sally Ann Triplett was excellent. She captured and held our attention, measured her emotion and tugged at ours. She inhabited her songs and delivered 110%.
Make Me A Song is worth going to for her performance alone but you might as well go along and enjoy it all!
"Make Me A Song" runs until Sunday, 6th April with performances Tuesday to Sunday at 7.30pm and Saturday and Sunday matinees at 3.00pm (except Sunday 30 March).
Reviewer: Sandra Giorgetti