Man and Superman
George Bernard Shaw
National Theatre (Lyttelton)
–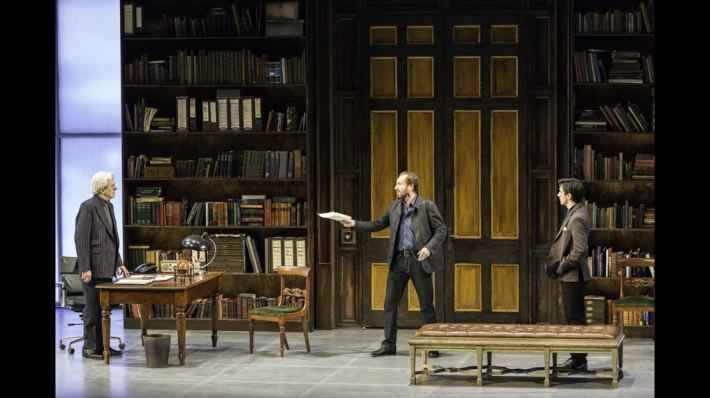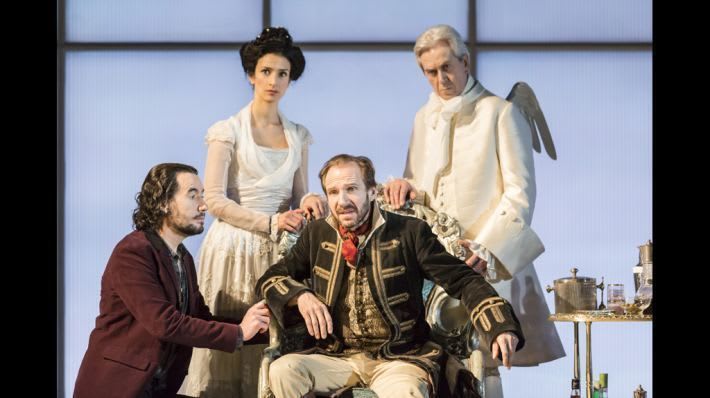 George Bernard Shaw loves polemical speechifying and doesn't stint on it during the 3½ hours of Man and Superman. However, the play also has echoes of Much Ado About Nothing featuring a central love-hate story with a subsidiary pairing mirroring and illuminating its course.
Director Simon Godwin has chosen to give the evening a contemporary setting, even updating the occasional allusion for the sake of consistency. Christopher Oram's set design to complement the concept is simple, accompanied by video support designed by Luke Halls.
The comedy starts early on, as Indira Varma's slyly manipulative Annie is presented with joint guardians following the demise of her father.
The rich heiress finds her protection shared by chalk and cheese in the form of Nicholas le Prevost as Roebuck 'Granny' Ramsden, a pompous ass of the old school, and Jack Tanner an anarchic radical.
In the latter role, Ralph Fiennes has the greatest fun, mischievously tormenting his newly-appointed partner with all of the wit one would expect from the author of The Revolutionist's Handbook.
The two practically come to blows, as boa constrictor (and numerous other symbols from the animal world) Annie craftily eggs them on.
At the same time, Jack is encouraging Ferdinand Kingsley's wet Tavey to pursue the leonine lady in whose mouth butter would not dare to melt.
Before warfare is actually declared, a diversionary event occurs with the shocking news that Faye Castelow as Tavey's sister Violet has become pregnant outside wedlock.
This shocks all and sundry into action as they try to determine the identity of the dastardly father, leading to a couple of sharply amusing twists.
This is all great fun and allows Shaw and his characters to declaim entertainingly about many topics including art, morals and politics of both the traditional and gender varieties.
Jack and Annie are quite a fearsome duo so it is not surprising when the path of true love veers far off the straight and narrow. Indeed, in his efforts to escape from the clutches of the beautiful but domineering young beauty, her co-guardian takes a sports car ride into Europe, no mean feat 110 years ago when the play was written.
There, he and his intellectual chauffeur Henry are captured by a sweet-natured band of internationalist brigands. Led by Tim McMullan's Mendoza, the bandits soon make friends of their captives rather than ransoming them or worse.
Simon Godwin then had a major decision. One of two "detachable" scenes features a dream in which Jack finds himself playing Don Juan in Hell. There, he encounters Lucifer, McMullan looking like a louche 1970s rock star, along with subverted versions of Annie and Granny.
Most productions skip this act, directors probably correctly taking the view that it is long, distracting and, while there are some excellent polemical speeches, at times tedious.
Pleasingly, once the action returns to the present day there's an ending that could be worthy of Shakespeare with two couples finding happiness ensuring that most audience members will leave the theatre with smiles on their faces.
In particular, they will have enjoyed the comic love story and take away fond memories of a superlative performance by Ralph Fiennes and his jousting with Indira Varma, who also rises to the occasion.
On 14 May, Man and Superman will be broadcast live to over 560 UK cinemas and more overseas as part of the NT Live programme.
Reviewer: Philip Fisher