Man To Man
Manfred Karge, Translated by Alexandra Wood
Wales Millennium Centre
Wilton's Music Hall
–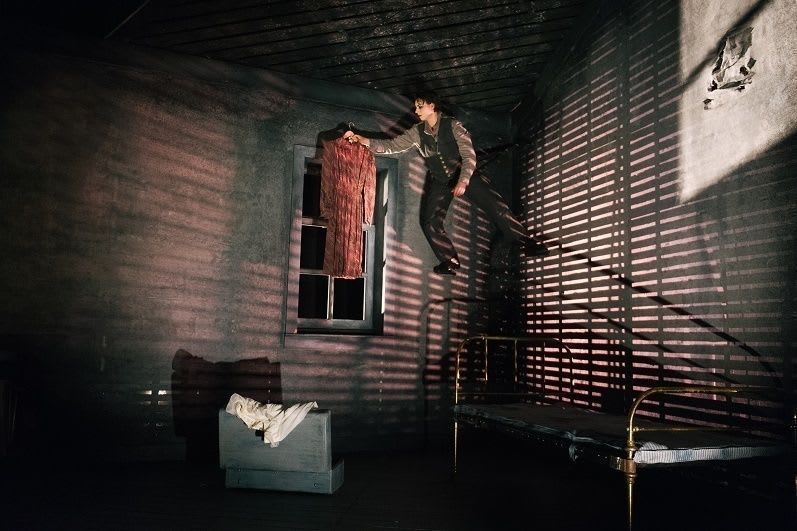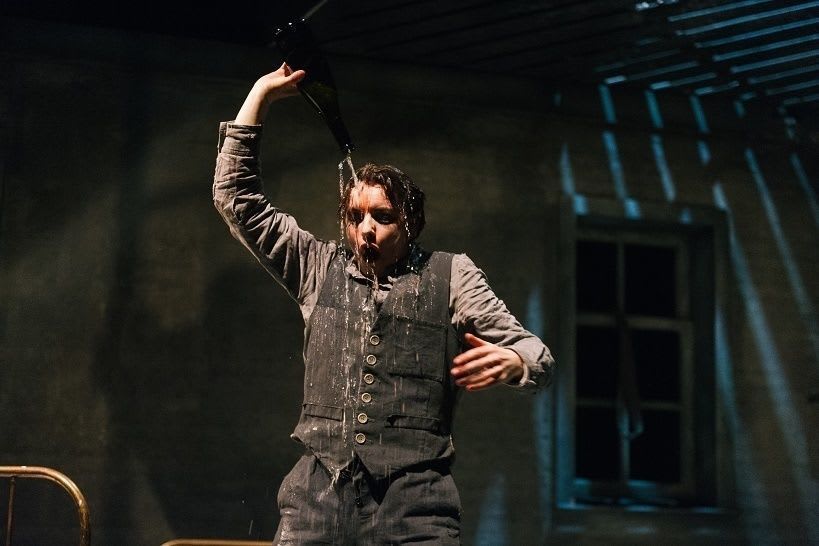 Man to Man is the extraordinary story of one man and, at the same time, an oblique and partial history of Germany covering a period of around half a century starting in the 1930s.
This touring English language version of a play written in 1982, which was commissioned by the Wales Millennium Centre, is distinguished by the kind of high production qualities more commonly devoted to major events with big casts.
Co-directors Bruce Guthrie and Scott Graham have worked hard to create a visually and aurally enticing evening. Designer Richard Kent makes great use of the efforts of three colleagues, Rick Fisher provides atmospheric lighting, Mike Walker a complementary sound design and Andrzej Goulding spectacular video projections.
The performer then makes the most of what is otherwise be a claustrophobic bedsit stage space, literally climbing the walls and sitting suspended in space at various points, as well as disappearing and reappearing like a great farceur.
Together, these elements take the solo performance into a different league and scale from the norm, helped by a gripping performance delivered by the athletic Maggie Bain. She plays Max (nee Ella) Gericke, a crane operator from Brandenburg, a role that helped launch Tilda Swinton's career.
Gender confusion has become the hot topic in contemporary theatre and the media but rarely quite in this form.
The reason that Ella Gericke transfers gender is economic rather than idealistic. Having happily married Max, a year and a half later his troublesome sciatica has been diagnosed as cancer and swiftly widows her.
At that point, in an effort to keep life and limb together, the doughty lady dons her late husband's clothes, bravely taking his persona, gender and job as part of the package.
As Germany descends into Nazism and war, life becomes colourful and challenging for the barely effeminate man, who eventually joins the SA as a protective measure, before Russian Communism comes along with a new set of challenges.
By this stage, Max has endured a series of thrills and spills, on several occasions coming close to having his/her gender revealed.
The story of Man to Man is related in two different accents: received pronunciation seems to be used for contemporary storytelling, while what is probably the actress's natural, broad Scots accent, which can be difficult to understand on occasion, is used by the ageing Max reflecting on an extraordinary life.
While the play has proved itself to be perennially popular and shines a light both on Nazi Germany and its successors as well as the economic and social difficulties of ordinary folk just trying to get along, this production will largely be remembered for the performance and its stylish presentation.
Reviewer: Philip Fisher