Manchester Lines
Jackie Kay, music by Errollyn Wallen
Library Theatre Company
Number One First Street, Manchester
–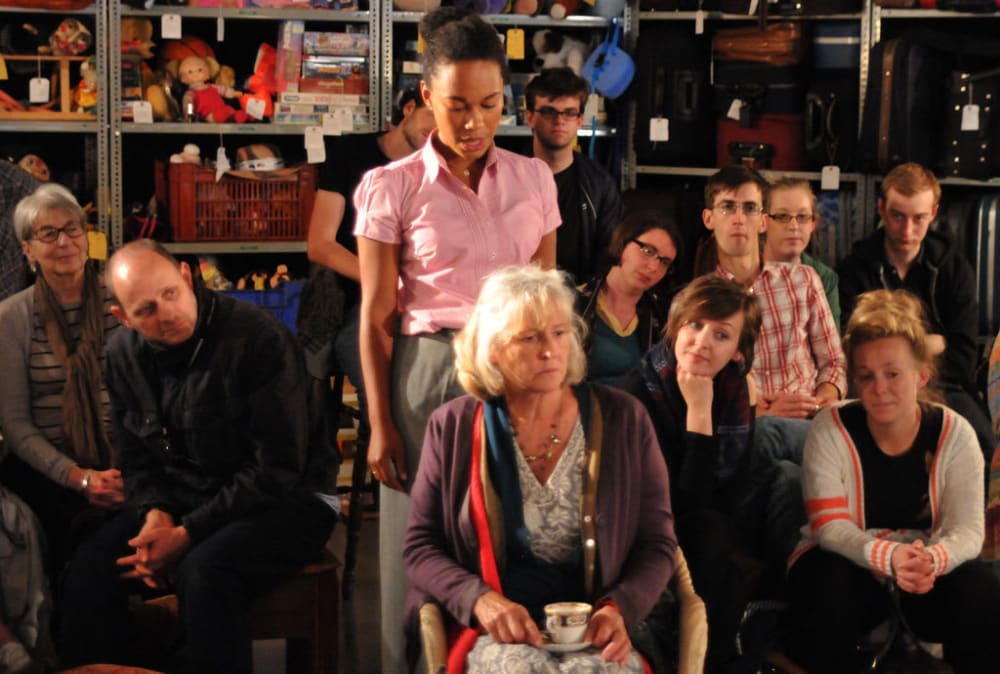 Following last year's award-winning production of Hard Times in an old mill building in Ancoats, Manchester's Library Theatre Company revealed that it was the first of a trilogy of Manchester-related new productions in unusual performances spaces. The second has just opened in an office building on the edge of Manchester's city centre, within spitting distance of the site of the proposed new combined Library Theatre and Cornerhouse Cinemas building, due to open in 2014.
The audience for Manchester Lines congregates on the ground floor of Number One First Street and is then taken up in the lift in groups, depending on the letter on the luggage tag given to you when you arrive. Each group is then taken through to the lost property office, where they are given the opportunity to browse the packed shelves of categorised, tagged belongings that have supposedly been lost on the public transport system before choosing from quite a variety of seats, from wooden school chairs to upturned plastic baskets.
The show focuses around Eugene, who runs the lost property office from his desk in the middle of the room (musical director Dominc Harlan is cast as his non-speaking assistant Arnold). He becomes the fulcrum for the stories of these disparate groups of people: Shanti looks after her mum Jessie who is suffering from dementia; middle-aged Pauline appears to losing her grip on the world, but her son Louis tries to keep her focussed; Anna is a depressed young girl who wishes to lose herself; Omar keeps losing his umbrella which has special family significance, and Eugene keeps finding it for him.
The concept of having the lives of different, unconnected people touch briefly through their connection to a lost property office is a great one, both as a device to tie together disparate storylines and as an overall metaphor for the show's theme of personal loss. There are some great characters with lots of story potential and some very moving moments. So why doesn't it entirely work?
Well first of all, it is a bit of a cheat to call this a "site-specific" work. Site-specific usually refers to a piece of theatre that is constructed around the characteristics of the space in which it is performed—so it would certainly qualify if it had taken place inside the actual Piccadilly Station lost property office—but this is just an elaborate stage set inside a large open-plan office, and so could have been anywhere where there was space for it to be built. The exception to this is in the last ten minutes when the audience is taken blinking into the remaining daylight to survey the city.
That last part is also the only bit of the performance that has any real connection with Manchester. Throughout the rest of the performance, the only characters who talk proudly of their heritage are not even from England, and all it would take would be to change the station names to set it in any large city in England, or even elsewhere in the world.
The idea apparently came from watching people scurrying about over the balcony at Piccadilly Station—shades of Sondheim's brilliantly concise "Another Hundred People" from Company—but the great idea of lots of unrelated people whose lives touch briefly through this one location falls down when we find that four of the six characters (other than Eugene who is just a catalyst for others' stories) are actually very closely related. This turns it into a story about a family connection with a couple of unrelated characters whose stories, in comparison, seem under-told, although the family story, despite some very moving scenes, doesn't really achieve its full potential either.
In fact the whole thing has the structure more of a poetry collection than a play, very heavy on the monologues—sometimes with a second person in the scene nodding self-consciously as he or she has nothing to say—and providing some beautifully-written fragments of stories, anecdotes and ideas that are often funny or moving. The songs mostly lack any real melody or structure and lyrics that may sound less banal if spoken rather than sung.
There are great performances all round, from John Branwell as Eugene, Claire Brown as Pauline, Amelia Donkor as Shanti, Bettrys Jones as Anna, Anne Kidd as Jessie, Tachia Newall as Omar and Marquelle Ward as Louis.
It's certainly an interesting experiment with some very good writing and performances, but it doesn't feel like a finished production. If viewed as a work-in-progress with some very good potential, it is worth a look.
Reviewer: David Chadderton