Mancub
Douglas Maxwell, adapted from The Flight of the Cassowary by John Levert
Soho Theatre
(2005)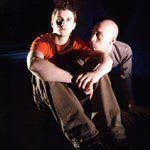 You could almost come to the conclusion that the world is short of contemporary playwrights. Douglas Maxwell has become the third example in a couple of months of a writer with two plays running almost concurrently in London. Like Neil Labute and David Greig, Maxwell's pairs are nowhere near carbon copies of each other.
The likeable Paul Corrigan's Paul is yet another of Maxwell's long list of oddball, loner schoolboys. His tale occupies 100 minutes of surreal humour tinged with a touching sympathy for the adolescent who can't quite take the final step to adulthood.
In many ways, this is a solo show and it is not scripted in parts. However, canny director Matthew Lenton has seen the possibility of casting for three and thanks to his excellent and well-drilled actors, this proves an undoubted success.
While Corrigan plays the protagonist, shaven-headed Sandy Grierson plays everything from Paul's father to his best mate, Gerry and even Ken the talking dog. The Scottish accents are broken by Claire Lamont from Northern Ireland who plays all of the female parts as well as a gargantuan old schoolmaster.
Paul is actually a pretty normal teen. He argues with his dad, is doted over by his mum, plays in goal for the school team. He also loves pretty classmate Karen silently and in a constant agony over how to make his first move.
Underneath the surface, though, he is going through a metamorphosis not unlike that of Gregor Samsa in Kafka's novel. His overuse of animal imagery suggests an obsession but, eventually, this takes a sinister turn.
After an initial chat with haughty, intelligent Ken (you remember - next door's dog), Paul begins to have odd lapses of behaviour. It soon becomes clear that, periodically, members of the animal kingdom take over his body for a time.
Karen may be enchanted by his rhinoceros but soon he becomes dangerous with poignant, comic results.
Mancub seems to be an allegory on the loneliness of adolescence and thanks to a witty script, Matthew Lenton's excellent vision and some top notch acting, the company unexpectedly pulls off something rather special from an initial concept that sounds unpromising.
Reviewer: Philip Fisher