The Mandate
Nikolai Erdman, English version by Declan Donnelan
RNT Cottesloe
(2004)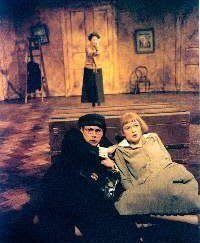 When The Mandate starts, it has a feel of Chekhov gone mad. It then develops into a highly political, Revolutionary Russian farce, if there can be such a thing. This satire had a major impact on its playwright, as it was regarded as seditious and eventually led to his arrest.
A good Russian Orthodox family, Mother (the excellent Deborah Findlay), son Pasha(the equally good Martin Hutson) and haughty daughter, Varvara, played by Naomi Frederick, are down on their luck after the Revolution.
The only solution is a wedding to a good Communist. Inevitably, the chosen family are, in their turn looking to marry off one of two gormless White Russian sons to a pukka Communist and when Pasha turns up with a mandate and attitude, all are happy.
Then the complications begin as all hanker after the good old days of Tsarist Imperialism. As if by magic (and a fair amount of plot contrivance), it seems that their dreams have come true.
The plot hinges on mistaken identities and in particular the confusion of Sinead Matthews' slatternly cook, Nastia. She has her fifteen minutes of worshipful fame in the golden guise of an Imperial Princess returned to save her people.
There is much rushing to and fro, in silent movie style, complete with appropriate music but this cannot cover a rather weak plot that peters out. It maintains interest up to the interval but thereafter is only distinguished by some fascinating political history and good stagecraft.
Director/adapter Declan Donnelan is well served by his cast that also includes amusing performances from Roger Sloman as an itinerant organ-grinder and Adrian Scarborough playing almost throughout with an upturned saucepan of noodles on his head.
Reviewer: Philip Fisher