Mandela Trilogy
Péter Luis Van Dijk, Mike Campbell, Michael Williams
Wales Millennium Centre / Cape Town Opera
Wales Millennium Centre
–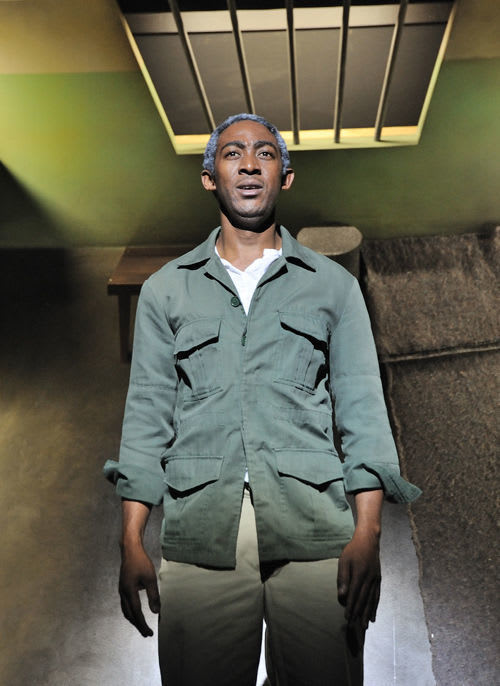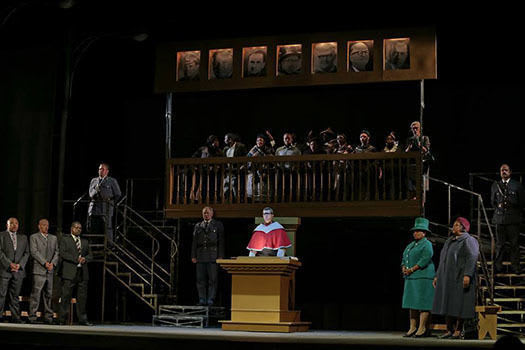 The Wales Millennium Centre has had a ten-year relationship with Cape Town Opera; a legacy of the venue's South African founding patron Donald Gordon, after whom the main auditorium is named. Their Mandela Trilogy was first presented in Cardiff in 2012, in conjunction with an excellent production of Porgy And Bess.
Four years on, it has returned, somewhat tweaked following a journey around the world. This is the opening leg of a tour of the British Isles which will take in London's Royal Festival Hall, Southampton, Dublin, Birmingham and Salford. Inevitably, following Nelson Mandela's passing, it now assumes an elegiac tone.
The "trilogy" consists of three acts, each taking place during a particular phase of Mandela's life, each featuring a different performer in the central role, each in a different musical modality. The necessarily didactic book and lyrics are provided by director Michael Williams.
As the curtain rises, Péter Luis Van Dijk's score begins powerfully and percussively; in a prologue, we encounter Mandela in late middle age—a suitably stately Aubrey Lodewyk. It is halfway through his prison sentence for treason, and a panicked government—represented by Derick Ellis—is attempting to persuade him to retire from the struggle for democracy. Needless to say, Mandela is having none of it.
Soon, we are transported, via Marcel Bezuidenhout's sound effects and Michael Mitchell's production design, to the Transkei region, where act one takes place. Following the circumcision ritual (which we are mercifully spared), we follow a young Mandela, played by a spirited Thato Machona, as he grows to adulthood alongside his adoptive brother, Justice—Lukhano Moyake.
They both dream of escaping village life: Justice fantasises about wild city women; Mandela, inspired by tales of historic freedom-fighter Makhanda, is increasingly concerned with his destiny, and that of his people. Much of the singing is in the Xhosa language which, on this evidence, is every bit as fluently suited to the operatic form as French or Italian.
Act two takes place in the Johannesburg suburb of Sophiatown; the South African equivalent of Harlem—apparently a centre of creativity, although all we see of it is singing and dancing (the latter courtesy of choreographer Sibonakaliso Ndaba). Here, compositional duties are assumed by Mike Campbell, who takes us out of the world of contemporary opera into township jive, 1950s jazz, pop (Miriam Makeba's "Pata Pata") and Broadway-inflected show-tunes.
At this point, the activist, lawyer and womaniser Mandela is played, in matinée idol style, by Peace Nzirawa (who seemed to reap the lion's share of cheers during the final curtain-call). Once more, white authority is symbolised by Ellis, with the somewhat marginalised white liberal voice, Trevor Huddleston, played by the mostly non-singing Adrian Galley.
The crowd-pleasing highlight of this act is surely "Hearts And Minds", sung by Candida Mosoma, Pumza Mxinwa, and Philisa Sibeko as, respectively, Dolly, Nelson's Sophiatown girlfriend; Evelyn, his abandoned wife; and Winnie, his new love interest—the song somewhat redolent of "I Know Him So Well", but with more references to the African National Congress.
Act three takes us back (via a courtroom at which all three Mandelas are represented) to prison and Lodewyk's older Nelson, painfully conscious of the toll which the struggle has taken on his family life, but duty-bound to see it through to a relatively peaceful conclusion. Here, Ellis plays the prison officer who becomes a friend.
The music, composed once more by Van Dijk, is now firmly in the modern-classical vein; and, for me, the most powerful moment in the entire opera is the wrenching "Dream Duet" between Nelson and Winnie, during which it becomes clear that their political paths have dramatically diverged.
The decision to cast three different and physically dissimilar performers as Mandela is a bold one, and all three acquitted themselves more than admirably; I did feel, though, that I lost the sense of identification which might have resulted from following one man along his painful and ultimately triumphant journey.
There is also little sense given of the conditions under which apartheid forced the African population to live; Michael van Ryneveld and Kirsti Cummings's video projections convey some aspects of wider battles, and the Soweto uprising is briefly referenced on-stage, but (unusually for an opera) there are few, if any, onstage deaths.
In terms of pure artistry, however, Mandela Trilogy is hard to fault, with leads, ensemble and orchestra—the Cape Town Philharmonic augmented by 12 Ensemble and conducted by Alexander Fokkens—clearly inspired by the powerful score.
There is even a celebratory coda, which leaves us pondering the indomitability of the human spirit, rather than the grim realities of power politics. An impressive and bracing two and a half hours.
Reviewer: Othniel Smith