Mandrake
Niccolò Machiavelli translated and adapted by Howard Colyer
5 Pound 5 Theatre
Jack Studio Theatre
–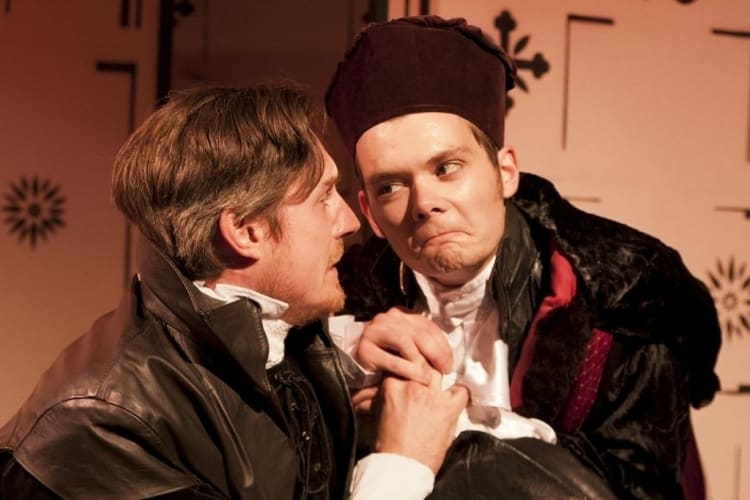 The Jack's summer season opened this week with Mandrake (La Mandragola) by Italian historian, author, poet and playwright Niccolò Machiavelli in a new adaptation by Howard Colyer.
Stood against his more serious tomes, this comedy appears on the surface entirely lightweight but it puts forward a challenging the-ends-justifies-the-means-when-good-comes-out-from-bad premise which is still subversive today.
In Mandrake Nicia agrees to being cuckolded so his younger wife, Lucretzia, can bear him the child he so desires. Upright and moral Lucretzia allows herself to be persuaded by her mother and her bribable confessor and they, the young lover and his servant, and of course the middle-man all end up better off in their own way as a result of their immoral acts.
It can all be enjoyed as one would a good farce—at which level it functions very well—but to help with pointing up the allegory, Colyer obligingly explains in the front of the text that Machiavelli references a heroic and virtuously triumphant ancient Rome whilst making it clear that Renaissance Florentine society is venal and corrupt, functioning on deceit.
Hugely popular at the time of its writing, it has been adapted since into operas and musicals, but not been seen here as a play since it was staged at the National Theatre in 1984.
Adapting the play, in his translation Colyer has built up the role of Siro, the lover Callimaco's servant, and has made her a woman. Doing so adds to the humour without deflecting attention from the thrust of the piece and probably contributes to it being as funny a play as it was to its original audience.
Using Kemey Lafond's set of moving panels, director Scott Le Crass keeps the pace up in this production but doesn't sacrifice clarity and the little touches like French accordion music to accompany Callimaco's 'Allo 'Allo–style disguise (sound designer Neil McKeown) and the false nose disguises are a treat.
The lovely Jean Apps returns to the Jack to play the mother, Sostrata. As immoral as the others, she eggs on her daughter "to play the strumpet" but she is also slightly dotty. Annie Lees-Jones's Siro, servant and commentator, is as wise and funny as John McInnes's procuring Ligurio is manipulative and clever.
"I'm richer for my experiences if poorer in my own estimation," says Andy McLeod's wily Timoteo as he considers whether the harm done justifies the happy but fragile outcome.
After the laughing is over, that is a question still worth asking of society today.
Mandrake runs 80 minutes without an interval. Suitable for ages 14 and over.
Reviewer: Sandra Giorgetti