Mandy Patinkin: In Concert

Duke of York's Theatre
(2008)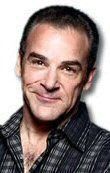 Mandy Patinkin is multi-talented and much lauded: if you watch American TV drama he will almost certainly be known to you as Jason Gideon, FBI profiler from Criminal Minds, or Jeffrey Geiger from Chicago Hope, a role that won him an Emmy Award.
He also has a film career which includes cult movie The Princess Bride, Yentl, and Dick Tracy, and is an established Tony Award-winning Broadway star - Che in Evita, George in Sunday in the Park with George to name but two. He is a recording artist and considered to be one of the greatest interpreters of Stephen Sondheim. In addition to this he is a solo concert performer. Irritatingly - or do I mean inevitably? - he is also good-looking.
With all that going for him was I so wrong to expect to witness a polished and near-perfect performance?
It's been twelve years since Mandy Patinkin has graced the British stage and, although certain of his welcome, I expect he would rather have had his regular pianist, Paul Ford, accompany him for such an occasion. Ben Toth, who at the last-minute has taken over from the hospitalised Ford, is a worthy replacement, being a gifted and energetic piano player - and he does a great job particularly in light of the time frame, but the path did not always run smooth.
Setting aside Patinkin fluffing the odd lyric and the near car-crash of Franklin Shepard, Inc.- an ambitious undertaking given limited rehearsal time, which was only just rescued - the choice of material left me disconcerted and rather disappointed.
Firstly, for me there were too many medleys: a Sondheim tribute that started with Someone is Waiting then moved into Johanna promised much and would have delivered if it had stopped there, but going on into Green Finch and Linnet Bird then Pretty Women and ending with Finishing the Hat was a triumph of arranging skills rather than sense.
An homage to silent movies, top and tailed by Movies Were Movies from Mack and Mabel was great showcase for his talents but I was amazed to find myself bored!
I got a strong sense that the audience that turned up wasn't the one he was expecting: when a self-serving anecdote failed to get the anticipated applause at the punch-line (the second best-known quote from Princess Bride) Patinkin momentarily seemed as baffled as the audience, a condition that continued on the house side of the lights as he launched into a passage of Prospero's that segued unjustifiably into Imagine.
Those familiar with Patinkin will be aware of his political allegiances and the strong influence of his Jewish roots on his life and work. It did however seem an at best questionable choice to include an over-long sequence sung in Yiddish in a week that closes with the news that 270 children lie dead in Palestine. Never mind that it was just plain dull to listen to a great interpreter of lyrics sing in a language you can't understand.
On the up-side there were some terrific moments where Patinkin delivered everything he has got to give. Bring Him Home had an understated anguish whilst Brother, Can You Spare a Dime? was imbued with a bitterness that sent shivers down my spine.
Sonny Boy and Over the Rainbow - two songs I dislike intensely - served to supply the requisite extra schmaltz without which the evening would not have been complete, whilst other numbers provided opportunities for his powerful voice to soar and to demonstrate his extraordinary talents in the falsetto range and his trademark love-it-or-hate-it vibrato.
"Mandy Patinkin: In Concert" has nine performances closing on 18th January 2009. The show has no interval.
Reviewer: Sandra Giorgetti