Manifesto for a New City
Julia Darling, music by Jim Kitson
Northern Stage
Northern Stage, Newcastle
–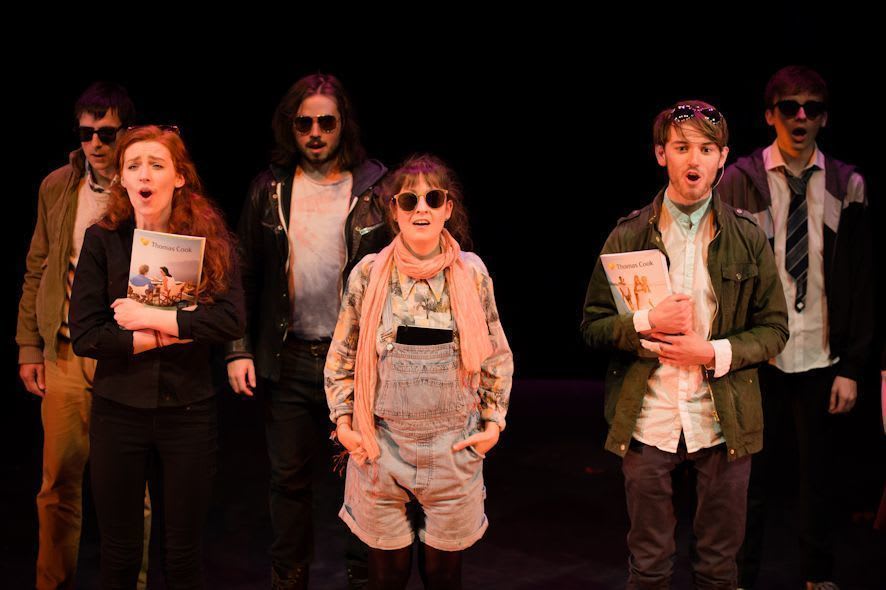 Writing about Manifesto for a New City in January 2005, Julia Darling said, "it's a rant against property development and capitalism really. I want everyone to take up knitting and eat porridge and ride a bike. I want us to do more than consume coffees in expensive bars. I just feel my world has gone out of control. (It) is my own personal utopian rant."
So, just a political rant, then?
Not at all. Although a novelist, short-story writer and playwright, Julie Darling was first and foremost a poet and Manifesto is essentially a sequence of thematically-linked poems, some spoken, some sung and some both. Or perhaps it's actually just one poem with many aspects, which is how, as I came back to it ten years later (I reviewed the première in 2005), I saw it last night.
Everything, the spoken and the sung, is delivered straight at the audience which is how it should be because we are being presented with the views of a range of different inhabitants of Newcastle: with a poet as the leader, they are a waitress, a primary teacher, a bus driver, a blind man, a business woman, a nurse, a taxi driver, a clerk, a security guard and a "disgruntled chorus." They are, indeed, all disgruntled.
Each has his or her opinion on what is wrong with the city and what should be done to put it right, opinions which are often—inevitably!—mutually exclusive. However there is one point on which they are all united: it is all the fault of the men in charge, the men in suits, the businessmen and the politicians.
Come the revolution all will be well and those in charge will be made to cut up their suits and remake them themselves. The city will have a more human aspect: it will be (to use that jargon phrase which Julia Darling would probably hate), more "people-friendly."
And then the revolution comes! Suits are cut up and remade—everything changes. Except the disgruntlement, the one constant factor…
And that's as true now as it was at the first performance in April 2005. The vein of (often wry, although at times laugh-out-loud funny) humour which runs through the piece should have prepared us for all of that.
Yes, Manifesto for a New City is utopian ("rant" is too unkind—and inaccurate—a word for the piece but she's allowed to say it) but it's also realistic and all of these characters whose disgruntlement with the present and utopian dreams for the future are so lovingly created are really very self-centred—but you can't help feeling that Julia Darling loved them, warts and all.
She was able to see the dress rehearsal but died on 13 April of the breast cancer with which she had been diagnosed eleven years before.
And the new, mainly young, cast and young director Emma Roxburgh do her proud.
Reviewer: Peter Lathan