Map of the Heart
William Nicholson
Salisbury Playhouse
(2005)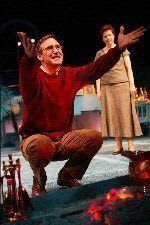 Few of us would have known what expect as the curtain rose on William Nicholson's Map Of the Heart at Salisbury Playhouse.
Gladiator, certainly or Shadowlands (for he wrote both screenplays) - but this work has hardly been seen since its premier at the Globe, Shaftsbury Avenue, in 1991.
As Ruth and Albie Steadman (Judith Scott and Mark McGann) are discovered in the midst of a wretched argument about their future, I find myself back on a crate in a battered Sudan Air supplies transporter, crowded with members of the national militia en route for Juba.
I blame Albie, the doctor, for he has decided to leave his wife and take off for a relief mission in Juba. Rarely have I had such a clear vision of what a character was letting himself in for. At least I was following an archbishop - Albie was after some woman in the aid business half his age.
In fact Nicholson is more imaginative in ways I shall not spoil for intending patrons. It is a good yarn, cleverly hung upon a piece of chance that is by no means stretching things too far these days.
Scott and McGann's performances are both touching and annoying in turns. I put it down to allowing ordinary people into these affairs. Other characters come and go, the unappealing dipolomat Rainer (Jonathan Kemp), a hearty TV interviewer (Suzanne Robertson) and a piano playing brother in law (Tim Frances), who is almost enough to explain the marriage breakdown and ruin the whole plot!
A strange aspect of Fiona Laird's production is her use of scene changes as an integral, quasi-symbolic part of the business. It would probably be closer to the truth to say this text is written for TV and that theatre performance simply requires reworking to fewer set changes.
"Map Of The Heart" runs at Salisbury until May 7th
Reviewer: Kevin Catchpole