Marguerite
Book by Alain Boublil and Claude-Michel Schönberg and Jonathan Kent, lyrics by Herbert Kretzmer, music by Michel Legrand
Theatre Royal Haymarket
(2008)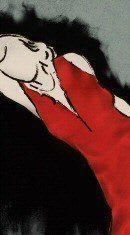 The third production in the inaugural Theatre Royal Haymarket Company's season was almost certainly the banker that Jonathan Kent was relying on to keep the company alive when he announced the initial programme. It is now much needed, as The Country Wife did not work on any level and while The Sea was critically acclaimed, it did not bring people crowding into the theatre.
This new musical love story along classical lines from the team behind Les Misérables may deal almost entirely in clichés. However, with two central performers of rare quality and a running time little more than half of that for Gone with the Wind so that it does not outstay its welcome, this could just be the commercial hit that the producers are praying for.
Julian Ovenden, well-known as Andrew Foyle in Foyle's War, has been blessed with such an abundance of talent in almost every field that one wants to cry foul. He has the matinee idol looks that will make a large proportion of the audience desire him for a husband or civil partner, as appropriate; the acting skills to be cast opposite Nathan Lane in Butley on Broadway; a classically-trained, attention-grabbing tenor voice; and, judging by his performance here, the kind of talent that could make a career out of playing the piano at concert halls around the world.
His female lead, Ruthie Henshall, is also multi-talented, very beautiful; able to compete with Ovenden on the vocal front; and somehow managing to make a character whose amorality should be unforgivable, sympathetic and almost tragic. To be truly tragic though, this Marguerite would have to be less flawed.
The story that they bring to life has been drawn at a distance from La Dame Aux Camélias, that classic novel written by Alexandre Dumas, fils (son of The Three Musketeers man) in 1848 as revolutions were spreading across Europe.
This ever-popular love story, with its fated heroine based on a real-life figure, keeps returning to stage and screen, inspiring La Traviata, Camille and more recently Baz Luhrmann's Moulin Rouge. Now, Alain Boublil and Claude-Michel Schönberg, with assistance from director Jonathan Kent, have moved the story of doomed love on a century to Paris during the Second World War, when the natives were split between collaboration with the Nazis and active resistance.
The 20th century Marguerite calls herself a singer but to everybody else the appellation "whore" is more appropriate. After a brief glimpse at her final downfall, the lights come up on Mark Brown's reflective ballroom set, which subsequently changes with assistance from the projections of Sven Ortel and Mark Henderson's often poignant lighting into much drabber scenes.
There, we see her enjoying a 40th birthday party amongst collaborator friends and the German officer who keeps her, Alexander Hanson's Otto.
She is living a Faustian life, surely on borrowed time, but perhaps just waiting to be rescued by an overpowering love. This comes in the form of the hunky, leather-jacketed jazz pianist, Armand played by Ovenden.
Their passionate affair is played out against a background of a Paris as much at war with itself as its occupiers. While Marguerite plays fast and loose with her Nazi lover, Armand puts his sister, played by sweet-voiced Annalene Beechey, and her Jewish partner at great risk. However, love is more important than anything on a musical stage and the story progresses to the tragic ending expected by anyone who knows the original.
With such a simplistic story and Herbert Kretzmer's trite lyrics, structure is important and the writers cleverly juxtapose up to three different songs and their associated scenes to create a complexity without which the book would seem thin.
The other problem that they face is that it difficult to empathise fully with a woman whose behaviour is totally abhorrent, only rescued from her own terrible nature by love for a much younger man.
Even so, there is much to enjoy across the 2¼ hours of Marguerite, especially from composer Michel Legrand. Favouring lush orchestrations, the Oscar-winning composer for over 200 films, including The Thomas Crown Affair, uses a jazz base, best exemplified by the catchy "Jazz Time".
The more lyrical "China Doll" allows the leading pair to sing separately and then as a duet, while it will take some time for the upbeat "Day by Day" to disappear from the memory, in part because it returns on no fewer than four occasions.
Thanks to the efforts of the two stars and some memorable music, Marguerite might just have what it takes to bring the audiences flooding back to the Haymarket. That would be good news for this brave venture and London theatre in general.
Booking to 1st November
Reviewer: Philip Fisher