Maria Friedman: Re-arranged

Menier Chocolate Factory
(2008)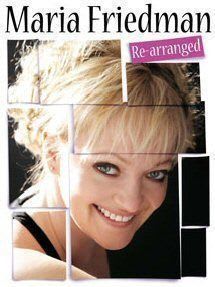 There are not many performers who could sing their way through a patchwork of songs as gloriously diverse as Irving Berlin, Randy Newman and Henry Purcell and make as great a virtue of the variety as Maria Friedman achieves in her new solo show.
In Maria Friedman: Re-arranged there is - deliberately and unapologetically - no theme or particular thread informing the choice of song but there is a balance of the familiar such as the Kate Bush classic "Man with the Child in His Eyes" and the less well known "I Won't Mind" a heart-felt lullaby-style song with music by Jeff Blumenkrantz.
The diversity also reflects an eclectic selection from musical theatre, film scores and pop and is the perfect vehicle for her incredible voice so, when it comes to picking highlights from the programme, it is an embarrassment of riches.
You could have heard the proverbial pin drop when Ms Freidman sang Irving Berlin's "I Got Lost in his Arms" accompanied only by guitar (orchestrated by William Lovelady); the emotional soaring of the Michel Legrand/Jeremy Sams composition "Now and Then" remains as profoundly moving as the first time I heard Ms Freidman sing it and not just because of what a powerhouse she can be. Talk about "Passionate as hell".
Of course it is impossible not to mention Stephen Sondheim: for fun there was a bouncy rendition of "The Story of Lucy and Jessie" from Follies and a fabulous orchestral medley from Sweeney Todd as the props were cleared from "Worst Pies in London", for which Ms Freidman picked a victim from the audience to serenade with great comic effect.
By way of contrast there was "Marry Me A Little" from Company and "Broadway Baby" (Follies again) but best of all was a blend from Sunday in the Park with George, the show in which Ms Freidman played Dot, Seurat's model, in the UK premiere at the National Theatre.
For Maria Freidman: Re-arranged, Sondheim helped put together a unique mix from Sunday (with orchestration by Jason Carr); it is delivered by Dot uniquely from her point of view and, free from the narrative and the straitening of corsets and bustles, it is a timeless expression of the nuances of what it is to fall in love with an artist.
If the repertoire so far reported still sounds a little safe, then be ready for a shake-up. David Cullen's unexpected orchestration of "You Are My Sunshine" is truly remarkable - a tormented, almost sinister interpretation of a piece usually sung without such thought and depth.
Another unexpected turn was "Dido's Lament" from seventeenth century composer Henry Purcell which may be a bit 'out of the box' for some but reflects Maria Freidman's classical roots and, again, shows off the extent of her range and skill, not least when it leads seamlessly into "Somewhere a Place for Us".
But Friedman does not achieve all this magic on her own. Behind her is an eleven-piece band of extraordinary skill who between them play some forty instruments and who, like Ms Freidman, seem to enjoy every minute of it - and none of it, of course, would have happened without the orchestrators.
If ever there was evidence of their unlauded skill and imagination it was to be found by the bucketful in the Sweeny Todd pastiche where sombre "Attend the Tale of Sweeney Todd" was given ballsy striptease overtones and segued into a big band "By the Sea" with a thread of "Johanna" running through it. You didn't have to know Sweeney Todd to know that you were getting the equivalent of an excellent single malt.
Some items in the musical programme were introduced or put into context such as the Sunday medley but mostly it was interspersed with banter - dare I call it chatter - because it wasn't scripted. If I am honest it could probably be tightened up a bit but it all went to convey Ms Friedman's natural charm and total lack of pretension - when the band starts up after a couple of lines of "Le Trombone" she declares happily, "Great, I'm in the right key!"
I would forgive her if she wasn't. Whether she is being joyfully entertaining with "Short People" or declining into insanity with "Play the Song Again" she is a one-woman masterclass in how to communicate a song.
In her 1995 show Maria Freidman appeared on stage in a black frock with a huge, violently magenta boa and demanded "Look at Me, I'm Gorgeous! . Whoever saw such a complete wow!" Even significantly Re-arranged she remains a complete wow.
PS and gorgeous!
"Maria Friedman: Re-arranged" runs until May 4th with performances Tuesday to Saturday at 8pm and a Sunday matinee at 3.30pm (note no Saturday matinee performance)
Rachel Sheridan reviewed this show when it transfered to the Trafalgar Studios
Reviewer: Sandra Giorgetti