Maria Friedman: Re-arranged

Trafalgar Studios 1
(2008)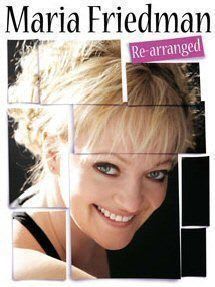 Having transferred from a successful run at the Chocolate factory, my dear friend Maria Friedman is performing at the Trafalgar studios for a limited run. So I say friend, but strictly speaking that's not quite true; OK, so I don't know her personally but after seeing her one-woman show, Maria Friedman Re-Arranged, she now feels like an old friend.
Looking like she is having the time of her life, Friedman relishes the opportunity of playing not just one role but a whole range of characters as she performs a wide selection of songs from a variety of musicals allowing her to, as she says herself "dip in and out of as many pools of emotion as she can".
However that is an understatement: to say that Friedman dives in and out of those pools would be a far more accurate description. Every song has an emotional connection, be it sentimental, funny or saucy. Her eyes as well as the lyrics tell a story so you cannot help but be swept up as she gracefully turns those tears of sadness into tears of happiness.
There is a contemporary feel to the show as songs such as "Dido's Lament" are weaved in along side of classics such as "As If We Never Side Goodbye". The most memorable and poignant moment being "Sunday In The Park with Dot"; a beautiful arrangement by Jason Carr of songs from Sondheim's Sunday In The Park With George. Her connection with the music bought not only a tear to her eye but also to the eyes of most of the audience.
However don't be deceived by this elegant lady, and her charming exterior; deep down she is a true geezer with a dirty mind and a laugh to match. Her interaction with the audience is dry and sarcastic and there is probably a little more audience participation than you might expect from a show of this nature.
Friedman invests everything into her performance and what a performance she gives. You might imagine someone with such talent and experience to at least be a little bit diva-ish and yet she is humble and gracious and despite her huge voice gives a very intimate performance as she interacts with the audience as if they are old friends. You get the impression Friedman would be just as happy giving this performance in her front room; there just wouldn't be room for everybody.
Until 4th January
Sandra Giorgetti reviewed this show at the Menier Chocolate Factory
Reviewer: Rachel Sheridan