Mariana Pineda
Federico Garcia Lorca
Arcola Theatre
(2006)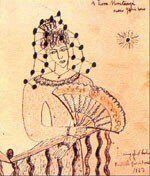 Max Key's production of the relatively little-known early play Mariana Pineda launches the Arcola's Viva Lorca season.
As with so much of Lorca, this play has two themes, politics and love, brought together in his tragic protagonist. Mariana Pineda is a widow in Granada, living a seemingly dull life with her two young children.
However, despite the devoted attentions of Geoff Breton's Fernando, she yearns to the bottom of her heart for the love of Ben Nathan's ridiculously handsome revolutionary warrior, Don Pedro.
She also believes in the cause of the Liberals in the Spanish Revolution of the 1830s, used by the writer as an analogue for his own times, and by embroidering a flag for them both wins the admiration of Don Pedro and risks her life.
The sad, wan Mariana, played by Pandora Colin, somewhat incongruously last seen as Dorothy Parker in Edinburgh, has one final putative lover. He is the sinister soldier Pedrosa (Patrick Lynch), who, on being spurned offers her life, only if she will take him.
The ending is inevitable, with the imprisoned heroine deserted by the man that she loves and left with a pair for whom she feels nothing. She rather touchingly (if almost certainly delusionally) goes to a noble death so that "freedom's flame may never fade".
Despite the 90 minute billing, this intense play runs to two hours with most of the action taking place before the interval, as characters are established and the precariousness of rebel life hinted at.
Gwynne Edwards' translation seems quirky with some characters speaking in verse and others not, but he majors on the poetry of the piece to considerable effect.
With a live guitarist, Chris Trueman, steamy summer heat and Jon Bausor's entrancing set with gauzy walls both enclosing the heroine and hinting at a freedom that she will never choose, the production has much to commend it.
The large cast is led by a very calm, unemotional Pandora Colin in the title role with the best support coming from the amusing Rachel Edwards playing wild Amparo and Rachel Atkins as a kindly maid Clavela.
Reviewer: Philip Fisher