The Mariinsky (Kirov) Ballet
Programmes 1 & 2 (William Forsythe / Ratmansky and Balanchine)
Sadler's Wells
(2008)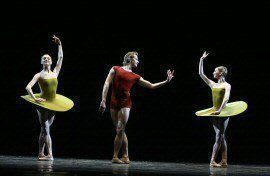 The great Mariinsky ballet company at Sadler's Wells, and not at its usual London venues - the Royal Opera House or the Coliseum - well, that's a first. And, the Mariinsky has a new ballet director, Yuri Fateyev. That's news, too.
Is Sadler's Wells being tried out because the Mariinsky Shostakovich ballet programme a couple of years back was so poorly received in the bigger houses, or is it because it is not fielding its top stars who just happen to be touring the USA at present - promoting the Mariinsky brand?
Safer a flying visit to a smaller house, a house that shows contemporary dance as well as touring classics, to present their stars of the future - at the moment only soloists and corps de ballet.
Let's show that we have broken the yoke, and can do William Forsythe with the best of them. And, of course, expatriate Balanchine is part of our traditional heritage, a through line from Petipa and Diaghilev
And, let's have a sop to Western audiences, one principal, Igor Zelensky, dancing Balanchine's Apollo.
I had anticipated that the second programme, Balanchine and Ratmansky, home-grown talents, would be more suited to the Vaganova trained dancers' style, and maybe they are, but I found, contrary to popular opinion, the Forsythe programme a more interesting display of the young dancers' potential skills.
Opening Sadler's Wells' Focus on Forsythe 08/09 retrospective with a selection of seminal works by the iconoclastic American William Forsythe, first choreographed for Frankfurt Ballet, Programme One featured the 1985 post-modern dance-deconstruction Steptext, set to Bach's Chaconne but not as you know it (fractured and challenging - the lighting is, too); The Vertiginous Thrill of Exactitude to Schubert, and Approximate Sonata to Thom Willems' tricky score, both created in 1996 under the conceptually embracing title Two Ballets In The Manner Of The Late 20th Century; and the 1987 In the middle, somewhat elevated, with an exciting crashing passionate heavy electronic score by Thom Willems'.
Forsythe's intelligent amusing knowing showy ballets, with their double beat velocity, high kicks, thrusting hips, circling arms (Alexander Calder mobiles?), and off-kilter thrilling dynamics, were tackled with concentration, and sinuous delight.
Tall, leggy, supple redhead Ekaterina Kondaurova was memorable in Steptext, winning the sparring match against three worried men (Igor Kolb, Mikhail Lobukhin, and Alexander Sergeyev), and commanding in In the middle, somewhat elevated, whilst the older shorter chubbier but crisper dancer Elena Sheshina stood out in both the Approximate Sonata (I'm not convinced this humorous American idiom can-do syncopated 'dirty dancing' ballet suits the Russians yet) and In the middle, somewhat elevated, a bravura ballet (for nine dancers) driven by Willems' forceful dramatic score - a gladiatorial contest.
Olesya Novikova, Evgenya Obraztsova, and Vladimir Shklyarov were at home in the neo-classical The Vertiginous Thrill of Exactitude, an homage to Balanchine.
If not quite in the league of Forsythe's dancers, nor with the pizzazz, panache, speed or abandon required, and not always secure, or perhaps under-rehearsed, nevertheless the young Russians showed winning flair and attack.
Programme Two (accompanied by the Mariinsky orchestra) with two of George Balanchine's early works, Apollo (Stravinsky) and The Prodigal Son (Prokofiev), created for Les Ballets Russes de Serge de Diaghilev in 1928 and 1929 respectively; his neo-classical 1960 Tchaikovsky Pas de Deux; and Alexei Ratmansky's dark monochrome1998 Middle Duet (music by Yuri Khanon), was an oddly muted evening. Maybe reviews had dampened the dancers' spirits.
Zelensky, dancing Apollo, seemed past his best, tired, and not very responsive to his three muses (again Olesya Novikova held one's eye). And, though Mikhail Lobukhin's leaps were in the grand Russian 'Spartacus' style, the narrative Biblical ballet (The Prodigal Son) looks a strange creation now with its nine bald 'munchkins' and spider-legged Siren (Ekaterina Kondaurova seductively provocative with a long purple cloak). It is an archive piece reminding us of the glory that was Diaghilev and his illustrious creative team - in this case Georges Rouault's (Fauvist and Expressionist) painted backcloths.
The Ratmansky ballet has a couple (Kandaurova with real life partner principal character artist Islom Baimuradov) dancing till they drop - when the white angel and the dark angel, watchful bookends throughout, come to take them away. Another couple takes their place and repeats the dance that is life. Red Shoes mixed with Dostoevsky just about sums it up: a dark Central/East European fairytale for adults.
After that, light after dark, Vladimir Shklyarov and Evgenya Obraztsova were a relief in the Tchaikovsky Pas de Deux, Balanchine's reverence to Petipa. The crowd of young dancers in the audience near me let out sighs of pleasure, students recognizing newly minted graduates rising to the party pieces of classical ballet - cabrioles (very good), fouettés (a little shaky).
An ambitious showcase not quite producing the reviews artistic director, Valery Gergiev, had hoped for, but there is promise in the young dancers which time will deliver.
Gergiev is notorious for spreading himself thin, at times almost to breaking point, yet the elastic somehow holds - thanks to the strength of Russian training. He always sets the bar high. Better to strive and not achieve than not to strive at all, but audiences also have high expectations, and reputations can be prematurely dashed.
Reviewer: Vera Liber