Marilyn Case #81128
Brian Stewart
Jermyn Street Theatre
(2005)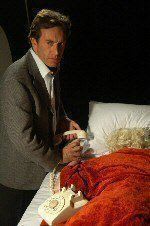 It is quite chastening to realise that if Marilyn Monroe were still alive, she would be preparing to celebrate her 80th birthday. Her legend too would be quite different, possibly more of a grande dame like Elizabeth Taylor than a sex symbol who has spawned biographies that must number into three figures.
As an aside, the playwright's name, Brian Stewart, may not be familiar but his face might well be. When he is not writing he becomes Ben Bradshaw, Ben in cult BBC show The Office.
Mr Stewart has chosen to combine three different threads in his affectionate look at the sexy diva. The one that works best is the autobiographical. This is achieved through the clever medium of her distinguished analyst Ralph Greenson 's couch.
This quasi-confessional provides a good thumbnail sketch of the star's life, its successes and frustrations but most of all, the men. A list of father figures that includes the President, the Attorney General and arguably the greatest playwright, ball-player and singer of their day (and even a feared actress), takes some beating.
By the end of the evening, it is possible to feel either that one has no need for all of those biographies or is desperate to nip out to Waterstones and plunge into one.
Greenson starts quite believably as the distinguished professional more than a little in love with his patient. As he gets more involved, his love overrides the Hippocratic Oath until, having "sacked" all of his other clients, he is quite unbelievably ordering his sole customer around. Soon afterwards his excessive intervention into his star patient's life includes shouting and a sickening blow to the face.
Cut into these scenes, stage left, is a reconstruction of what we are asked to believe might have happened in the five hours after Marilyn Monroe died.
This tends to drift between the style of TV shows such as Quincey MD and Perry Mason or even Dynasty as the increasingly desperate actor and the Kennedys' brother-in-law, Peter Lawford, together with five of the deceased's closest acquaintances, including her busy shrink, dream up alibis. These become increasingly numerous and preposterous, involving famous men, betrayed women and conspiracies of ineptitude.
The acting is ragged but the pick are Morgan Deare as Professor Greenson and the actress playing the lead. Charlotte Marisa Moore is not necessarily a natural for the part but injects pathos and has moments where she catches Marilyn either in look or voice, which is quite an achievement.
It would be unfair to reveal the answer to the $1m. question that Brian Stewart finally plumps for at the end of the two-hours duration. For that it will be necessary to buy a ticket.
Reviewer: Philip Fisher