Marjorie Prime
Jordan Harrison
Playwrights Horizons, New York
–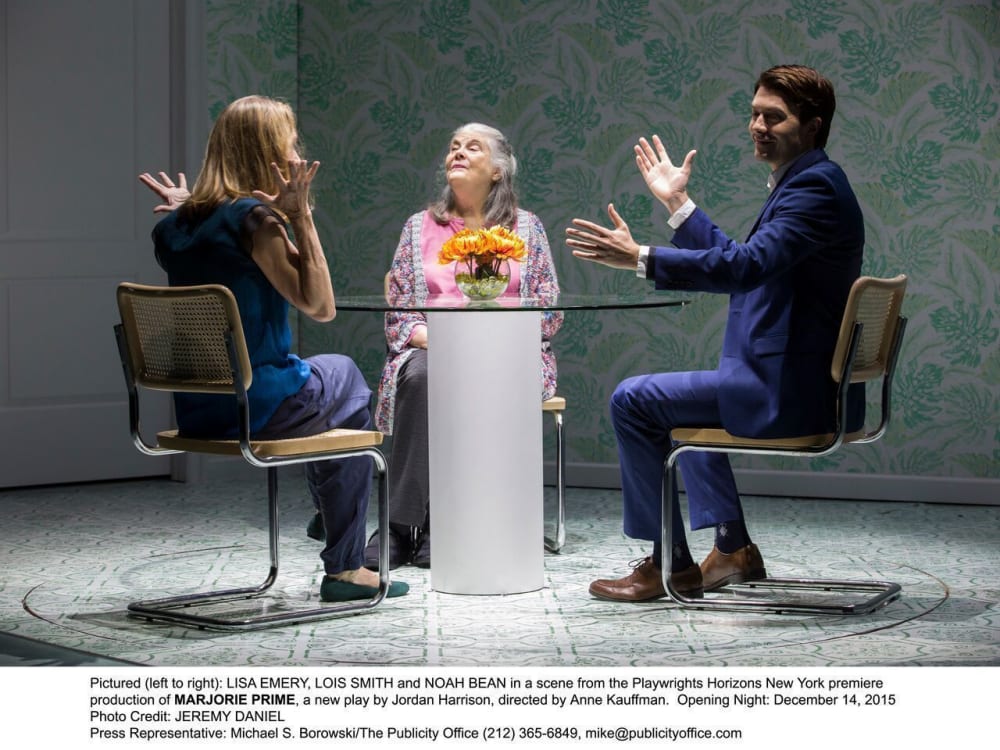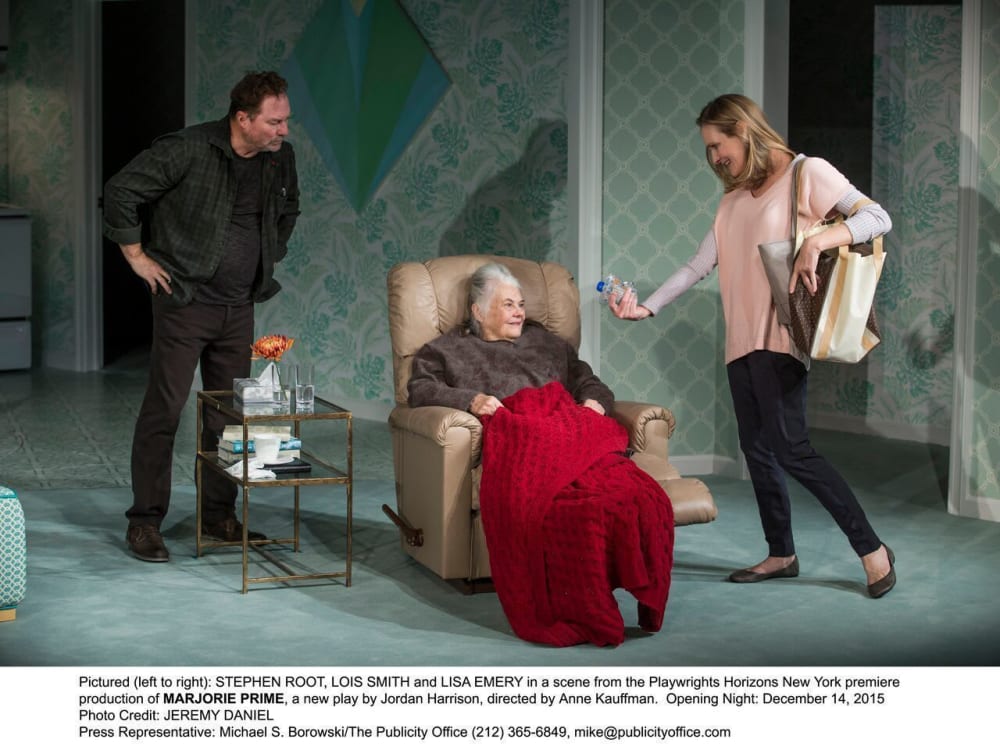 Marjorie Prime is a very beautiful, subtle piece of theatre that says very little but speaks volumes.
Playwright Jordan Harrison has taken as his topic older family members and the ways in which they interact.
Rather than shining a direct spotlight on life today, he has set his drama in the 2060s, which allows the use of sci-fi concepts but employed in an unobtrusive fashion.
His starting point is 85-year-old Marjorie, played with delicacy by Lois Smith. She is suffering from dementia, while receiving support not only from daughter Tess and son-in-law Jon but also her dead husband Walter.
In 2062, he can be resurrected in clone or "Prime" form. Noah Bean in the role makes Walter almost perfect, learning the history as he goes along and providing great comfort to the old lady, somewhat to the annoyance of Lisa Emery as tetchy Tess. It is unfair but Primes have patience in abundance, ignore the bad aspects of life and are programmed to respond as their clients wish, almost without exception.
In the second act, it takes time to grasp what we are witnessing as Marjorie is miraculously cured, providing a talking cure to Tess. It is probably not giving away too much to reveal that what we are witnessing is a post mortem Prime Marjorie helping her daughter to overcome the traumas of losing a parent.
The next act takes us one step further on the merry-go-round of this far from nuclear family as Stephen Root's Jon gets the treatment—literally.
By that point, many skeletons have escaped from the family cupboard providing for gripping drama that is internally allusive and entirely convincing under the direction of Anne Kauffman, who benefits from a strong cast.
In a fascinating twist, the 80-minute performance ends with a vision of the perfect life as it could be lived if only we could all get over our personal jealousies and antipathies. However, as viewers will realise all too quickly, that is not the way that the human race has been programmed.
Marjorie Prime is far more than the sum of its minimal parts, shedding light on the human condition today (and one imagines in 50 years' time) through an unusual medium that strips away pretence and replaces it with honesty and just a pinch of scientific speculation.
It is to be hoped that before too long a London producer will pick up on this fine, geographically neutral play and ship it across the Atlantic for home audiences to enjoy.
Reviewer: Philip Fisher