Mark Morris Dance Group – Two Mixed Bills Programme A: The Muir, Crosswalk, Socrates
Choreography by Mark Morris
Mark Morris Dance Group
Sadler's Wells
–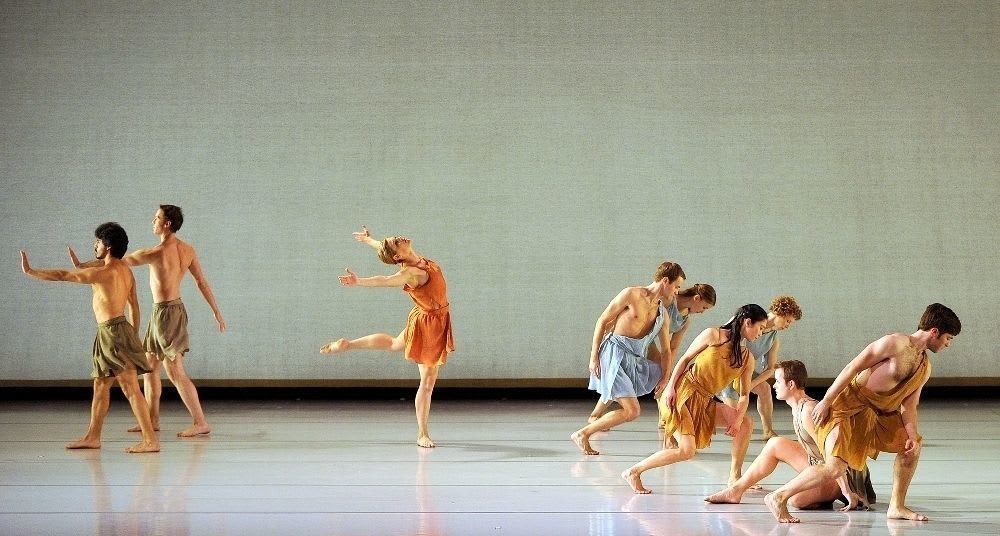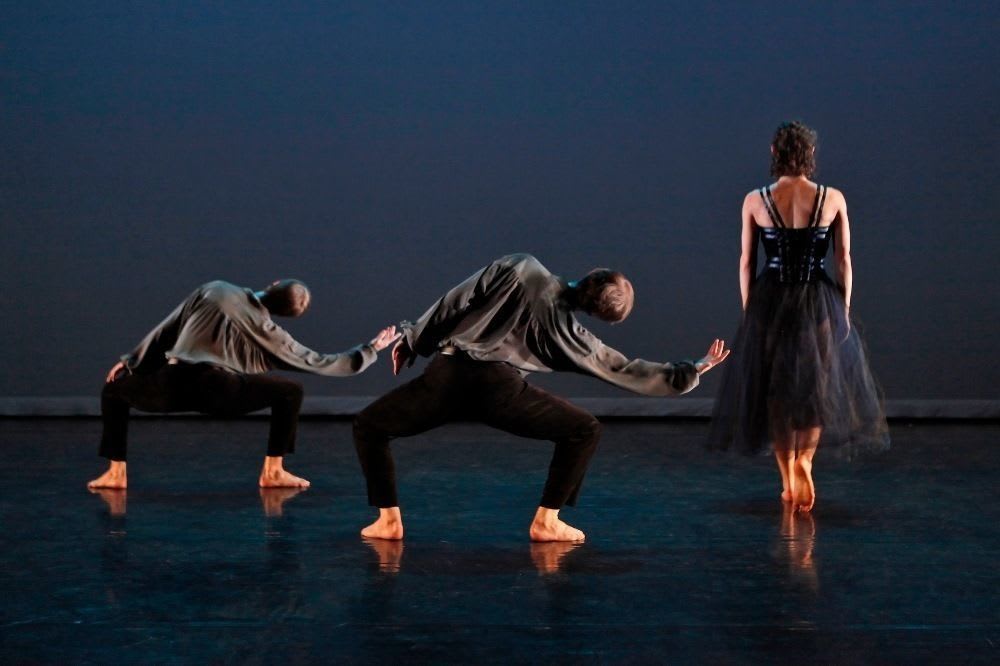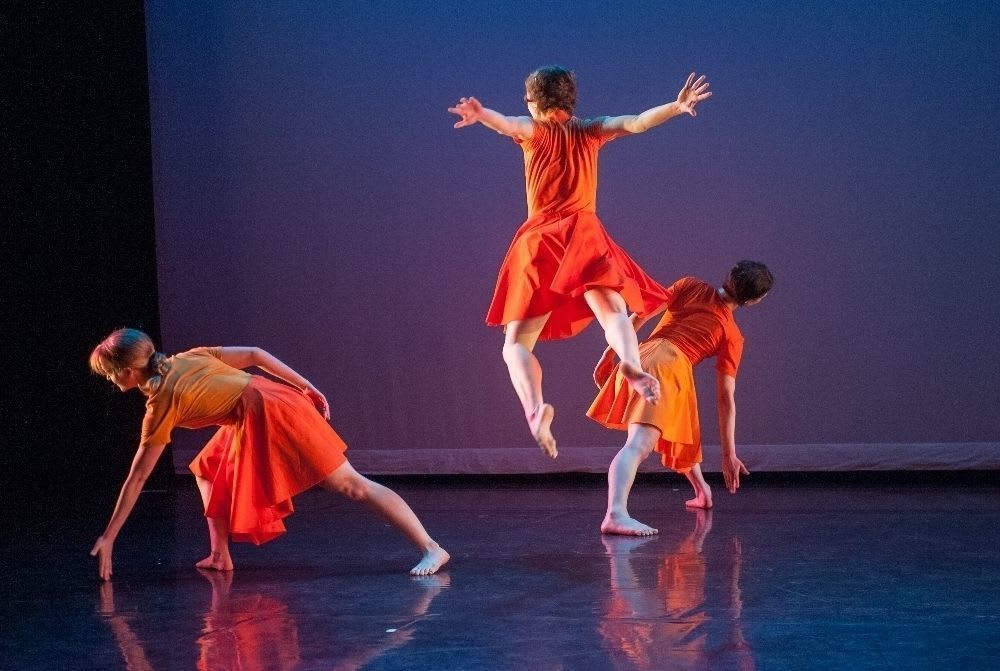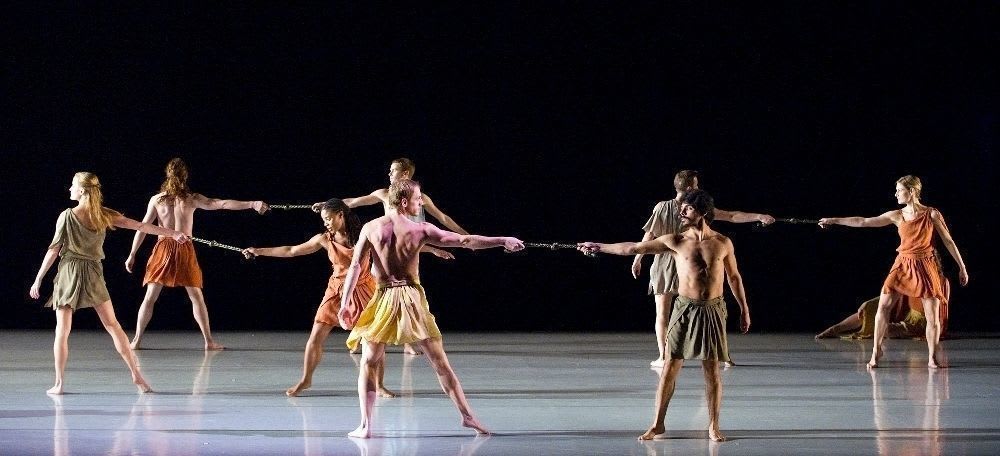 Mark Morris paints in watercolours not in oils, dance washing across the stage in seeming spontaneity to his chosen musical works, literal interpretations of his beloved music.
Music is the sine qua non of his choreography. "I really am incapable of choreographing to music I don't like", he says.
His taste in music is wide-ranging, varied to the point of eclecticism. Indeed, music was his early love before taking up dance, first with a Balkan folk group, then flamenco, and one can still see these influences in his work.
It is his abiding driving force—music not only stimulates his choreographic art, but he has now taken to conducting it professionally. His biographer Joan Acocella writes that he often choreographs 'with the musical score in his hands'.
His dancers may look like ordinary people responding with Dalcroze Eurhythmic impulsiveness to the music, and one does feel the impulse to join in the dance, but the structure of the musical score is its rock foundation.
His mixed programmes are in effect lessons in music (for me in any case), a lesson in listening as well as seeing it take form in the musicality of the dancers. That is why he insists his company performs only to live music. And what a treat that is.
In two mixed bills from his base in Brooklyn New York Morris brings seven works not seen in the UK before. Programme A shows three gentle, reflective, subdued pieces, though not without flashes of wit. An intimate chamber music evening made for friends, a lulling of the senses with sweet sounds and unobtrusive dance.
Nine Irish and Scottish folk songs arranged by Beethoven constitute The Muir (a word that means both moorland and the sea), an evolution of his 2009 Cease Your Funning, and what stands out for me is the singing, especially soprano Jenni France in the final song, The lovely lass of Inverness.
Three couples light on their feet in folk dance lines, in changing partners and jealous trios, in innocent childlike delight and solemnity, romantic nocturnal wistfulness, flit and fall to the songs' narratives.
Crosswalk, an ensemble work created only this year, is to Weber's Grand Duo Concertant for clarinet and piano (Op. 48), Todd Palmer on clarinet, Colin Fowler on piano.
Eleven boys in sporty black and white interact with three girls in citrus colours, their feet the piano, their upper bodies the clarinet score. Acrobatic forward rolls, intricate patterns, skipping (a Morris trademark), a phalanx of merry dance with a little drama in the works. Two crab-like girls play at a tug of war over a boy.
Socrates, Erik Satie's three-part drama, Portrait de Socrate, Les bords de l'Ilissus, and Mort de Socrate (based on Plato's Symposium, Phaedrus and Phaedo), sung by tenor Zach Finkelstein, is played out in classical tunics, frieze and bas-relief formations by the fifteen-strong ensemble.
Libretto sung in French, there are surtitles to negotiate. Frankly they are a distraction to the eye, but a useful guideline if needed, though it might be worth reading the libretto beforehand to avoid that.
In costumes of muted colour, waves of dancers, blown by the wind of change, satyrs of dance and Parthenon sculptures, couples paired in Platonic halves, tell the story in fluid streams of dance, angry young followers shaking fists at Socrates' sentence of death, rubbing his legs as the poison takes hold.
And then they drop one by one in imitation of his unjust fall—I am Socrates. A musical drama, Socrates fits into Morris's opera work for me, and I see his 1989 Dido and Aeneas.
57-year-old Morris has been creating prolifically for over thirty years. He has made 'more than 150 works' 'since he formed MMDG in 1980', 'including eleven operas.'
Seven works in two consecutive nights, four more to follow tonight, programme A repeated Friday and Sunday, Programme B on Saturday, quite an event for the London dance world.
Reviewer: Vera Liber