Mark Thomas – Check Up: Our NHS at 70
Mark Thomas
Traverse Theatre
–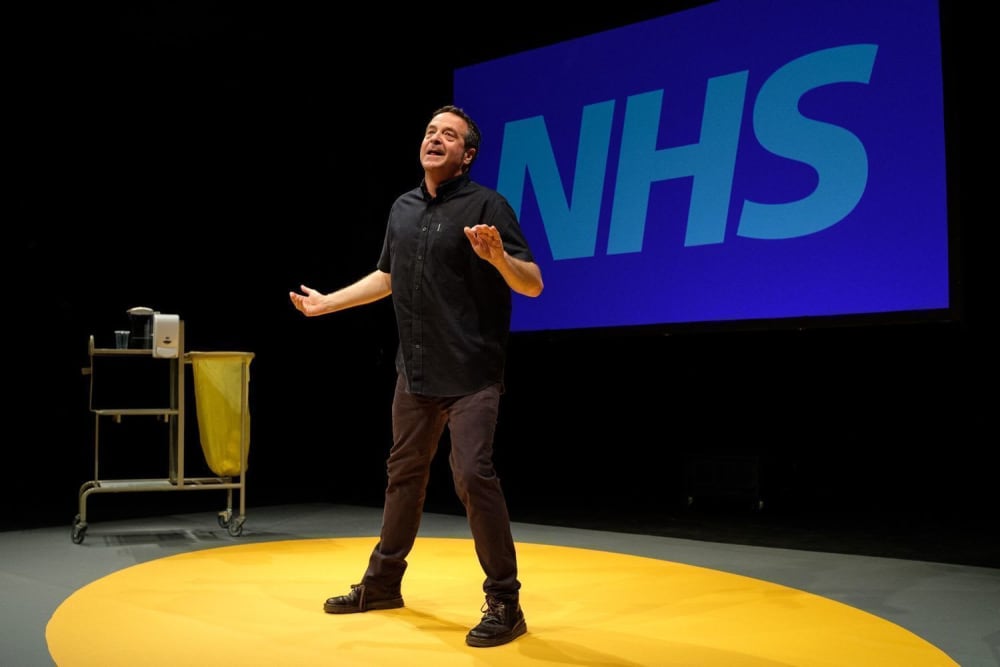 Increasingly, Mark Thomas's solo state of the nation plays are beginning to resemble Sir David Hare's verbatim works.
This action-packed, 70-minute presentation attempts to commemorate and and atomise the National Health Service as it celebrates 70 years from inception. As Nye Bevan put it at the very start, the institution was set up "in place of fear", allowing the working man and woman a chance to increase the comfort of life and also their longevity (though not as much as that of the rich).
Seven decades on, Mark Thomas makes clear his belief that the health service is in a woeful state. It is short of money and nurses and faces increasing demands, in part due to its own success but also external factors such as the uncertain European situation and the cost it faces as a result of privatisation of supply and PFI.
Using a variety of methods, the comedian-turned-theatre-maker manages to mine many different areas in a very short time.
On one level, Thomas recreates a conversation with a straight-talking GP about the actor's own health prognosis, which presents a starting point for discussion of much else.
He interviews a pair of former health secretaries, as well as the Chief Medical Officer, specialists in health inequality and economic.
He also has had a chance to chat with great swathes of individuals from inside and outside the service. These include a series of specialists, some of whom he shadows right into an operating theatre and various wards, most poignantly speaking with a cheery lady suffering from dementia and the family that quietly try to support her.
There was also the chance to consider the impact of sugar on obesity, which make an obscene combination. Inevitably, given his well-known views, our navigator is far from enthusiastic about privatisation and the additional costs that market imperatives have thrown onto the service.
As one would expect from any Mark Thomas show, this is a man who cares passionately about his subject and can occasionally allow his own views to override a balanced presentation. However, in exchange, we are allowed to ponder some very direct and pertinent views, politics and comedy combining to great effect.
This is a worthy and highly entertaining show for the Traverse to present as an opener to its Fringe programme and bodes well for the ensuing three weeks.
Reviewer: Philip Fisher