Market Boy
David Eldridge
RNT Olivier
(2006)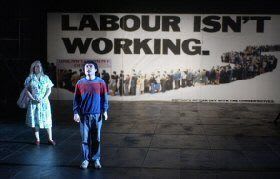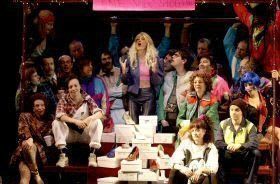 The Monsterists were out in force for the opening night of a play by one of their own. David Eldridge has signed the manifesto that propagates large-scale plays with large everything else, principally casts and concepts.
It is greatly to National Theatre director Nicholas Hytner's credit that he has had the courage to offer the movement one of his main stages, and include it in the Travelex £10 season. Realistically though, what else could he do with this play but knock it out at rock bottom prices?
The pedigree that encouraged him to go for this play is good. Market Boy is the long-awaited follow-up to the tremendous Festen with Eldridge teaming up with director, Rufus Norris once again.
The play is a semi-autobiographical story of a young lad, Brian but affectionately known as Boy, who comes of age through the Thatcher years of the late 1980s in Romford Market.
For two and a half hours, the masses throng the market and it is used as a catalyst to explore, often obliquely, every aspect of the grasping age that our first female Prime Minister was proud to promote.
Danny Worters is first seen as the shy 13 year-old Brian, the son of a protective single mum (Claire Rushbrook) who craves affection. His first step towards adulthood is heralded by his acceptance by a silver-tongued, shoe-stall Lothario, played by Gary McDonald, who soon becomes a surrogate dad.
Like everyone else on the market, this Trader is a master at making a few quid. There are a number of unforgettable cameos from fine character actors populating the stalls. Of these, Jaimi Barbakoff as Sticky Nicky, a brassy schoolgirl; Sophie Stanton as a transsexual fishmonger; and Paul Moriarty as the hammer-wielding Toby who runs the place are memorable. The latter even treats us to a (thankfully brief) history of the ford on the River Rom, starting in Roman times.
We also get regular guest appearances from Maggie T (Nicola Blackwell) usually heralded by bursts of tub-thumping Elgar. She happily cheers on these mini-capitalists without whose like she could never have had her way with the country for so long.
Better than any of these is John Marquez, playing a former para who leaves behind his Falklands shell-shock in Ibiza when he discovers the power of the E(cstacy) tab.
Brian gradually becomes a man as first Thatcher's Boom and then her Crash arrive on stage audibly. He sees his mother in a moment of weakness, has his first experience of sex with the surprisingly sweet (Essex) Girl (Jade Williams) and finally gets accepted by the Market fraternity/sorority as one of their own.
Market Boy has moments of great perception and pathos, for example when one of the wide-boys makes it big in the city but in no time has lost his job and is begging for work on the stall again. More subtly, its opening and closing scenes speak volumes. First up, a white Ford Transit van bursts through a poster proclaiming that "Labour isn't working" and its final mirror sees the Boy flying into a new life through the wondrous Eva Herzigova's Wonderbra.
The play's real strength is in creating the atmosphere of Britain in the eighties, helped by a soundtrack that could qualify as a greatest hits of the decade, and the use of the convincingly slangy language of traders who rarely think or speak of anything except sex and money.
Where the first Monsterist play, Richard Bean's Harvest scored highly on all manifesto counts, Market Boy is only partially successful with a major theme explored allegorically and no fewer than thirty people taking the final curtain call.
The problem is that while this is a nice impressionistic portrayal of a time and place, with high production qualities enhanced by the under-used choreography of Scott Graham and Steven Hoggett from Frantic Assembly, there is no discernible plot to drive the narrative, which consists of a series of relatively random episodes.
That is Eldridge's favoured style and means a pleasant enough evening with plenty of nostalgia for those who remember the eighties. It also speaks to us about the style of New Labour today as many of the component parts of Thatcher's greed-driven Britain are as prevalent now as they were twenty years ago.
However, the first chance for the Monsterists to shine at the National Theatre might have achieved more. Market Boy would have hit its targets harder if, like Caryl Churchill's seminal work of the time, the verse drama Serious Money, it had added a stronger plot to the boy's meandering tale of growing into a man and the sometimes biting satire on the get rich quick society that characterised the period.
Reviewer: Philip Fisher