Marriage
Nikolai Gogol, adapted by Howard Colyer
Ballast Theatre Comnpany
The Jack Studio Theatre
–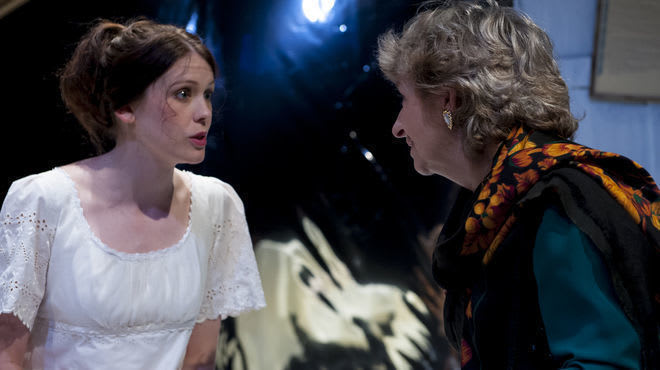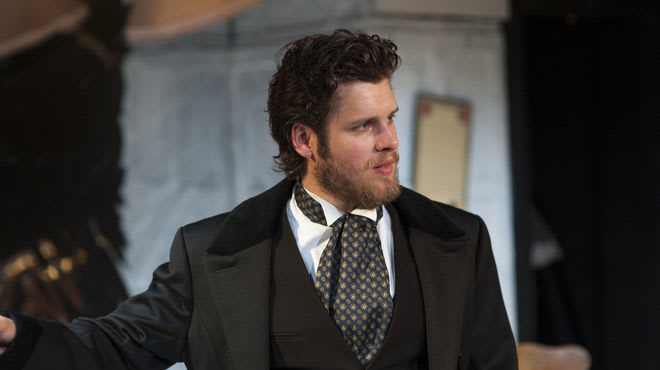 Marriage is a farce by arguably Russia's most emotionally tortured writer, Nikolai Gogol.
In Howard Colyer's free adaptation of the play, absurdism gnaws bitter sweet at the edges of a rom–com, which betrays its genre by not delivering a happy ending.
Self–important court councillor Podkolyossin is a nit–wit. He believes everything he reads in the papers, unable to distinguish between fact and fiction, and if dithering were an Olympic sport he would win gold.
His approach to marriage is like that of a little child at a beach, running towards the water's edge and then as the wave comes to shore running away for fear of wet feet. Not so much 'I do' as 'do I?-don't I?'
Podkolyossin falls prey to pushy matchmaker Fekla and bossy friend Kotchkarev, himself recently and unhappily wed thanks to Fekla.
Agafya is the lady Fekla has lined up for Podkolyossin along with three other suitors. She has arranged that they should all visit Agafya together for something of a beauty parade, hedging her bets that a union will be set and her living paid.
First to arrive is a civil servant, the portly Omelette, more concerned about the house that comes with the woman than the woman herself. Next, a young ex–drummer boy, Anuchkin, fancying himself a man of culture and hoping to make an upwardly mobile match, and finally a retired Navy man, Shevakin, full of stories of his own exploits.
Podkolyossin is accompanied by the meddling Kotchkarev muscling in on Fekla's territory.
Agafya fears choosing between the four suitors almost more than she fears remaining a spinster and at Kotchkarev's urging picks Podkolyossin; the would–be best man sees off the rivals with scare stories of insanity and the like to clear the field.
An elderly merchant, Agafya's aunt's nominee, had been immediately discounted but it looks like Agafya may have to settle for this dribbling old man when Podkolyossin literally takes a running jump.
In Colyer's pared-down version of Gogol's play—a sprightly 70 minutes—some clarity is lost: why does Kotchkarev want to see his friend married off when his own experience is so bad for instance, why hasn't the eligible Agafya already been snapped up.
Scott Le Crass directs the action at a speed where such minutiae are rendered unimportant and comic moments are put out front. Thus the plot is propelled towards its conclusion, one that sees none of the silly people achieving what they claimed to want at the start.
Colyer's writing captures Gogol's view on the pointlessness and the commercialism of marriage; even the pointlessness of effort and life itself.
In borrowing from Gogol's short story The Nose, Colyer not only reinforces the absurdist strands of the piece but establishes Podkolyossin's foolishness to a modern audience. This is his true vice which Gogol / Colyer juxtapose with that of Omelette, Anuchkin and Shevakin. Love never even gets a mention in this social satire.
Colyer's text has a contemporary ring to it; some may say he has taken liberties with the text and maybe they are right, but it was Gogol who said, "The longer and more carefully we look at a funny story, the sadder it becomes" and Colyer has put that very spirit into Marriage.
Reviewer: Sandra Giorgetti