Mary Poppins: The Definitive Supercalifragilistic 2020 Cast Recording
Book by Julian Fellowes, original music and lyrics by Richard M Sherman and Robert B Sherman, new songs and additional music and lyrics by George Stiles and Anthony Drewe
Disney and Cameron Mackintosh
Released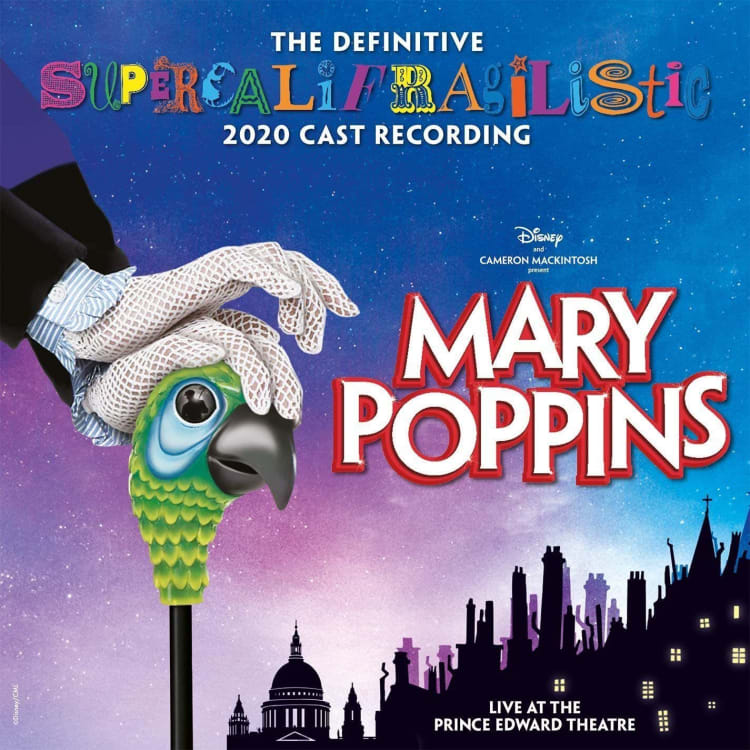 The latest revival of one of the most popular of all stage musicals, based on the stories of P L Travers and the Walt Disney film, opened at the Prince Edward Theatre at what turned out to be an inopportune moment.
Although it has disappeared from the stage for what looks like a minimum of a year, the producers are giving both those who loved the revival and those who did not have a chance to catch it an opportunity to enjoy the experience on CD. Unusually, rather than a studio recording, this Definitive Supercalifragilistic 2020 Cast Recording was created November 2019 in front of a live audience, who frequently show their enthusiastic appreciation of the talents on show.
While a recording can never hope to compete with the experience of seeing a live show in a packed house, this version manages to catch much of the character of the latest incarnation of Mary Poppins. Even though she may not be physically present, every time that Zizi Strallen playing, the eponymous governess or nanny speaks or sings, she grabs the attention. While everyone will remember Julie Andrews playing the part, Miss Strallen, with her polished accent, sweet voice and subtly forceful, winning way, makes her mark.
In a different fashion, Charlie Stemp playing lovable Cockney chimney sweep Bert complements her. In lesser roles, Joseph Milson and Amy Griffiths portraying the parents and Adelaide Barham with Gabriel Payne, the children lucky enough to have found a young, forward thinking-inspiration, make significant contributions. The legendary Petula Clark has a moment of glory as the Bird Woman singing "Feed the Birds" and Claire Moore, playing tyrannical Miss Andrew, a governess from another age, make appearances of note.
However, the inevitable winners from any recording of this kind will be the creators of a series of songs that have become musical standards. Everyone will know "A Spoonful of Sugar" and "Supercalifragilisticexpialidocious", but some of the lesser vaunted songs are equally good, for example the battle between the two governesses, "Brimstone and Treacle" and the glorious dance number, still pretty glorious without the dance, "Step in Time".
Nobody could pretend that listening to a cast recording can replace that unique experience of seeing a big budget musical on stage. However, in these straitened times, the opportunity to enjoy this recording again and again should ensure that it is a popular Christmas gift.
To put it another way for those who are particularly keen on punning, this critic feels an obligation to include a line that will be in almost every review, noting that as the song has it the CD is, like the self-promoting Mary Poppins, "Practically Perfect".
Reviewer: Philip Fisher