Mary Shelley
Helen Edmundson
Shared Experience, Nottingham Playhouse and West Yorkshire Playhouse in association with Oxford Playhouse
Tricycle Theatre
–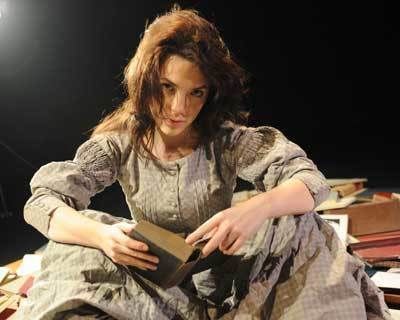 Mary Shelley's mother, who died when she was only eleven days old, was eighteenth century feminist Mary Wollstonecraft, her father William Godwin a novelist and philosopher of radical political views who was much admired by the young Percy Bysshe Shelley who was greatly influenced by his ideas. Her father remarried, to Mary Jane Vial Claremont who already had a young daughter Jane, and living with them was also half-sister Fanny, Mary Wollstonecraft's earlier child by another man.
Helen Edmundson's engrossing play is as much about the other Godwins as it is about Mary and Shelley. It begins with Mary reading the description of her mother's attempt at suicide, as described in her father's memoir of his wife, and seeing it in her imagination. Though Mary never knew her mother she seems very much her daughter and the physical recreation of drowning is a reminder, reinforced by a scene of a tempestuous channel crossing, that Shelley himself would die by drowning six years after their marriage.
At the time of the play, the family lives in recently built Skinner Street where they sell and publish books for children in a house that looks out on the gallows outside Newgate Prison. Naomi Dawson's set evokes it splendidly: a writer's home surrounded by bookcases from which books and papers spill. Long tables that can be used to write or eat on and can transform into a ship's deck, a tomb top or a bed for other scenes, vistas beyond that hint at other rooms a bit like the retreating vistas of a renaissance scena. It is a design that allows actors to disappear down one and emerge through another into an entirely different situation so that scenes can overlap and move on smoothly, the atmosphere enhanced by Chris Davey's lighting and the music and sound design of Keith Clouston and Drew Baumohl.
While sixteen-year old Mary has been in Scotland, Shelley has become a frequent if unpredictable visitor, already captivating Mary's sisters. She has barely met him before becoming passionately involved, to the horror of her father and stepmother who try to stop it. The conflict between the free will that you may espouse in theory and the practicalities of surviving in the society you live in is part of what this play is about, whether conforming to public life or family discipline but it is told through the emotional upheavals of family confrontations and romantic passion.
Mary—facing the alienation of her father, a jealous awareness that Shelley is developing close attachments to young Jane who travels with them when they elope and her baby dying—begins to write the book for which she is now best known: Frankenstein. Howard Brenton's Bloody Poetry gave us the circumstances in which she began to write it, an episode that this play is not concerned with, but here we have the elements which perhaps inspired that story: the idealistic philosophy of her father and, in her relationship with him, a parallel with Frankenstein.
This is all there, but what you become caught up in is the family and their story. Helen Edmundson writes beautifully articulate dialogue that sounds entirely natural, especially as played by an excellent cast like this one. Polly Teale's imaginative direction this becomes a mixture of carefully developed theatrical effect and almost reality television eavesdropping, a fly-on-the-wall revelation that is continually surprising in its transitions.
It is clear that Ben Lamb's Shelley can turn the charm on when he needs to but he doesn't try to charm us. Wiliam Chubb suggests the fascination of discussion with this idealistic proto-socialist but somehow makes sense of his withdrawal from human involvement, his exploitation of Shelley for money and his pragmatic attitude when society calls for compromise. Sadie Shimmin as the second Mrs Godwin gives us a woman bad tempered with frustration, which makes for some humour, but showing too the loving kindness that's beneath it—there is another story here in how she came to marry Godwin.
Her daughter Jane, so immature compared to the other girls, horrified by a hanging, coy at first with Shelley grows up as Shannon Tarbet plays her, movingly aware of her situation but braving things out like a new woman of a century later. Flora Nicholson touches the heart in a different way, as Fanny you feel her wishing she had Mary's confidence, longing to break out of the role that her father has given her. Kristin Atherton's success as Mary is that she makes you believe in this girl who, at only sixteen and in the society she is part of, can so confidently claim independence and turning herself from Godwin daughter into Shelley's lover, it may be irresponsible, even foolish but you can feel her need which is not just about young lover's passion but rooted in her relationship with her father.
Edmundson, Teale and the company together have created a very satisfying piece of theatre that throws light not only on the Godwins but makes one think again about one's own sibling and generational relationships.
This production was previously reviewed at Nottingham Playhouse by Steve Orme.
Reviewer: Howard Loxton