Mary Stuart
Friedrich Schiller, in a new adaptation created by Robert Icke
Almeida Theatre
–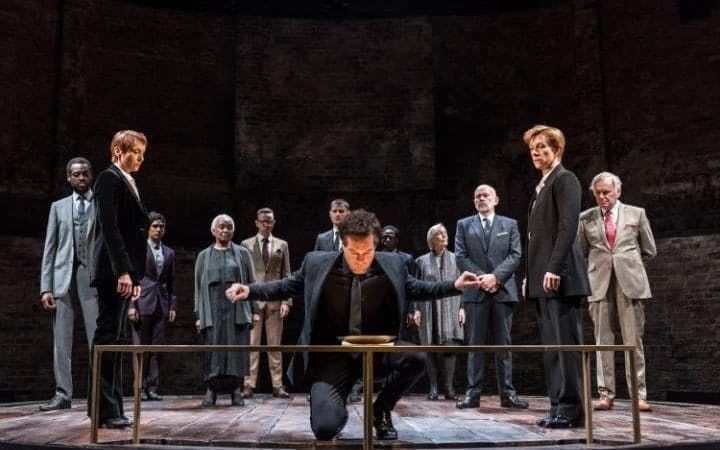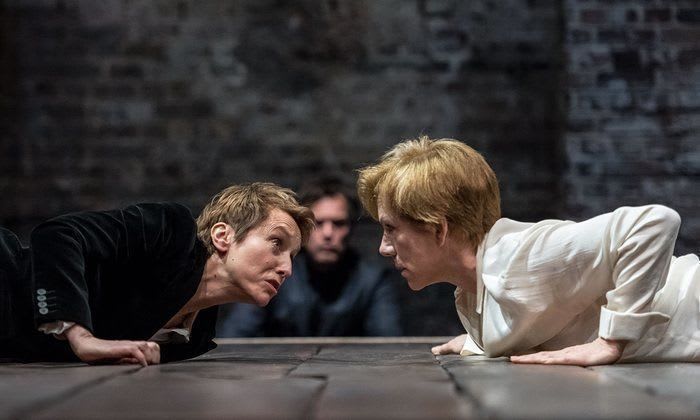 Anyone lucky enough to get tickets for director/adapter Robert Icke's mildly modernised version of Schiller's psychological thriller about two of the feistiest ladies in the British history books is in for a treat.
For 3¼ gripping hours, visitors have the opportunity to follow the personal and political struggles of two queenly cousins sharing just one crown between them.
Icke has updated the language and costumes, while Hildegard Bechtler's set consists of little more than a large, wooden revolve, used creatively throughout the evening.
On arrival, a coin is tossed to determine whether Juliet Stevenson or Lia Williams (both making rare but welcome London stage appearances) will play Elizabeth and rule the roost and which of them awaits death in the guise of Mary. At the performance under review, when the coin came down heads, obeisance was made to Miss Williams, who thereafter wore the crown of Henry VIII's protestant, English daughter, the Virgin Queen Elizabeth I, at the start of an action packed 24 hours.
The coin does more than merely decide casting. It is also symbolic, since Elizabeth and Mary are very much two sides of that same coin, both divinely anointed rulers in their own all-powerful eyes but each suffering from insecurities. Strangely, the virgin Queen is as sexy and flirtatious as her alter ego, while despite their opposition there is a degree of respect for both position and person flying in either direction.
As the play opens, Mary has already been incarcerated at Fotheringay after being unjustly found guilty of plotting to kill Elizabeth.
Before we even meet the reigning monarch, Miss Stevenson's character has set out her stall and generated as much affection and empathy in the audience as amongst her devoted followers.
She has also become the fount of further plots, promoted by her former lover, John Light playing Elizabeth's current man of the moment, the Earl of Leicester, and Rudi Dharmalingham as young Mortimer, attracted as much by the Frenchwoman's sexuality as their shared religion.
More prosaically, for political and constitutional reasons, others also make the case for the suppliant's redemption, while on the other side, Vincent Franklin playing Burleigh is constant in his demands for her head.
While release was never unlikely, Schiller has built his play around a fictional outdoor encounter between the two queens, which becomes a thrilling but moving power struggle and eventually a wrestling bout from which there can be no return.
What makes the play so fascinating is the opportunity to see every change in circumstance from two completely contradictory points of view, often with the audience being allowed to sympathise first with one and then the other.
Going a step further, as with all of the best contemporary spy novels, there are double agents flitting in and out of the story, double-crossing first one and then the other of the leading ladies.
Religion is also a major factor, in a way that it is hard for the British viewers to understand today, although residents of Ireland or many Middle Eastern countries would immediately understand the necessity of giving up one's life for one's faith.
Mary Stuart is a consistently intriguing play that allows its leading actresses to shine, Mary probably offering more opportunities. Where at the beginning two women who are practically twins respectively head off to fortune and misfortune, in this production their endings are similarly juxtaposed in a scene of great simplicity and beauty.
Anyone with an interest in politics, history, human nature or good acting from two more of those amazing female performers who have graced the London stage during 2016 should not miss a production that will sell out and richly deserves a West End transfer.
Reviewer: Philip Fisher