Mary Poppins
Original music and lyrics by Richard M. Sherman and Robert B. Sherman; Book by Julian Fellowes; New songs and additional music and lyrics by George Stiles and Anthony Drew
Based on the stories of P.L Travers and the Walt Disney Film
Prince Edward Theatre
(2004)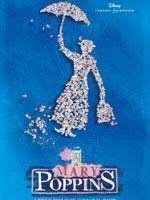 In years to come folk will tell their grandchildren: I saw Richard Eyre's production of Mary Poppins at the Prince of Wales Theatre.
And while the packed house enthralled by this fresh account of P.L Travers stories contained many children, it was their parents who sat, eyes shining, as Laura Michelle Kelly trilled A Spoonful Of Sugar in a voice that sounded more Julie Andrews than the original!
Time moves on; those of us who believe we are attending Mary Poppins, or Saturday Night Fever for that matter, for the sake of the children must face the fact these shows are the stuff our own dreams are made on.
In the recent revival of My Fair Lady at Drury Lane, I enjoyed Michelle Kelly's Eliza as her own. Here, her lyric soprano breathes new life and magic into that icon of the irreplaceable nanny that will forever be Andrews. Praise be, however, that the disarming Gavin Lee reveals there is life - and a decent cockney - in the ubiquitous Bert after Dick Van Dyke!
Lee's understated performance moves around the stage with grace and a sense of fun, a splendid centrepiece for Matthew Bourne's virile choreography, cleaner-faced though the "chimeney" sweepers are since my day.
Bourne's other highlights include a charming dance in the park by classical Greek statues, apparently clad only in fig leaves, and an awesome, after nine o-clock, scene in the nursery where toys come to life in a nightmare routine.
With Lee's laid back Bert, David Haig is a four dimensional Mr Baker who pours everything into a character ranging from stern father to lost soul and then thoroughly good egg. Jenny Galloway is a good cook, Mrs Trigg, and as good cooks go she is fearsome - until, that is, we meet Rosemary Ashe's Miss Andrew.
Julia Sutton's Bird Woman and Feed The Birds, with a spectacular cloth of St Paul's, is another gem and an inspired contrast with the domestics of the central theme.
Bob Crowley's generously settings and costumes might have popped straight up from the pages a storybook.
"But which, asks one father as family pours into the interval bar, is your favourite tune?" We all have our own, Chim Chim Cheree, Practically Perfect (one of several new ones) or Let's Fly A Kite? For me it was Super Supercal well, you know what I mean, this time decked out in sign language, too.
And, as Bert walks upside down across the roof of the pros arch, Mary Poppins, umbrella aloft, flies off over the audience into the roof. The oldest trick in the business and still the most magical.
How does she do it? Ah, as Poppins says: Anything can happen if you let it.
Reviewer: Kevin Catchpole