Mary Stuart
Friedrich Schiller, in a new version by Peter Oswald
Donmar Warehouse
(2005)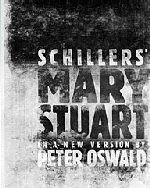 At the beginning of the year, it seemed unlikely that anyone would have tipped Friedrich Schiller, currently celebrating the bicentenary of his death, as the playwright who would be the progenitor of two of London's finest productions of 2005.
Both of these owe much to Michael Grandage, the Donmar's artistic director. Don Carlos, starring Sir Derek Jacobi proved a major success on its transfer from Sheffield to the Gielgud. It demonstrated that Schiller not only knew how to put together a historical drama but also that his writing and choice of subject matter are still relevant in the 21st century.
Now Phyllida Lloyd has been invited to bring a new version of Mary Stuart to the Donmar with a vibrant modern translation from Peter Oswald. Together, they bring home many of the parallels between the dramas of the late 1560s and politics of today.
Peter Mandelson and Alastair Campbell may be disappointed to learn that the art of spin doctoring is an old and unworthy one. The excellent David Horovitch is absolutely compelling as the cool, cruel Lord Burleigh, an upper-class hatchet man par excellence.
Similarly, Lady Thatcher may have had her day, but in this production, Harriet Walter's Elizabeth I seems to have been modelled on that other equally icy "Queen".
Even religious fanaticism and desire to give up one's life for one's cause and leader is portrayed with particularly chilling relevance, in the guise of Rory Kinnear's Mortimer, during a month when London has finally succumbed to the concept of the suicide bomber.
Primarily, Mary Stuart is a play that juxtaposes the lives of two cousins, the French-raised Queen of Scots played by Miss Lloyd's favourite leading lady, Janet McTeer, and the Virgin Queen of England by Miss Walter.
There could hardly be a greater contrast. The frosty English Queen, while professing uncertainty, knows how to play a strong political game to achieve her ends, regardless of the cost. Her only weakness is a failing in love, shown up by the repressed passion that she feels for Guy Henry's Leicester.
This tall nobleman is also a former competitor for the hand of the beautiful Scottish usurper. The golden-haired, suntanned Mary's weakness lies in the guilt that she feels at having allowed her second husband, Darnley, to be killed by his successor, Bothwell. In a way, she feels that she deserves to die and, with the strength of a Catholic religion to support her, does so gracefully, supported by her nurse, Barbara Jefford.
The two great women are generally forced to score points off each other at a distance with Mary imprisoned at the castle of James Fleet's genuinely decent Sir Amyas Paulet and Elizabeth at Court. The high point of the play for many will be their meeting, when a drenched Mary pleads unsuccessfully for her life but shows far greater character than her lonely rival could ever muster.
Anthony Ward's design is very simple using a black box with minimal props, and he makes much use of Hugh Vanstone's lighting, never better than when exposing individuals in moments of weakness. The ladies' costumes are of the period and say much about their characters, while the men are dressed in contemporary clothing for reasons that are not explained.
This is excellent, atmospheric production that deserves to transfer to a larger West End theatre at the end of its Donmar run. Miss Lloyd is well served by the whole cast and particularly her two leading actresses.
John Thaxter reviewed the partially recast production on its transfer to the Apollo Theatre
Visit our sponsor 1st 4 London Theatre to book tickets for
Mary Stuart on its transfer to the Apollo.
Reviewer: Philip Fisher