The Master Builder
Henrik Ibsen, translated by Kenneth McLeish
Almeida Theatre
(2010)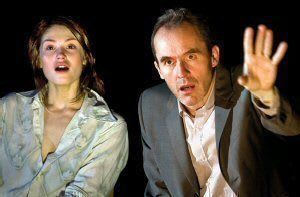 Michael Attenborough has brought in this version of The Master Builder from a director hardly known in this country. Travis Preston is Artistic Director of the Center for New Performance at the California Institute for the Arts (CalArts).
Without being entirely certain what New Performance means, his take on Ibsen, using a robust modernised translation from Kenneth McLeish, is challenging in almost every sense - very much auteur's theatre.
The set, such as it is, leaves the actors in a dirt strewn bear pit with a deeper one behind, the theatre's unadorned walls exposed, and minimal props. There is though a long, fire escape staircase at the back, awaiting the play's inevitable finale.
In this space, Stephen Dillane's Master Builder Solness seemingly battles with madness, hardly helped by his poor, ghostly wife, played by Anastasia Hille whose entrance down the staircase takes an age. Starved of affection, the message is that she has effectively been dead for years following a fire that stole her history and, soon afterwards, the death of twin babes.
That tragedy was also the launch pad for her husband's career, which has reached a zenith. However, this comes at a cost, as the under-qualified builder is scared that his assistant, John Light's Ragnar, will supersede him and take away Solness' mistress and his own fiancée, Emma Hamilton playing Kaja Fosli.
Solness has by now been completely dehumanised, cruelly ignoring pleas from Patrick Godfrey's dying Brovik. However, the arrival of a radiant Gemma Arterton as Hilde Wangel changes all of that.
She is a dream girl, stunningly beautiful and filled with admiration for a man whom she has loved since she was a child and saw his one moment of glory, followed by behaviour that bordered on paedophilia.
The centre of this 100 minute version lies in the impish young devil-woman's bolstering of the older man's ego. This is even more erotically charged than his early exchanges with Kaja and inevitably leads to a dramatic dénouement, like everything else, gorgeously lit by Paul Pyant.
The acting is deliberately stylised, with Stephen Dillane shouting almost throughout in his character's efforts to overwhelm his fellows (and logic). Gemma Arterton appears self-conscious, but that may be in part, as she feels obliged to maintain a beatific smile while windmilling her arms and flitting coquettishly around the stage space, like the reincarnation of Isadora Duncan.
The whole comes across as a series of disjointed scenes peopled by largely underdeveloped characters, rather than Ibsen's more coherent portrait of a doomed man trying to rediscover his glory days one last time by ascending a symbolic tower of manhood.
Playing until 8 January
Reviewer: Philip Fisher