Master Class
David Pownall
Derby Playhouse
(2006)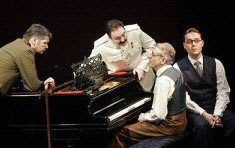 Flicking through the television channels one morning recently, I came across a BBC programme called Mind Your Own Business. A couple of experts give tips to bosses of a small company so that the firm can maximise its potential.
The episode I caught was fascinating because the business gurus looked at Hall Green Little Theatre in Birmingham, run by an amateur company which wasn't attracting enough people and didn't connect with those who went through the doors.
The producers took one of the amateur group's members to Malvern Theatres, a venue that had sound artistic and marketing policies. One of the pieces of advice given to Hall Green Little Theatre was: don't alienate your audience.
I couldn't help thinking about this as I watched Master Class at Derby Playhouse.
The theatre has made great strides since joint artistic directors Karen Louise Hebden and Stephen Edwards took over three-and-a-half years ago. They got rid of the annual panto and plays from the likes of John Godber which were almost guaranteed to sell out. Instead they wanted to take their audience on a more challenging journey. But now some patrons are asking if that journey is heading into an abyss.
The Playhouse has complained lately that despite its four-for-two season ticket offer, audience numbers are down. The management has blamed the theatre's location and the fact that a huge expansion of the shopping centre in which it's based is taking place. Perhaps the choice of plays is also at fault.
Last month the Playhouse presented Henceforward, one of Alan Ayckbourn's lesser-known comedies which was superbly staged but didn't contain many bellylaughs. Now the theatre is giving us Master Class. It's a superb production with excellent acting - but will Derby people appreciate it and is the theatre alienating its audience?
Director Edwards reckons David Pownall's play is a hidden gem of British theatre. It calls for actors who are exceptional piano players. But I don't think that's the only reason why it hasn't been staged professionally in this country for the past 22 years.
Master Class is nearly three hours of sometimes heavy dialogue with not much movement on stage and only a smattering of laughs.
It tells the story of a fictional meeting between Josef Stalin and two of Russia's greatest composers. The feared dictator orders Prokofiev and Shostakovich to compose a piece of "definitive new Soviet music".
Russell Dixon is magnificent as Stalin, bringing out the complexities of the character who at times verges on madness. Dixon ever so gradually brings on Stalin's drunkenness as he knocks back bottle after bottle of vodka.
Terry Mortimer gives a stunning performance as Prokofiev, struggling to move around the stage with the aid of a walking stick as the composer recovers from a stroke. Mortimer is an accomplished pianist and treats us to his musical talents as well as a range of emotions from fear to frustration as he has to endure Stalin's smashing all his records.
Classical musician Christian McKay is commendable as the intense, sad-looking Shostakovich. He plays brilliantly too. And there's a fine performance by Michael Beckley as the sneering Zhdanov, Stalin's aide who deals with censorship of the arts even though, as the dictator himself admits, his right-hand man has had "an uphill battle with culture".
Towards the end Stalin accuses Shostakovich of writing miserable compositions and remarks somewhat prophetically: "You have lost (your) audience."
This production would grace many theatres. I don't mean to patronise Playhouse audiences - but is it the right play for the conservative people of Derby? The next three weeks will tell.
"Master Class" runs until April 8th
Reviewer: Steve Orme