Master Harold and the Boys
Athol Fugard
Southwark Playhouse
(2004)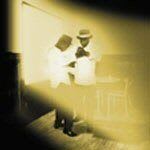 This early autobiographical play anatomises not only the playwright as a teenager but also Apartheid in its early years. After a slow start with many of the jokes missing their targets, it develops amazing power, helped by a strong performance from Ewart James Walters.
The setting is a teahouse in the Eastern Province in 1950. The protagonists are Jonathan Broadbent's Hally or Master Harold, Fugard's given name, and the two Black "Boys", each old enough to be his father. Sam (played by Walters) has, in fact, become a surrogate for the drunken cripple that Hally cannot respect.
Sam may be a servant but he is blessed with the wisdom of years and when the play builds to a final joust with his young "Master", there is no doubt who will win.
This is a brave play, as the playwright depicts the priggish Hally with fiercely embarrassing accuracy. For the most part, he is too clever for his own good.
Willie (David Webber) is quieter but has his own dignity even though he spends half of the play scrubbing on his knees. His life is so deprived that he has to choose between a tune on the Wurlitzer jukebox or a bus home. However, he has his own escape, a dance competition in which his partner is to be the unseen, toothless, Size 26 Hilda.
The competition is not the only metaphor that turns this play into a shocking allegory. A second is a kite that represents the need to look upwards to escape the worst vicissitudes of life.
The most powerful of all though, is the final image of a whites-only bench that young Harold, not to mention a whole nation had to learn to walk away from. The admirable Athol Fugard has spent his whole life doing that. The tragedy is that his country took another forty years to do so.
Reviewer: Philip Fisher