Matilda The Musical
Book by Dennis Kelly, music and lyrics by Tim Minchin, based on the novel by Roald Dahl
Royal Shakespeare Company
Bristol Hippodrome
–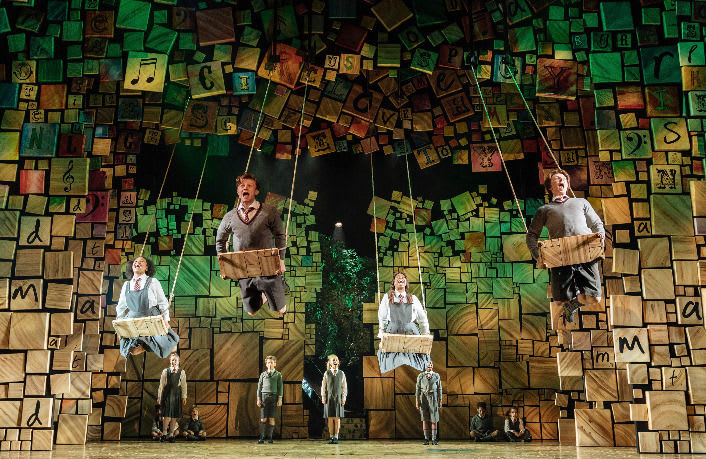 Based on Roald Dahl's classic novel for children, the multi-award-winning Matilda the Musical, adapted by Tim Minchin and Dennis Kelly, needs little introduction. Since its opening in Stratford-upon-Avon as the Royal Shakespeare Company's 2010 Christmas show, this story of an ordinary little girl with extraordinary talents has gone on to become a West End institution. It transferred to Broadway and travelled across North America and Australia before embarking on a tour of the UK and Ireland that now has Bristol as its latest destination.
You certainly can't choose your parents, but here Matilda is unusually unlucky; far from seeing her arrival as miraculous, her mother Mrs Wormwood (Rebecca Thornhill) is concerned that her new baby will interfere with her ballroom dancing commitments. Meanwhile her father (Sebastien Torkia), who refuses to believe she isn't a boy, is preoccupied with his business selling dodgy motors. Neither of them recognises Matilda's exceptional gifts for words and numbers, considering them of little importance compared to the vanity of peroxide roots and hair oil.
It's an engrossing scenario, elevated from amusing caricature by Kelly's sharp, playful and compassionate book and Minchin's pitch-perfect lyrics and music—alternately spiky, comical and profound. The range is all-encompassing—from Mrs Wormwood's full-on rendition of "Loud" to Matilda's eye-of-the-storm "Quiet" and the poignant harmonies of "When I Grow Up", capturing the anxieties of childhood and perceived freedoms that lie beyond.
The depth of talent in the child actors on stage is astonishing, none more so than Matilda herself, played on press night with big-hearted resilience and a little bit of mischief by Olivia Juno Cleverley.
School should be a refuge for bookish Matilda—her kind and perceptive teacher Miss Honey, portrayed with beautifully voiced vulnerability by Carly Thoms, being quick to recognise her potential. Yet the adults in this story are more often demons of outrageous cruelty and thoughtlessness; Miss Honey in her timidity is at first thwarted by the oversized disciplinarian ogre Miss Trunchbull, brought loathsomely to life by a toweringly villainous and hilariously aerobic performance from Elliot Harper.
The children here are the unsung heroes showing the way; as well as Matilda, Charlie Garton and Lily van Veen excel as Bruce and Lavender. Matilda's story of the escapologist and the acrobat adds a beautifully interwoven depth to the narrative and Michelle Chantelle Hopewell brings a charismatic presence as the eagerly story-loving librarian Mrs Phelps.
Matthew Warchus's direction veers seamlessly from comedy to pathos, framed within Rob Howell's colourful, dramatic and ever-shifting design of books, desks and alphabet blocks.
Having caught Matilda The Musical in its early Stratford days, it's clear this is a show that keeps on delivering. Exceptional entertainment on every level for children and adults alike, it surely merits its billing as the musical of the decade; if you get the chance to see this family-friendly sensation, then make sure you grab it with both hands.
Reviewer: Claire Hayes