Matthew Bourne's Romeo + Juliet
Matthew Bourne, music by Sergei Prokofiev
New Adventures for Illuminations Media
Released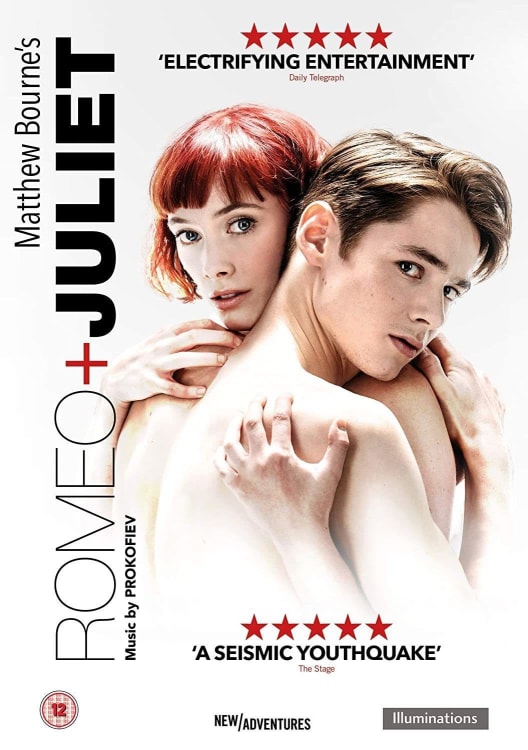 After 400 years, Shakespeare's iconic love story has been formulated in almost every way possible. Even in ballet form, different versions have delighted audiences in numerous wide-ranging productions over the years.
However, the man who is possibly the country's most popular director-choreographer, Matthew Bourne, is always capable of breathing new life into classic works and his 90-minute-long interpretation of the Prokofiev incarnation is fresh and vibrant.
Rather than Verona in the 16th century, the events depicted here take place in the near future at The Verona Institute, an unsettling co-ed establishment that appears to lie somewhere between a young offenders' institution and a psychiatric ward. Within its unfriendly walls, in a series of scenes orchestrated to the music of the Russian master, we are gradually introduced to the young lovers and many of their fellows.
In the early scenes, poor Juliet, depicted by Cordelia Braithwaite, struggles to escape the clutches of sinister officer Tybalt, played by the towering, terrifying Dan Wright, while all of the patients / inmates are obliged to take their medicine and religious guidance with no chance of escape.
A turning point for the Juliet along with Paris Fitzpatrick's Romeo is an initially staid but subsequently sensuous dance night at which the shy, genuinely youthful couple meet and instantly fall for each other under the glitter-ball for the first time with inevitable consequences for the latter-day star-cross'd lovers.
It is the female chaplain, Daisy May Kemp as the Rev Bernadette Laurence (spot the Shakespearean allusion), who then acts as a helpful go-between, protecting and connecting Romeo and Juliet as their mutual love and passion grow increasingly strong.
The music was always going to be delightful, but the drama and injections of humour are a delight, building to a haunting, traditionally tragic dénouement, which showcases the acting and dancing talents of Cordelia Braithwaite and Paris Fitzpatrick. The duo inject real emotion into their performances both facially and physically, receiving excellent support from the rest of the modern dance company, most notably the homosexual pairing of Mercutio and Balthazar, respectively Ben Brown and Jackson Fisch.
The production qualities on this Blu-ray disc are of the highest standard, whether it is the team of enthusiastic performers recorded at Sadler's Wells in August 2019, the playing of the New Adventures Orchestra making the most of new orchestrations by Terry Davies, impeccable choreography with credit shared by Matthew Bourne and his associate Arielle Smith or some witty design features courtesy of Lez Brotherston.
Matthew Bourne's great skill is in creating dance theatre that has crossover appeal to fans of both of those artforms. There is little doubt that dance aficionados will be charmed by the well-drilled team of young performers, while theatre fans can relish a developing tale of love against an unorthodox backdrop.
Reviewer: Philip Fisher