Matthew Bourne's Swan Lake
Music by Pyotr Ilyich Tchaikovsky
New Adventures for Illuminations Media
Sadler's Wells
Released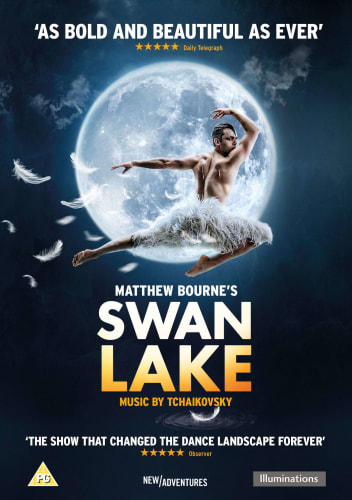 At the same time as releasing the recording of one of Sir Matthew Bourne's latest ventures, Romeo + Juliet, his team has also taken the opportunity to release what many will regard as the choreographer's magnum opus, Swan Lake.
This production was first created quarter of a century ago but, with a fresh makeover, remains a firm favourite and fully justifies this beautifully produced new release on Blu-ray and DVD, recorded at Sadler's Wells in 2019.
The key to any ballet's appeal lies in the dance but this director / choreographer is always innovative and adds an extra dimension with his wit and theatricality, utilising the skills of a physical theatre director to complement the dance.
In the relatively modern dress of some kind of military state, the key figures are sinuous Liam Mower as The Prince and Nicole Kabera taking the role of his glamorous mother, The Queen.
The unhappy, alcoholic young man seems very naïve and unsophisticated, obviously cowed by his authoritarian mother, who looks gorgeous in a series of sumptuous costumes, often complimenting the lilac streaks in her perfectly coiffured hair.
While she is relatively discreet in enjoying the attentions of a soldier, The Prince has his head turned almost instantly by Katrina Lyndon playing The Girlfriend, a brazen starlet, as scarlet as her minuscule dress in her opening scene, the topsy-turvy affair constantly monitored by Glenn Graham as a stern Private Secretary intent on protecting his charge but also the dignity of the monarchy.
This leads to discomfort for all concerned but also considerable hilarity, never more so than during a night at the opera in which the uncultured lady manages to commit every faux pas in the book plus one or two more.
It is the humour in this scene and many other similar touches, including a bed that becomes a balcony and a mechanical royal corgi, that leaven an episodic two-hour long production, which never flags. There are visual delights to accompany Tchaikovsky's familiar music and a modernised storyline that fits it perfectly.
The revised plot is then overlaid by the story of the Prince's kindred spirit, the magisterial leader of a bevy of male swans introducing gender-re-evaluating themes. The role is powerfully danced by Will Bozier accompanied not only by his fellows but an assortment of swan imagery, created by designer Lez Brotherston, with assistance from video colleague Duncan McLean.
The parallel scene, during which Bozier returns as The Stranger and sneeringly sews dissension at a royal ball, is a highlight, sexy and thrilling in equal measure.
Sir Matthew Bourne may have created a very different vision of Swan Lake from an age-old tradition but he does so tastefully in a recording that is always entertaining and worth the relatively modest investment, as it is the kind of disc that viewers will return to again and again.
Reviewer: Philip Fisher