Matthew Bourne's Romeo and Juliet (Montague Company)
Director and choreographer Matthew Bourne, music Sergei Prokofiev
New Adventures
Sadler's Wells
–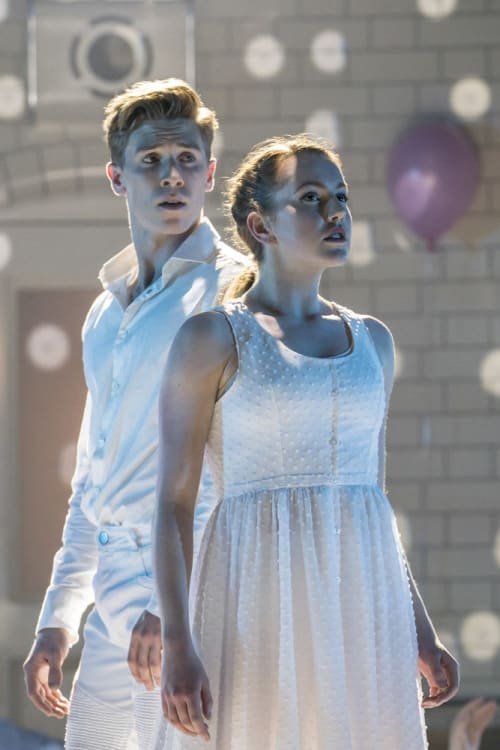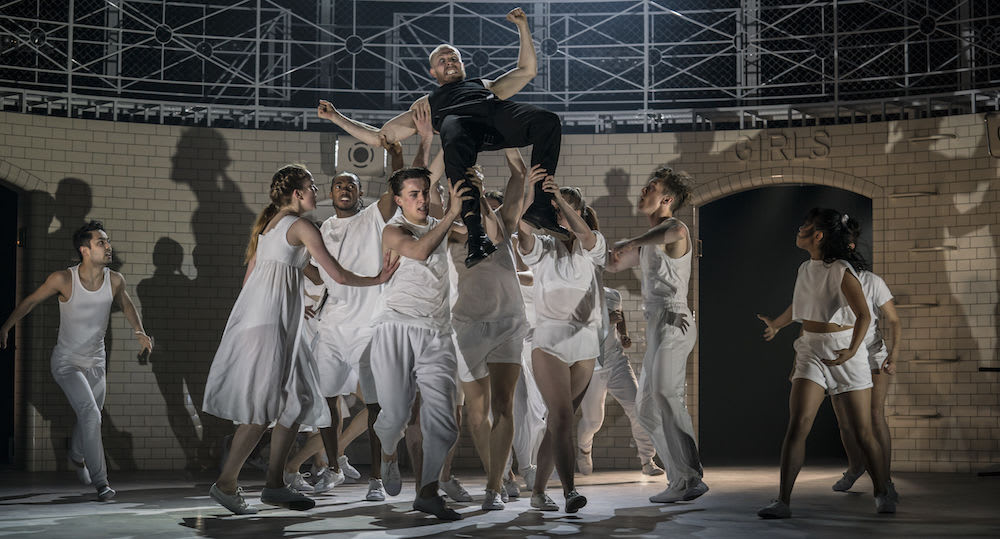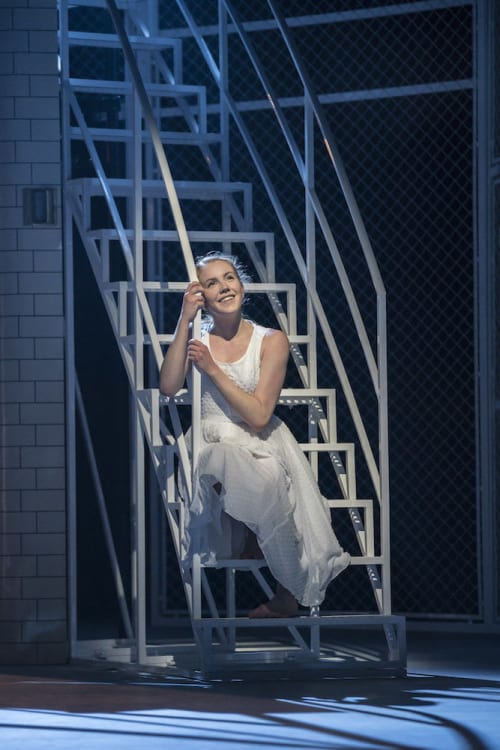 What a difference a day makes… well, two weeks actually. Or maybe it's the seating. Two weeks ago, I was upstairs in the circle, today I'm in the stalls closer to the action, more involved, more aware of little nuances and witty touches that are always there in Matthew Bourne's productions. Exits and entrances are clearer, as is characterisation and facial expressions.
I must eat humble pie: I am won over, and moved, as I was not before, by the second cast of Romeo and Juliet. This cast is called the Montague Company, the first, naturally, was the Capulet Company. Friendly rivalry perhaps to keep them keen… Whose side are you on—but is that fair? Should one compare?
Yet it's human nature to take sides and I am totally captivated by Danny Reubens's afflicted Tybalt, Andrew Monaghan's needy Romeo, Seren Williams's deceptively sweet Juliet, even though their duets are on the safe side if one inevitably compares with Kenneth MacMillan's version. Their joined at the lips climb up the stairs is amusing yes, as are the mock dormitory nuptials, but dramatic no. Tybalt gatecrashing the party is. Lulled by the dream of love, dangerous reality comes hurtling in, mocking and sinister.
There are no Capulets, no family rivalry in the scenario, only a huge division between the conveniently incarcerated teenagers and their elders. Should it be called Romeo and Juliet? Why not the Verona Institute, where all the harm is done? Repressed emotions, damaged psyches, look what putting a lid on a pressure cooker can do. Maybe Romeo and Juliet are only the representative tip of the submerged institutional iceberg, a convenient place for adults to park troublesome teenagers with raging hormones.
Senator Montague (Matt Petty in both casts) with his Trumpian handshake (didn't notice that before, or maybe it's an add-on), and his steely wife get rid of an unloved twitchy Romeo (a display of deliberate antic disposition) and pay over the odds to keep him locked away, forever. This time I see Montague add two more noughts to his bribery cheque to the institution. Or has Bourne tweaked?
Adult corruption is rife, psychiatrists and doctors and nurses toe the line. Only the lovely Rev Laurence (Madelaine Brennan), on keyboard at the school disco, has a soft spot for the frustrated inmates. Juliet is violated by Tybalt (her solo of revulsion says it all), though, as in good Greek tragedies, it happens offstage, as does the shooting of Mercutio. Tybalt's death, on the other hand, is given the dramatic treatment—the full company tugging on the belt round his neck, though poor Romeo is left holding the incriminating evidence.
It only takes one bad apple, and Tybalt is the one, the one with the headaches, the fits, the alcohol—one almost feels sorry for him in Reubens's performance. An uncontrollable passion for Juliet that can only lead to a sad end, for him and for the lovers. Romeo is locked away, but Juliet is helped by the vicar to find her way to his solitary room (in solitary not the boys' dorm because of his crime), and there they consummate their love, two unloved children.
But why has Juliet a knife under her pillow? How did she get it? Would she have used it on Tybalt, could she have overpowered him? Well, she does use it on Tybalt, except in her brief moment of psychosis (has she not been taking the pills?) it is Romeo she sees as Tybalt returned from the dead, a red scar on his neck (couldn't see that from upstairs). Seren Williams's horror and despair is heart-wrenching—she appeals to us, runs back to Romeo (great performance from Monaghan, shaking in shock), holds his wound, searches for a doctor in the morgue where Mercutio lies on a slab.
Why is there no doctor to be found? Why is there a knife (not a scalpel) on that slab? The two-hour evening ends as it began with the tragic pair under the spotlights on a cold white slab. We know the ending before the end, but it's the journey, and Bourne gets us there with wit and ingenuity.
The young cast of students and recent joiners of the company give it their all, and what an opportunity. I spot Matthew Rawcliffe from the BBC Young Dancer 2019 competition, now a second year Rambert student (there are three from Rambert School amongst the six associates), and Jana Baldovino stands out as one of Juliet's friends trying to raise the alarm when Tybalt drags Juliet away. Ben Brown—in both casts as Mercutio (he came to the rescue last time)—and long-legged Asher Rosenheim (a new recruit to New Adventures) as his lover Balthasar are very good.
A moral tale—authoritarian regimes and all that… what a waste of youthful energy, suppressed young people regimented, medicated, oppressed. A play for our divisive times, seeded with discord. I am so glad I went back to see it again. And I notice how Bourne has sensualised Prokofiev's Dance of the Knights—music a release for trapped emotions—and a balm for the traumatised.
Reviewer: Vera Liber