Matthew Bourne's Sleeping Beauty
Matthew Bourne
New Adventures
Sadler's Wells
–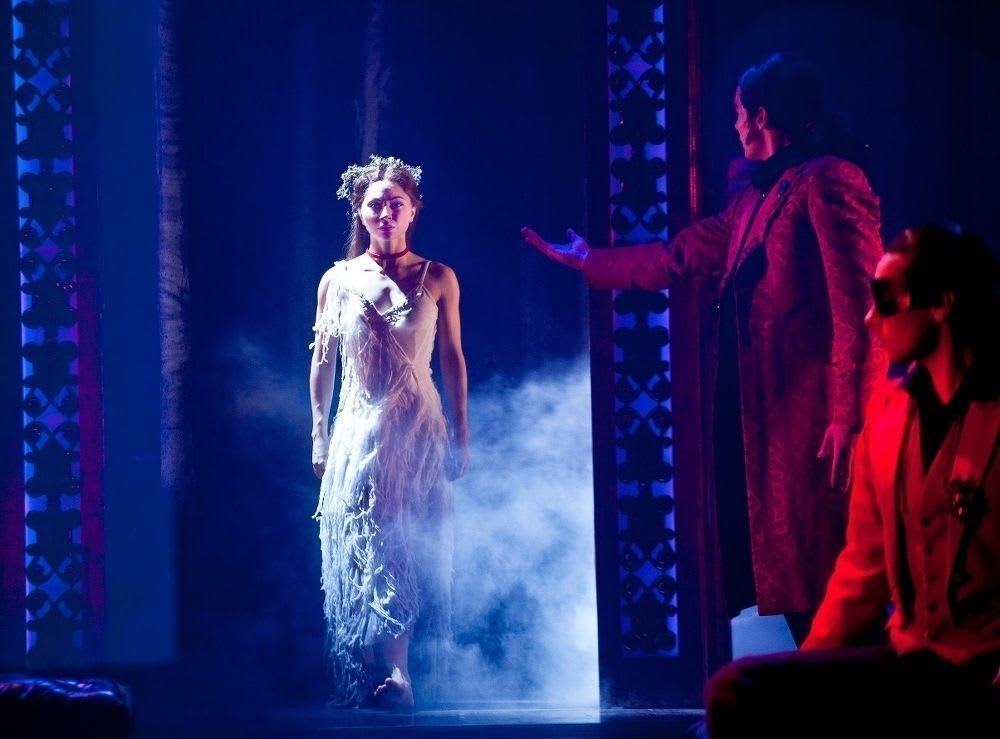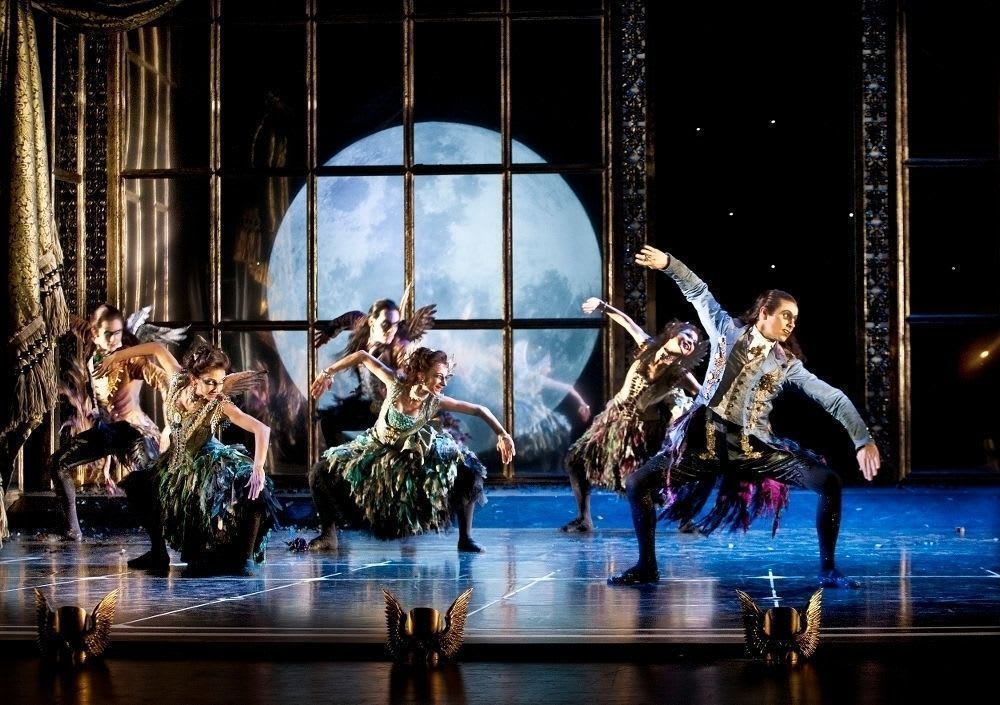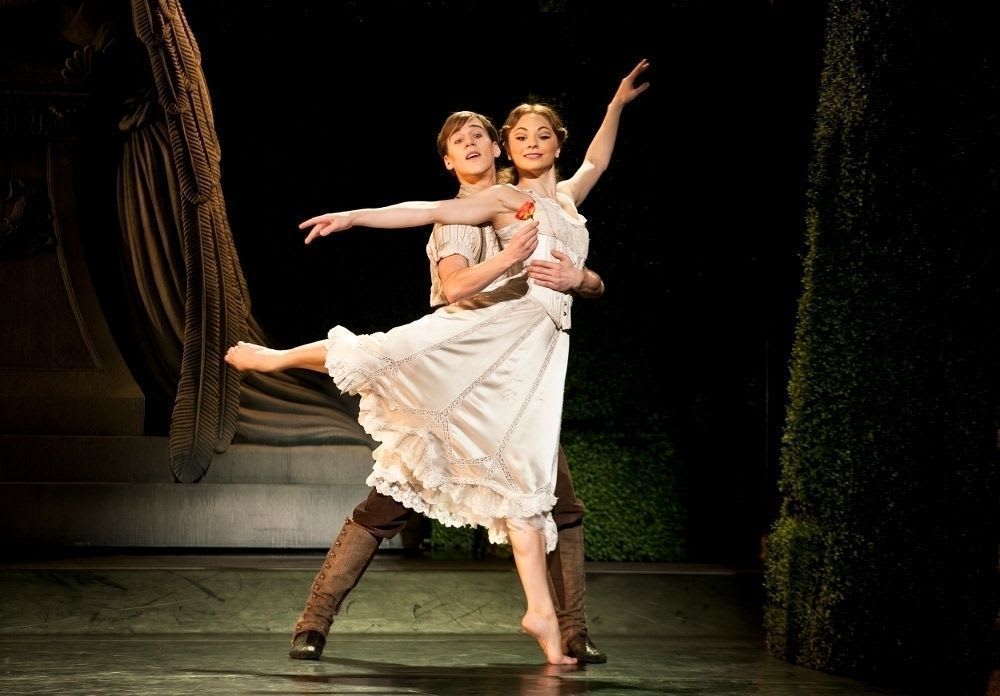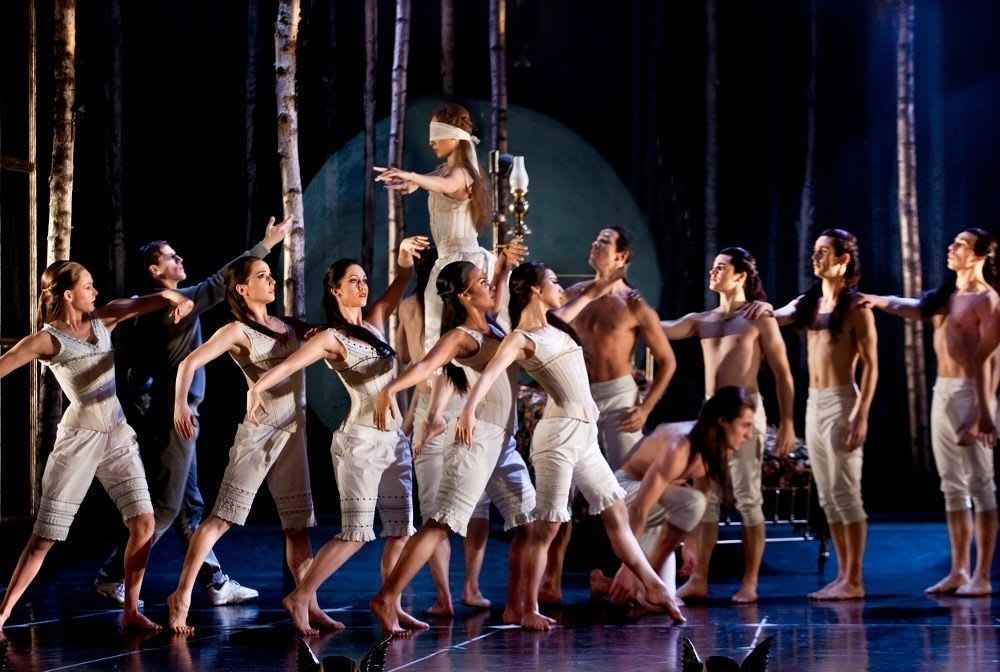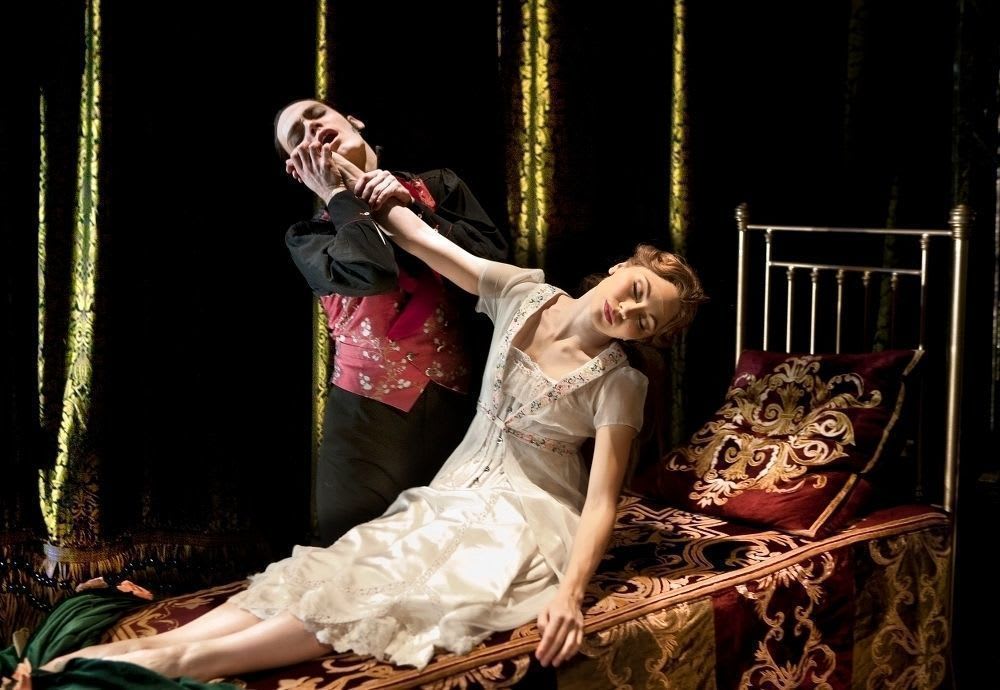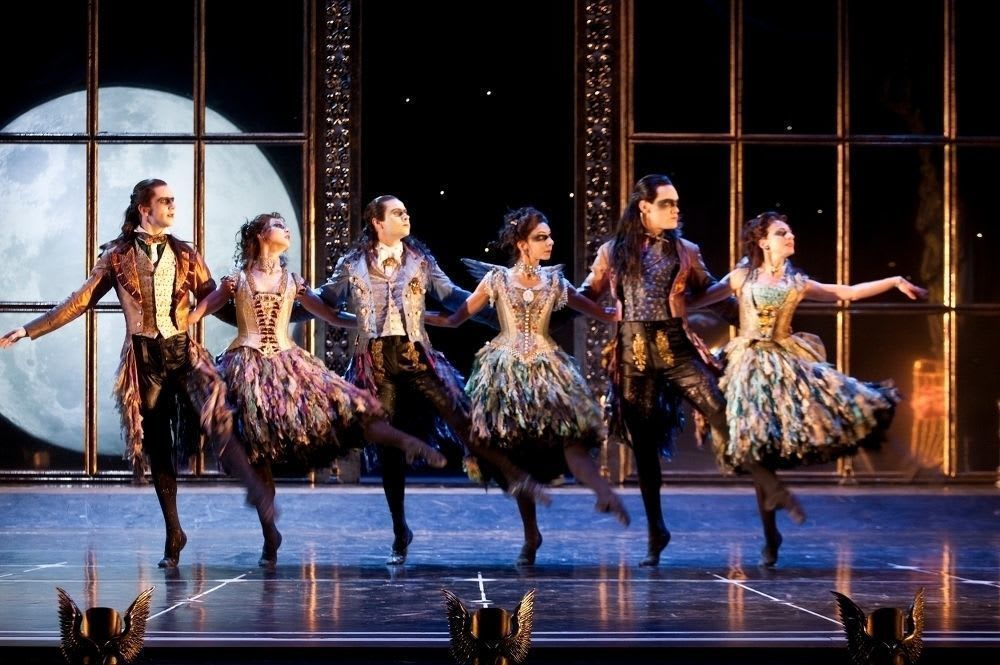 Found in a variety of versions, an immortal fairy tale about love that transcends time lends itself naturally not only to re-imaginings over the ages, but also to Matthew Bourne's fertile mind and signature cheeky magpie borrowings from many sources. He keeps you on your toes.
And with showman's instincts, Bourne wraps the production in seasonal warmth—a realistic royal baby puppet, a crowd pleaser this Paradigm Effect marionette crawling under everyone's feet and up the curtains.
Drawing on twenty-five years' experience and on a good-natured popular sensibility, which makes for sold out performances, Bourne's Sleeping Beauty is fail-proof. Celebrating his silver jubilee, he has attained national treasure status.
His concept—he is credited with direction, choreography and new scenario—for Sleeping Beauty, the final part of his Tchaikovsky trio, springs from a Byronic Gothic Romanticism, from the tale of The Un-Dead, Bram Stoker's original title for his famous 1897 novel, Dracula. Note that the Lilac Fairy has become Count Lilac.
There's the clue and the thread that Bourne weaves so cleverly from 1890, the date of Petipa's ballet, to the Edwardian 1911 (Aurora's coming of age raised to twenty-one), to the vampiric apotheosis of 2011, tapping into the trendy Twilight Saga. There is always a creative logic to Bourne's vision.
Act One, opening with a Walt Disney-style narrative written up on the curtain—Once Upon A Time—has shadowy silhouettes (Carabosse bringing a child to the household), gothic fairies, winged footlights, and nods to Petipa in some of the variations.
Carabosse turns up like a malevolent Mary Poppins, but her two black demon aides bring to mind the wicked swans, not least in their movements, from Bourne's masterwork Swan Lake. Her curse, acted out by faceless characters in a surreal Magritte dream, involves a black briar rose that will be Aurora's undoing.
Act Two finds Aurora, much doted on by indulgent parents, her father, King Benedict, a picture of King George V, and mother, Queen Eleanor. She is a free spirit in love with Leo, the Royal Gamekeeper—no need to spell that one out…
The tea and tennis party on the grand lawn, the grand waltz, are easy on the eye. But storm clouds are brewing. An uninvited guest appears, brooding, dark, tall—Caradoc, the son of Carabosse (she died in exile—do evil fairies die…?) come to fulfil his mother's curse. Like Bourne's Black Swan he raises the temperature. He's mad, bad and dangerous to know.
Aurora dances a tender rose adagio with Leo, pricks her finger, passes out, wakes up distraught like Giselle in her mad scene, and Leo is wrongly cast out for giving her roses.
As her vision floats behind locked gates, Count Lilac turns up to set things right. How is Leo to survive the hundred-year wait? Think about it… Make him immortal. But won't that cause problems for Aurora when she wakes…
Act Three is set in the land of sleepwalkers—the un-dead—where Aurora is captive. In a misty silver birch forest under a full moon they drift and wander blindfolded like Isadora Duncan-ish Wilis. Framed by the moon Aurora glides from view.
Led a merry dance by Count Lilac, Leo finally gets into Caradoc's lair and finds the comatose Aurora. A ragdoll Coppélia dance, a kiss, a shake, Leo finally wakes her, but Caradoc defeats him. Will good ever conquer evil?
The last Act has cinema projector light streaming towards the stage, a black and red Transylvanian ball in a Versailles hall of mirrors before the fiendish union of Aurora and Caradoc to Tchaikovsky's spine-tingling divertissements music.
Can Leo, now a member of the club, save Aurora, a sacrificial victim laid out in white wedding dress on a catafalque of two coffin-shaped divans? As Caradoc wields his knife, what is to be done? Count Lilac is biding his time. Hmm.
But all's well that ends well, and they live happily ever after, or so the writing on the curtain tells us. Bourne has worked his magic again; it is impossible to resist. For me, the second half was an improvement on the first, but my sound designer / engineer companion thought the opposite.
So, something to please everyone. The purists had better stay away, especially if they need a live orchestra. Tchaikovsky's music is played on tape specially recorded in surround sound at the famous George Martin Air Lyndhurst Studios. One does miss that dialogue with the dancers, but in his usual tongue-in-cheek fashion Bourne has one of them give a gentle kick to a record player in the Edwardian act.
Other tricks include a moving strip of floor and stunning designs by Olivier Award-winners Lez Brotherston (a wing-themed set and costumes), Paule Constable (lighting), Paul Groothuis (sound), Brotherston's designs the mainstay and realization of Bourne's vision.
Hannah Vassallo is a spirited Aurora, a lovely dancer who takes risky flying leaps, Dominic North a solid Leo, Adam Maskell doubles strikingly as mother and son Carabosse and Caradoc, and the whole cast are excellent in a production that serves Matthew Bourne's ingenious storyteller talents. Broad brushstroke sweeping theatrical choreographic vocabulary may underuse Tchaikovsky's score, but its heart is plainly on its sleeve.
Reviewer: Vera Liber