Matthew Bourne's Swan Lake
Directed And Choreographed by Matthew Bourne
New Adventures
Sadler's Wells
–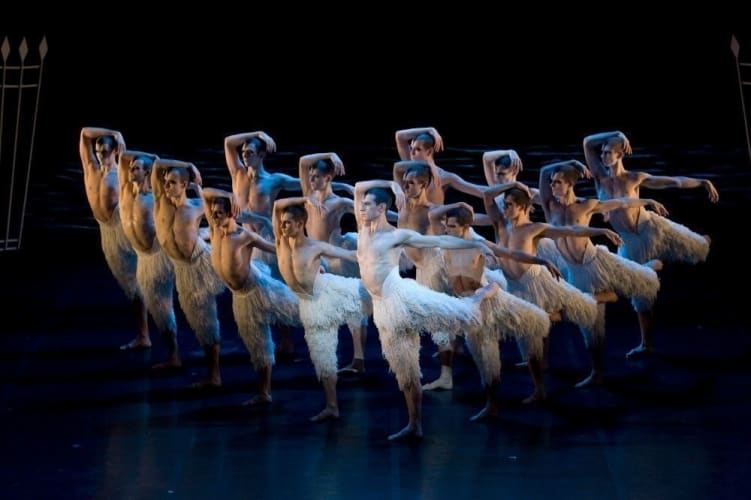 Give the people what they want and they'll come—they've been coming in droves to Matthew Bourne's Swan Lake since its first staging eighteen years ago. Adam Cooper (The Swan you see at the end of the Billy Elliot film) was the first Swan I saw—four times in that inaugural year—each time to ecstatic reception.
The production has spread like wildfire since 1995, playing globally, accruing many awards, the longest running 'ballet' in the West End and on Broadway, and still it draws the crowds. A modern day classic it is being called.
Oh to recapture the first time of seeing, the delicious surprise, the tongue-in-cheek humour, the thought-through psychology of this innovative musical dance theatre drama reinterpretation of a beloved classical ballet—a same-sex graphic novel update of the real thing, one might say.
Matthew Bourne apparently reworks every revival to keep it fresh. But the essential remains: Bourne's cinematic influences and cheeky interventions (a bag lady scattering crumbs at the lake during the Prince's fateful meeting with The Swan) littering a love-in-death Romantic drama, in which pure and profane love are sublimated.
A fantasy of flight when no fight is left, a psychological drama of royal protocol, a circumscribed life aching to break free, a lonely Prince's feverish drink-addled brain, and his cold mother, the Queen, with an eye for a young cadet.
Could be Gertrude and Hamlet, or Mayerling's Prince Rudolf (guns are pulled and fired), could be goings on in Monaco, though a snapping corgi and the uninhibited Essex girl (Kerry Biggin hamming like a good trouper to a delighted audience) with her sights on the prince point nearer to home.
Could be all those fifties musical Hollywood films, their cartoonish crispness and caricature characterisation, which Lez Brotherston's larger-than-life clean-line sets and costumes emulate—fifties full-skirted frocks in lilac, red, and white for the Cruella de Vil streak-haired Queen (an icy Michela Meazza).
Could be German expressionism (Murnau's Nosferatu), the long shadows cast in the hospital asylum where the Prince undergoes what seems a lobotomy. Or is this a black and white scene from Powell and Pressburger's A Matter of Life and Death?
Or a nod to Tennessee Williams? Are the feral hissing swans that peck the lead Swan to death the hungry boys that rip Sebastian apart in Suddenly Last Summer?
Bourne even lobs parody and pastiche into the plot: a mockery of a dated classical ballet watched from the royal box by distracted and distracting (a ringing mobile phone) elements—in split screen presentation.
And a sleazy Soho club, Swank (imagine the odd neon letter going out), cabaret peopled with the immortals Quentin Crisp, Joe Orton, June Buckridge (remember Beryl Reid in The Killing of Sister George), the Krays, Elvis, Jean Genet sailors, rent boys and girls—which evicts the sozzled Prince.
A not-so-misspent youth in the cinema and autograph hunting days honoured from the other side of the curtain, Bourne's Swan Lake takes time to get to the dramatic heart of the story, the love duets between the Prince and the wild white swan and the mysterious stranger in black, that cold-hearted Byronic seducer.
Bourne teases out the drama in Tchaikovsky's passionate music little by little right up to the fatal climax. The denouement is tragic, and the apotheosis doubly so. The Queen cradles her son's dead body on the bed (centre stage as in Romeo and Juliet), whilst The Swan holds his dead soul in mystical glory—very Russian.
In their solos and pas de deux Jonathan Ollivier (fabulous in sleek black leather) and Simon Williams, both fine actor-dancers, lift the emotional level and the beating heart after the first half's candy floss flummery—fun though it is, some old jokes do wear a bit.
The four teenage-boy-with-attitude cygnets bring the house down, as they always do, but there are some very good pas de trois from their brethren too, and en masse they are quite a sight, but I still can't get used to those awful feathered thighs that look more centaur than swan, and, when the shadows lengthen, like stag beetles.
Cross-species forbidden love an apt metaphor for Tchaikovsky's personally troubled time—what would he have made of a cohort of magnificent male swans sweeping in wonderful head and arm movements across the stage—and our own.
Bourne admits to some necessary tinkering and re-arrangement of Tchaikovsky score (orchestration by Rowland Lee), but what a pleasure to have a live orchestra under the baton and musical directorship of Brett Morris.
A fine Christmas celebration to conclude Sadler's Wells's fifteenth year in the current theatre building—sex-on-legs and frivolous laughter… heartbreak and sweet music to stoke the pain…
Reviewer: Vera Liber