Maudie's Rooms
Louise Osborn
Roar Ensemble / Sherman Cymru
Cardiff Bay
–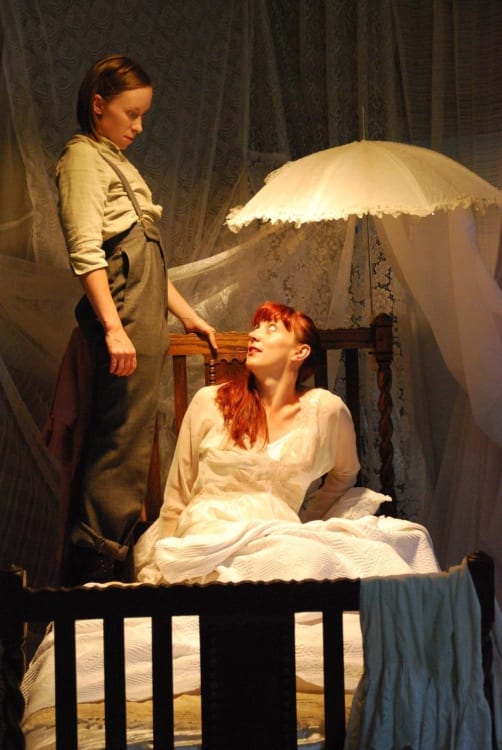 There is a much-bemoaned shortage in Wales of theatre companies which are set up to read new scripts, especially from established writers. One result of this is that playwrights are increasingly producing their own work.
Maudies's Rooms is the latest manifestation of this trend. Writer-director Louise Osborn has an enviable track record when it comes to making theatre for family audiences, and has taken the opportunity to create a site-specific piece which draws inspiration from her own family's history.
The small audience (two dozen or so), gathers at a bus-stop in Cardiff Bay, and we encounter the troubled Professor Arlo Butterworth, who has just escaped from his wedding. He has abandoned it not because of a lack of love for his fiancée, but rather through his own insecurity—a fear that he does not measure up.
Somehow having found himself on the street where he spent much of his childhood, clues left by a mysterious woman lead him to the door of a strangely familiar building, and he apprehensively suggests that we accompany him. These are Maudie's Rooms, where he once lived, and where traumatic memories are stored.
The set is an abandoned building in Butetown (formerly Tiger Bay), whose transformation—design by Jenny Lee—is hugely impressive.
We are led by Adam Fuller's engaging Arlo (and shepherded by helpful stewards) through several meticulously realised rooms in this magical boarding-house: the cluttered hallway, rammed with clues and curios; the garden, inhabited by the peculiar Miss Sweetpea (not to mention a rather alarming talking sprout); the Dickensian bedroom where Arlo's ailing mother is tended by the sinister Sir Titus and a brace of transvestite nurses.
There's also the old West Indian runaway Solomon, who has transformed his room into an evocation of his days as a sailor and circus performer. Not to mention the dark lodgings of Teppo Kollowitz, a Polish (one deduces) refugee, haunted by memories of the small children he helped to shelter during the war—brought to life by puppets which are perhaps a little too creepy, given their poignant back-story.
As we slip back in time, the young Arlo is played by Katy Owen, as a feisty, precociously intelligent child who nevertheless shows signs of the neurosis which will blight his adulthood. And Julie Barclay's Maudie is a constant, reassuring presence, with a comforting doughnut always stashed about her person.
The bulk of the actors take multiple roles, but shine when given the spotlight: Anthony Correa as Solomon, Adam Redmore as the unhappy Kollowitz, Hannah McPake as Miss Sweetpea and Arlo's mother (she is also given the opportunity to display her skills as a musician). John Rea's droning soundscapes, alongside Ben Tyreman's lighting design, ensure a spooky ambience.
The author describes the play as "a theatrical adventure about facing up to stuff". Perhaps more tellingly for adult audience members, it counsels us to recall our childhood self-confidence and bravery, and to take inspiration from those moments where naïve imagination was our salvation.
The narrative perhaps (unless I missed something) leaves some troubling questions unanswered in terms of the "real" lives of the characters recalled to mind by Arlo. Nevertheless, this is a bold, clever production, funny and moving, challenging without being forbidding. If the run isn't already sold out, it surely soon will be.
Reviewer: Othniel Smith