Me and Robin Hood
Shôn Dale-Jones
hoipolloi
Pleasance Dome
–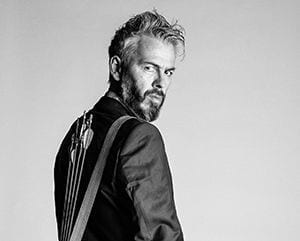 The kindly storyteller from Anglesey is back with an even more stripped-down show than those in past years. Now, his props have been reduced to a plastic water bottle for rehydration.
This forces the ingenious writer/performer to rely on his quirky imagination to entertain the punters.
His message for 2017 is determinedly anti-capitalist, starting with a case of upmarket fare-dodging but more spectacularly involving a bank robbery and an incitement to another, the former carried out by the whole of an under-11 football team.
The madcap comic tale is as personal as ever, involving father, grandmother and best pal Dylan, as well as the evil local bank manager, an erstwhile Sheriff of Nottingham, a bevy of law enforcement officers and the heroic Shôn.
These ingredients are used to make some serious points about financial inequity in the world today.
The big message to take away is that the tickets are going at 50% of the usual price, with the idea that the balance might be donated to Street Child United via Just Giving, helping theatre to do a Robin Hood by feeding the homeless and starving at the expense of the relatively rich habitués of Pleasance Dome.
Reviewer: Philip Fisher