Measure for Measure
William Shakespeare
Cheek by Jowl
Barbican, Silk Street Theatre
–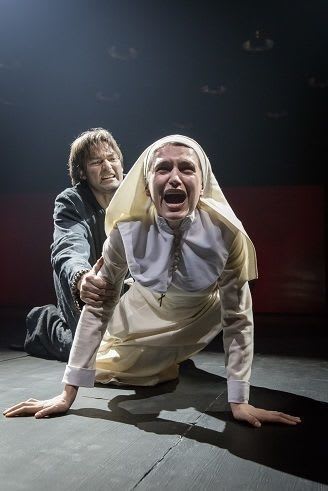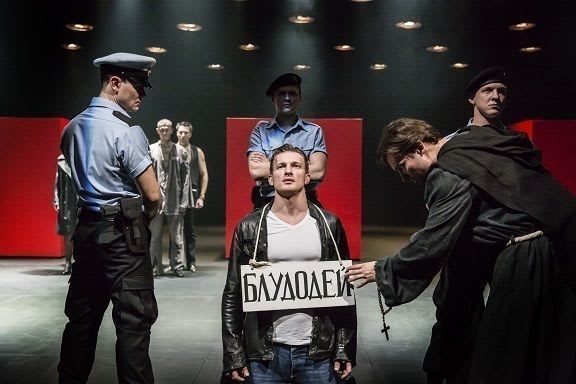 Declan Donnelan and Nick Ormerod's Cheek by Jowl have a knack of both surprising and pleasing, even when presenting a minimalist version of one of Shakespeare's more difficult works in Russian.
Despite being hobbled by surtitles translated by someone whose English is not of the best, this production is a visual and intellectual delight. The poetry may largely disappear but the drama remains at fever pitch building to a rousing finale that brings modern day Russia and the Vienna of Shakespeare's imagining into unexpected unity.
Before that, viewers are greeted by an almost bare stage, adorned with little more than five red cubes, each with dimensions of around two metres.
For the first five minutes, the cast members follow each other around in a sinister, silent prologue that creates a certain atmosphere and eventually throws up Alexander Arsentyev playing a particularly nervy Duke.
He quickly disappears though a monkish twin takes his place, devolving magisterial duties to a man who should be a reliable deputy, Andrei Kuzixhev's austere, ascetic Angelo.
The scene is set for a rip-roaring tale of love and lust, devotion and honour, which eventually exceeds the predicted running time of 1¾ hours by close to 30 minutes, with not an interval in sight.
Despite the extension, there is often barely time to draw breath during a speedy production in which dance and movement are as integral a part as the story-telling at times.
The central figure is Isabella, a novice nun whose emotional sensibilities are constantly visible on the magnificent Anna Khalilulina's malleable face as she undergoes enough torments for even the most devout to doubt her faith.
The main impediment to a peaceful novitiate is the imprisonment of Petr Rykov as her brother Claudio for impregnating the love of his life. In the eyes of Angelo, this is a capital offence.
The audience is asked to compare Claudio's relatively innocent offence with the generally licentious behaviour of all and sundry, Alexander Feklistov's ribald Lucio providing a comic counterpoint to much of the action.
However, the most insidious and outrageous sexual manipulation comes from a different, ostensibly much more respectable, source and eventually puts innocent Isabella into the kind of dilemma that can only lead to heartache whichever route she takes.
The lack of props makes Shakespeare's famous/notorious bed and head swapping scenes less dramatic and comic but they still have an impressive impact.
Keeping to those minimal props, with the spare cast members moving around and observing as a citizenry shocked by proceedings, this is an unusual but rewarding evening.
It culminates in a big, set piece finale reminiscent of the best post-Soviet rallies in which the dictators can enjoy the self-deluding pretence that they are loved by their subjects.
It seems fair to assume that this lively, controversial reading of Measure for Measure will not be to everybody's taste. However, those who are willing to embrace modernity in Shakespearean production with an open mind could well find it one of the highlights of the spring season.
Reviewer: Philip Fisher